PHOTO BY THEO WELLING
Celebrate Earth Day in Forest Park.
A Shakespeare festival, a two-day Earth Day celebration, a bites & brews celebration in Alton — this weekend is positively packed with fun events in the St. Louis area.
Here are our favorites.
1. See Twelfth Period, or Not Another Twelfth Night
Have you ever seen a Shakespeare production and thought, "This is great, but I was hoping for something more like
Cruel Intentions
?" Have no fear, because Equally Represented Arts, or ERA, takes Shakespeare's
Twelfth Night
and sets it in a 1990s high school.
Twelfth Period, or Not Another Twelfth Night
, draws its inspiration from films such as
Rushmore
and
Election
, and features a clever young woman who disguises herself as a boy to attend Illyria Preparatory Academy. She falls in love with a boy unaware of her real identity, while he feels a strange attraction to his new friend. ERA presents
Twelfth Period
at 7:30 p.m. Wednesday to Saturday (April 19 to May 5; no show on April 29) at the Centene Center for Arts and Education (3547 Olive Street;
www.eratheatre.org
). Tickets are $15 to $20. —Bill Loellke

2. Catch a screening of Shaun of the Dead
Shaun's a simple man who prefers to spend his evenings at the pub with his best friend Ed. This doesn't sit well with his long-suffering girlfriend Liz, who wants more excitement in their relationship and less Ed. Both parties get their wish when London is engulfed by teeming hordes of hungry zombies. Suddenly they have more excitement than they can handle, and the pub appears to be the perfect stronghold to wait out the zombies. Edgar Wright's Shaun of the Dead pioneered the "rom-zom-com" genre, and also brought Simon Pegg and Nick Frost to American movie theaters. Shaun of the Dead screens at 11:55 p.m. Friday and Saturday (April 21 and 22) at the Landmark Tivoli Theatre (635 Delmar Boulevard, University City; www.landmarktheatres.com) as part of the Tivoli's Reel Late series. Tickets are $8. —Paul Friswold

3. Marvel at the hats of Stephen Jones
You may not recognize Stephen Jones by name, but you've most likely seen his work. The English milliner's creations have been worn by trend-setting celebrities for more than 30 years, from Princess Diana to Lady Gaga. A selection of eight of his avant-garde hats are displayed at the Saint Louis Art Museum (1 Fine Arts Drive; www.slam.org) in Hats of Stephen Jones, a complementary exhibition to the ongoing exhibition Degas, Impressionism, and the Paris Millinery Trade. Jones' exhibit will remain up from Friday, April 21 to Sunday, September 3. At 2 p.m. Sunday, April 23, Jones visits the museum to discuss his work and his inspirations with New York milliner Jennifer Ouellette. Admission to the lecture is $20 to $25; exhibition admission is $6 to $15. —Bill Loellke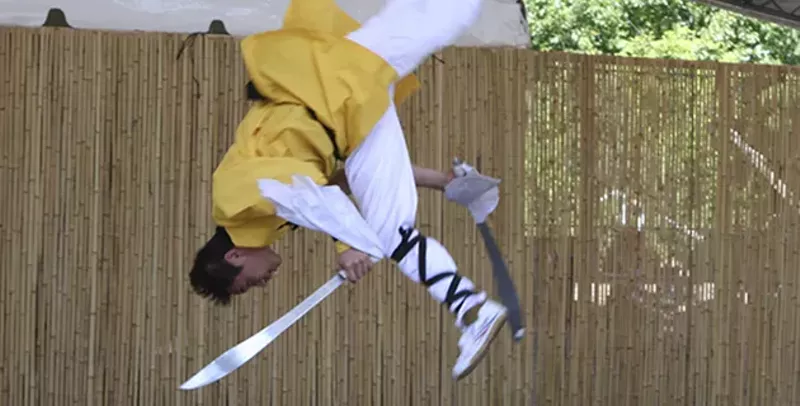 LESLIE WALLACE/COURTESY OF MOBOT
The Chinese Culture Days come back to MoBOT this weekend.
4. See a new take on Oedipus from the West End Players Guild
Sophocles' drama Oedipus Tyrannus has survived more than two millennia because of the horror of its plot (man kills father and unwittingly marries his own mother) and because of the way it captures the inevitability of fate. Oedipus' father, Laius, demanded the boy be killed at birth in an attempt to defeat the prophecy that Laius would die by his son's hand as punishment for his past actions. Saved by shepherds, Oedipus survives. But even though he grows up unaware of his true parents identity, Oedipus is nevertheless doomed to slay one and bed the other, paying the price for sins his father committed before he was even born. Nothing he does can change his destiny. Lucy Cashion reworks the classic story in her new play, Oedipus Apparatus. Sophocles' plot is interwoven with episodes of the TV show The View and a guided meditation on death led by a Buddhist nun to create a new telling for a more modern age. West End Players Guild closes its season with Oedipus Apparatus. Performances are at 8 p.m. Thursday through Saturday and 2 p.m. Sunday (April 21 to 30) at the Union Avenue Christian Church (733 North Union Boulevard; www.westendplayers.org). Tickets are $20 to $25. —Paul Friswold

5. Celebrate nature at the Earth Day Festival

The
St. Louis Earth Day Festival
is more than just a chance to enjoy some local musicians and art. It also gives you the opportunity to learn about the local businesses and non-profit organizations that are making a difference ecologically. If you're just there for the food, you won't be disappointed; enjoy a whole lot of locally sourced organic, vegetarian and vegan options. The St. Louis Earth Day Festival takes place from 11 a.m. to 5 p.m. Saturday and Sunday (April 22 and 23) on the Muny Grounds in Forest Park (
www.stlouisearthday.org
). The event is free and open to the public.—Bill Loellke

6. Enjoy the other side of the river at Riverside Bites & Brews
Alton Craft Beer Week is back to celebrate craft brewers on both sides of the river. This year's installment runs from April 22 to 29 at participating businesses in Grafton, Bethalto and Alton, but you can meet most of the brewers in one place at Riverside Bites & Brews, the official kick-off party. Your $25 ticket ($30 the day of the event) includes a commemorative tasting glass and samples from Earthbound Beer, the Old Bakery Beer Company, Grafton Brewhaus and many others. Food samples are included, and Polyshades, Hope and Therapy, and the Langaleers provide live music during the event. Riverside Bites & Brews takes place from noon to 4 p.m. Saturday, April 22, at the Liberty Bank Amphitheater (1 Riverfront Drive, Alton, Illinois; www.riverfrontamphitheater.com). —Bill Loellke

7. Celebrate Chinese Culture Days at MoBOT
The always popular Chinese Culture Days return to the Missouri Botanical Garden (4344 Shaw Boulevard; www.mobot.org) this Saturday and Sunday (April 22 and 23) with acrobats, tai chi demonstrations and a food court full of choice dishes representing China's immense selection of regional cuisines. The highlight of the festival is the Grand Parade, which stars a 70-foot-long dancing dragon; it's so popular it takes place at 2 p.m. on both days. Chinese Culture Days takes place from 10 a.m. to 5 p.m. Saturday and Sunday. Tickets are $7 to $17. —Paul Friswold

8. See some aspiring designers show their stuff

Washington University's
Fashion Design Show
is a huge event with dozens of models showcasing garments created by fourteen student designers. It's also a learning experience for the students, who get to see how people respond to their best work. Among those anxiously awaiting the public response are Helen Kwon, whose designs are inspired by the otherworldly feeling that develops during the lengthy flight from St. Louis to Korea, and Maximillian Suiter, who references assemblage artist Kurt Schwitters in his
Palimpsest
collection. The 88th annual Fashion Design Show starts at 3 p.m. Sunday at Third Degree Glass Factory (5200 Delmar Boulevard). Tickets are $20 to $95, and available at the door and through
www.edison.wustl.edu
. —Paul Friswold