COURTESY OF RICK WOLF
Cowboy boots on display at Found by the Pound. The shop opens April 22.
A new shop on South Grand will open its doors for the first time this weekend, promising "rescued" clothing that's been carefully curated from a downright huge collection.
Found by the Pound
(3232 South Grand Boulevard)
is the brainchild of Rick Wolf, who's been in the clothing business for 37 years, albeit in the less-glamorous end of things — recycling discarded clothing for use in everything from bath mats to rags to beach towels.
Two years ago, Wolf founded the first Found by the Pound at 6740 Romiss in Berkeley. But the two stores will be very different. The Berkeley shop actually sells its clothing for $3 per pound, but after objections from the local business association, the South Grand shop will use a more traditional pricing model, with most items going for $3 to $15. And while the Berkeley shop goes for clothes with an "urban" vibe, the South Grand one will be "Bohemian," he says.
But overall, the inspiration is the same. "I buy everything by the pound," Wolf explains — and then his team plucks out the best pieces for resale. Anything that doesn't get purchased goes to the recycling end of the business; anything that does helps suggest a future direction for sales. "Our buying power is staggering."
PHOTO COURTESY OF RICK WOLF
"I think we have pleasantly surprised everyone," Wolf says. "It looks amazing."
That's because, in America in 2017, used clothing is a massive industry — as Wolf notes, people don't discard clothing because it's worn out. They simply want something different. And with a massive 61,000 square foot warehouse near the airport and a thriving business on the "rag" side of things, he has access to everything he could possibly feel like rescuing, from all over the country.
"I can get anything I want in 48 hours," he says.
The neighborhood association was at first skeptical, Wolf says, but he believes they've been won over by the changes he made to his concept and all the work he's put into the building. The double-wide storefront, located at the corner of South Grand and Humphrey, has been vacant for ten years; having Wolf's shop there helps extend the business district another block to the south.
And Wolf believes that the shoppers and bargain hunters who frequent South Grand are going to be impressed by the ever-changing array of clothes his staff has put together.
"I have a team of people with tattoos and purple hair picking everything out," he says. "About as trendy as I get is a ripped Brooks Brothers shirt."
The shop will be open beginning tomorrow, April 22, and at this point, Wolf plans to keep hours from Wednesday through Sunday from 11 a.m. to 7 p.m.
PHOTO COURTESY OF RICK WOLF
New inventory will be coming in pretty much constantly, Wolf says.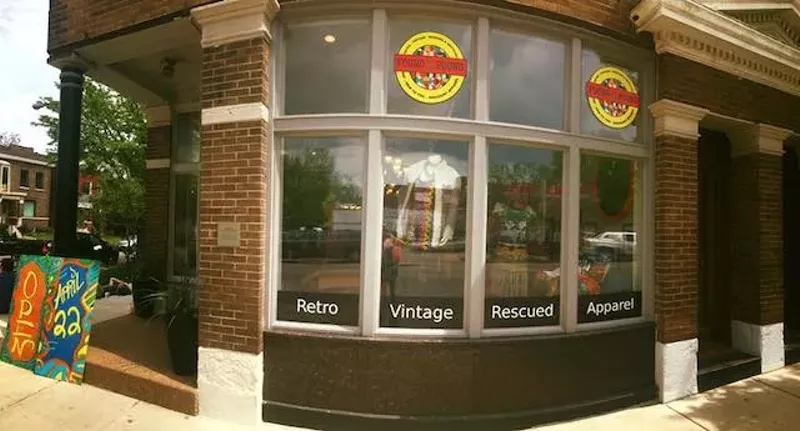 PHOTO COURTESY OF RICK WOLF
Editor's note: A previous version of this story suggested that Wolf changed his business model after talking to the local neighborhood association; it was actually the local business association. We regret the error.

We welcome tips and feedback. Email the author at [email protected]