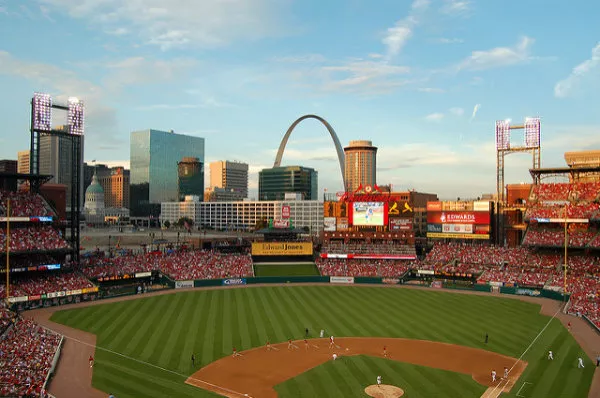 Photo courtesy of Flickr / Phil.
Do you dream of buying a home near Busch Stadium, attending as many games as your Cardinal red-bleeding heart desires? When it comes to dollar signs, that dream may not be too far out of reach — especially when compared to other cities' stadiums and the price of homes nearby.
Earlier this month, real estate website Estately set out to find out how much it costs to live within walking distance of the country's Major League Baseball stadiums (the league's sole Canadian team was excluded). Armed with real estate listing data for houses, condos and townhouses that were on the market in March and are located within two miles of each stadium, Estately's number crunchers found median prices in each city. Luckily for Cardinal diehards, St. Louis proved to be one of the most affordable cities.
From most expensive to least, St. Louis landed the 26th of 29 slots. Fans hoping to snag real estate within walking distance of Busch Stadium are looking at a median price of $184,900. That's not too shabby, considering San Francisco Giants fans have to pay up $1,197,000 for the same convenience — the most expensive result in the study.
St. Louis followed right behind the Pittsburgh Pirates, whose fans pay a median of $185,000 to live within walking distance of PNC Park. The only teams with more affordable housing near its stadium? The Milwaukee Brewers, Texas Rangers and Kansas City Royals.
Now, as a proper Cardinals supporter, you probably want to see how we measure up against the Cubs. In order to live within two miles of Wrigley Field, a home buyer has to hand over $475,000. As Estately notes, you could purchase 1,100 tons of peanuts wholesale for that same price.
So hey, if you're still sore about the Cubs' 2016 World Series victory, just remember that you take the win in this case. Yay?
See where other cities ranked in the diagram below, and get more details about the study at
Estately.com
.