After an internship at publisher DC and a stint as a comic book reviewer, St. Louis native David Pepose has made the leap to comic creator with his debut limited series,
Spencer & Locke
.
The four-issue series — released today — tells the story of a guy and his imaginary friend. Well, it's a little more complicated than that. Detective Locke is investigating the murder of his former childhood sweetheart, Sophie, and the only person who can help him is not a person at all.
His "partner" Spencer is a giant blue panther who rocks a nice button shirt and has a button for an eye. Spencer is only real to Locke, illustrated best in a diner scene where the two have a conversation about the murder.
In the top two-thirds of the page, we see a conversation between the temperamental detective and his more sensible panther partner. When a waitress comes by and asks whom Locke is talking to, the final panel on the page shows Locke telling the waitress to get lost while a smaller, stuffed panther toy sits in the booth across from him.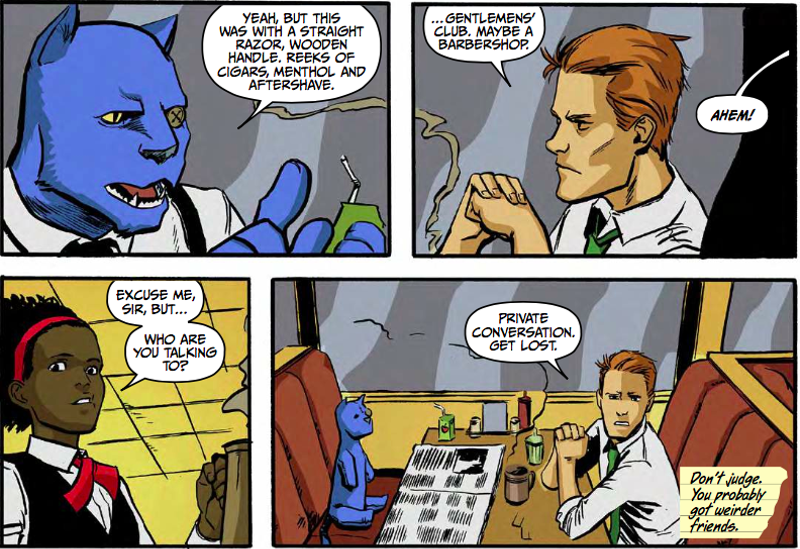 If that sounds something like a grown-up
Calvin and Hobbes
, you're on the right track.
"I wanted to take a children's property and age it up, put a more adult spin on things," Pepose says. He remembered a remixed
Calvin and Hobbes
strip in which Calvin was put on Ritalin and didn't see Hobbes anymore. After the initial chuckle, it sparked an idea: "What if the boy and his imaginary stuffed animal wasn't sort of this fun little quirk, what if it was more of a symptom of a more malevolent mythology?"
Pepose loves Frank Miller, so transferring Bill Watterson's comic strip to a gritty and crime-ridden
Sin City
-type setting was his way in. His pitch went through numerous publishers before landing at Action Lab Comics. Pepose believes one of the reasons it took a while to get to a publisher was because messing with
Calvin and Hobbes
was a risk, as it remains beloved by so many readers.
Pepose's collaborator on the book is artist Jorge Santiago, Jr. Working with Santiago really helped push this story from a concept to a full-fledged reality.
"This book would not be half of what it is with him on it," Pepose says.
While this may be his first published original work, Pepose is far from a newbie in the industry. Fans of comics might remember his reviews on Newsarama, one of the leading resources for comic news and reviews. His time there, he says, was a launching pad for where he is now. He interviewed writers and artists, as well as reviewed lots of works. He was able to learn what he liked (and did not like) and then how to incorporate those strengths and avoid those weaknesses.
A critic making the leap to creator may seem like a minefield, but Pepose says he is prepared for negative reviews and he knows which are meaningful and thoughtful and which ones are not.
"Having come from that critic sphere, I was always thinking about, 'how would I approach this as a critic?'" Pepose said.
While he now lives on the West Coast, Pepose credits his years in St. Louis with helping him stay grounded in an entertainment industry that can be self-indulgent. (He's still frustrated by people who refer to the Midwest as "flyover country.")
"I still, to this day, desperately miss Imo's Pizza," Pepose says. "I have come up with my own sort of bootleg recipe version of it, but it's not the same."
Check out Comixology or your local comic book store to get your copy.