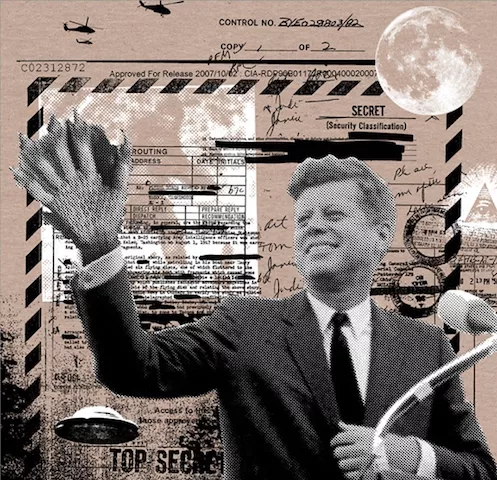 St. Louis theatre company PRIME, which made its debut in November, will tackle a divisive subject the has recently dominated the news: conspiracy theories.
Was the moon landing faked? Is the Loch Ness monster real? Did we make contact with extraterrestrial life?
These questions will be addressed in
The Classified Show: A 24-Hour Conspiracy Festival
, an collection of six new short plays that premiere back-to-back at 8 p.m. Saturday, April 8, at the Southampton Presbyterian Church (4716 Macklind Avenue;
www.facebook.com/primetheatrestl.com
).
But even though that date is looming, PRIME's members are unprepared for the performance. Not one word has been written or one practice held. And that's just the way they like it.
The actors, directors, writers and visual artists behind the plays will meet up at 8 p.m. this Friday, April 7. That night, the writers will draw for topics or, as Managing Director Kyle Kratky calls them, "flavors." These "flavors" are the conspiracy theories. Each writer then has the rest of the night to write a script for a ten- to fifteen-minute play, which will then be rehearsed, blocked and staged in the hours left before showtime.
"It's kind of fun to put yourself through a crucible, to push yourself and think, 'Can I do this? How far can I go in such a short amount of time?'" Kratky says.
This won't be the only 24-hour festival that PRIME mounts this season. The other three will also revolve around the same theme of questioning the status quo — something that the director feels is particularly timely.
"I would be lying if I said it wasn't influenced by the current state of the world and politics," Kratky acknowledges.
The idea began when the company's artistic director, Andrea Standby, wanted to explore alternative points of view. The show asks people to imagine for a moment that these conspiracy theories are true, and then go a step further and consider what the world would be like if they were.
Theater, says Kratky, should not pose "ideas we can stitch on pillows," but instead pose interesting questions that ask the audience to examine their lives. He's not looking to prove the validity of any particular conspiracy, but to have the audience question authority.
"I think our goal is people walk away sort of asking themselves, 'What else in my life do I take for granted?'" Kratky explains. "What else do I accept is real without really knowing? What else do I accept because someone with a big microphone in front of their face told me so?"
PRIME is not the first local company to use the 24-hour limitation, but Kratky believes his company is different for two reasons. One is that they are looking to challenge the audience, not just rely on the craziness of the format.
"A lot of companies, I feel like when they do the 24-hour new play festival, it will largely be about zaniness or silliness, which is great and fun all on its own," Kratky says. "But, we wanted to push it further and really ask some questions."
Another difference is that these festivals involve visual art, with writers incorporating pieces from local artists into their scripts. For the festival, the company has asked visual artists to create pieces of "evidence" that will be used in the plays, such as space debris and steampunk helmets.
Kratky promises not to get bogged down in arguing facts or minute details of particular theories. The objective is still to tell a great story. He assures potential audience that the chosen conspiracies will be observed in a "playful, fun and interesting way."