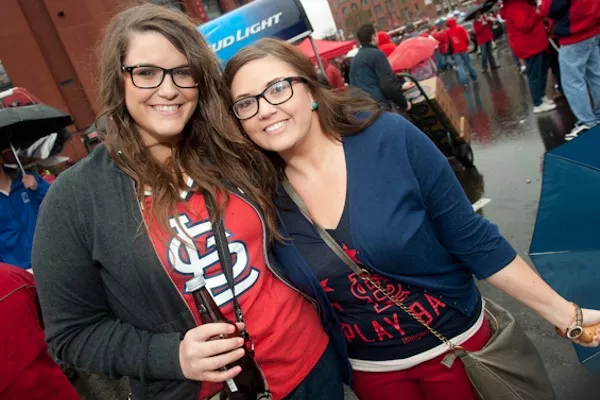 PHOTO BY JON GITCHOFF
Sunday. Be there.
Dance! Theater! Music! Magic! The Cards' home opener! This week has it all.
Here's our list of the top things to do this week. If you're interested in art openings, check out
our list of that as well
.
1. See a dance show focused on the civil rights movement

Dancing and libraries don't always go together, but MADCO and Washington University's John M. Olin Library figured out how to make it work. Choreographers Nejla Yatkin, Cecil Slaughter, Jennifer Archibald and Gina Patterson spent time in the Olin's civil rights collection, considering how citizens can use their voices to enact positive change. The quartet emerged with
Freedom
, MADCO's closing performance of its 40th season. The show is performed at at 8 p.m. Friday and Saturday (March 31 and April 1) at the Touhill Performing Arts Center on the University of Missouri-St. Louis campus (1 University Drive at Natural Bridge Road;
www.touhill.org
). Tickets are $15 to $30. —Paul Friswold

2. Brush Up Your Shakespeare at the Ivory
Antipholus and his servant Dromio are new in town, but they're immediately exceedingly popular. Antipholus is searching for his long-lost brother, but instead finds a mistress: Adriana. She knows him quite well, because they've been together for several years — but Antipholus has no memory of this, nor of their home. He's much more interested in Adriana's sister, anyway. What does he need with a mistress when he could have a wife? Now his only problem is wooing Luciana and figuring out why Dromio has become truculent and intermittently disrespectful. It's almost as if Dromio is two different people... Shakespeare's The Comedy of Errors relies on mistaken identities and twins to weave its comic spell, but with the right twins and a quick cast, it can be a marvel. St. Louis Shakespeare presents The Comedy of Errors at 8 p.m. Friday and Saturday and 2 p.m. Sunday (March 31 to April 9) at the Ivory Theatre (7620 Michigan Avenue; www.stlshakespeare.org). There is one performance at 7:30 p.m. Thursday, April 6. Tickets are $15 to $20. —Paul Friswold

3. See a play about show business at Lindenwood U
Jane Martin's Anton in Show Business is both a wry deconstruction of Anton Chekhov's Three Sisters and a razor-sharp exposé on how regional theater actually gets made. Three actresses win parts in a San Antonio production of the classic drama. One is a budding TV starlet who wants to do serious theater to prove she's a real actress. One is an off-off-Broadway specialist who has hundreds of stage credits to her name but rarely earns a paycheck for her work. The final player is a local actor excited to perform with such vaunted professionals. The director is a serious artiste, the producer is over-educated, and with the money running out there may be no way to actually mount the show. These are the perils of American theater in the digital age, and probably every age that follows. Lindenwood University Theater presents Anton in Show Business at 7:30 p.m. Thursday through Saturday (March 30 to April 8) at Lindenwood University's Scheidegger Center for the Arts (2300 West Clay Street; www.lindenwood.edu/center). Tickets are $8 to $10. —Paul Friswold

4. Marvel at Wall of Death-style cycling downtown
Cycle Showcase STL returns for a fourth year with a new location, but the same old commitment to showcasing the artistry of motorcycles. More than 50 historic, hand-built bikes will be on display, with some motorcycle-related art mixed in as well. Vendors such as Imperial House (freehand pinstriping and lettering specialists) and Flying Tiger Motorcycles (Maplewood's home of old and new motorcycles and moto-culture accessories) will offer ready-to-buy gear, while the American Motor Drome Wall-of-Death riders will hourly steer vintage bikes into a massive, 30-foot-tall barrel to race along its inner wall while perpendicular to the ground. The stunt riders will sign autographs and pose for photos after each show. Cycle Showcase STL takes place from 5 to 10 p.m. Friday and 10 a.m. to 5 p.m. Saturday (March 31 and April 1) across the street from Paddy O's (618 South Seventh Street; www.cycleshowcasestl.com. Tickets are $10, and kids younger than twelve are free. —Paul Friswold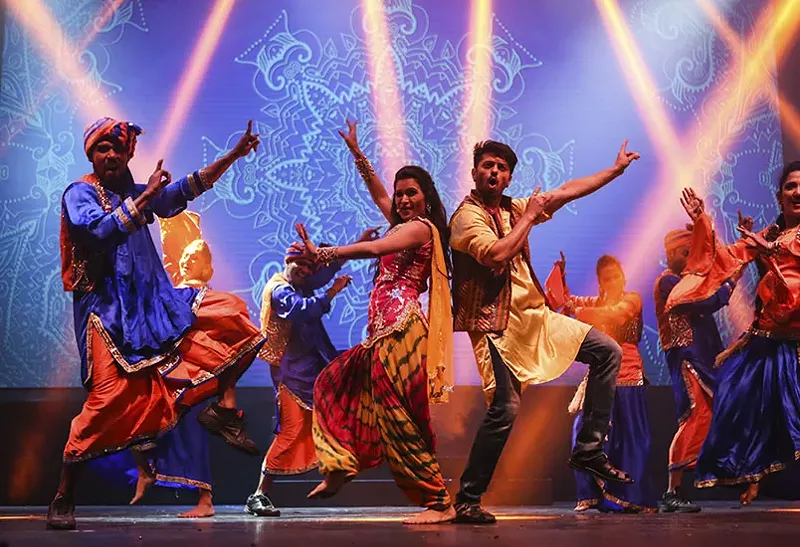 COURTESY DANCE ST. LOUIS
The Taj Express comes to town beginning tonight.
5. Catch a "Bollywood Musical Revue" at the Touhill

The recent increase in musicals as broadcast TV events and on the silver screen bodes well for the future of the genre, but in India, the musical never went out of style. Bollywood, the Indian film industry, produces hundreds every year, each with huge casts, incredible choreography and very catchy music.
Taj Express: Bollywood Musical Revue
brings all the color, passion and energy of the Indian film musical to the stage for two nights only. The show's choreographer, Vaibhavi Merchant, is a Bollywood veteran who uses music, film and dance to recreate the lavish spectacles seen in cinemas across India and on stages around the world. Dance St. Louis brings Taj Express to St. Louis at 8 p.m. Friday and 2 and 8 p.m. Saturday (March 31 and April 1) at the Touhill Performing Arts Center on the University of Missouri-St. Louis campus (1 University Drive at Natural Bridge Road;
www.touhill.org
). Tickets are $38 to $60.
— Paul Friswold

6. See an August Wilson Play at the Black Rep
August Wilson's Seven Guitars is the story of a group of friends and neighbors and their shared connection to the talented Floyd "Schoolboy" Barton, whose life as a blues guitarist is plagued by bad luck, bad decisions and an unexpected jail sentence. He's looking to get his life and career back on track, but his own demons and the worlds prejudice constantly stand in his way. The Black Rep continues its 40th season with the 1940s installment of Wilson's Pittsburgh Cycle, which chronicles African-American life in the Pennsylvania city. Seven Guitars is performed at 7 p.m. Thursday, 8 p.m. Friday and Saturday, and at 3 p.m. Sunday (March 29 to April 23) at the Emerson Performance Center at Harris-Stowe State University (3026 Laclede Avenue; www.theblackrep.org). Tickets are $15 to $40.—Bill Loellke

7. Catch a magic show at the Fox
Magic takes a beating in popular culture because it's a solitary pursuit. Men like Gob Bluth and Michael Scott are made magicians by writers because it's easy to laugh at the sad lonely guy. But true stage magicians are something special. The good ones can fool you, even though you know you're being tricked. The best magicians make you forget they're deceiving you and take you for a ride; and the legerdemainists, escape artists and conjurors of The Illusionists are among the best in the world. The performers in the show are subject to change, but hopefully you'll be freaked out by Colin Cloud, the man who somehow knows what car you drive, what you do for a living and the phone numbers of several of your friends — all just from looking at you. Ben Blaque ratchets up the tension with his dangerous and precise crossbow stunts, and Yu Ho-Jin will baffle you with just a scarf. In his hands that scarf becomes a blank white playing card, then changes color with a simple flutter of his fingers, then becomes multiple cards and is suddenly a regular deck of playing cards — all right out in the open where you can see both hands. The Illusionists take the stage at 7:30 p.m. Friday, 2 and 7:30 p.m. Saturday, and 1 and 6:30 p.m. Sunday (March 31 to April 2) at the Fox Theatre (527 North Grand Boulevard; www.fabulousfox.com). Tickets are $25 to $90.—Paul Friswold

8. Celebrate baseball's return to St. Louis on Sunday
It's Christmas in April in St. Louis. What's a better gift than a ticket to the Cardinals' home opener of a brand-new baseball season? The gates of Busch Stadium (Broadway and Poplar Street; www.stlcardinals.com) open for business as tens of thousands of fans gather to see their favorite sports team go at it once again with their biggest rivals, the Chicago Cubs. The Cubs had a momentous season last year, but now it's a whole new ballgame. (To be honest, you probably have your tickets well before you read this blurb. Nothing said in here will matter, given that this is the Cardinals we're talking about.) The first pitch is thrown at 7:35 p.m. Sunday, April 2, and remaining tickets are $130 to $350. The series continues at 7:15 p.m. Tuesday and at 12:45 p.m. Wednesday (April 4 and 5). —Bill Loellke

9. Say y
es to
Yessongs

This 1975 concert film captures the famous progressive rock band, Yes, when it was at the peak of its success. You know the classics such as "I've Seen All Good People" and "Roundabout," but now you can experience them as played by the 1972 line-up during the "Close to the Edge" tour. Fans of both progressive rock and the bombast and majesty of cape-wearing keyboard wizard Rick Wakeman should definitely check this out. The Webster University Film Series presents
Yessongs
at 8 p.m. tonight at Schlafly Bottleworks (7260 Southwest Avenue, Maplewood;
www.schlafly.com
). Admission is $5. — Bill Loellke