Katherine Reynolds' "Learning to Surrender," 2017, is one of the works on offer at Lot 49.
See a new art show, check out a LGBT-themed film festival, or even catch a Blues game. This week is full of fun things to do.
Here are our top picks.
1. See a chess-themed art show featuring St. Louis artists
In 1944 Marcel Duchamp, Julien Levy and Max Ernst organized The Imagery of Chess, an exhibition of chess sets reimagined by artists and performers. Their hope was that people's vision of the chess board and pieces would be expanded beyond the then-accepted options of either the classic Staunton design or the "French" set. In 2016, the World Chess Hall of Fame exhibited some of the works from the 1944 show to acknowledge the debt owed to those artists for forever altering the look of chess. Imagery of Chess: St. Louis Artists is the new follow-up exhibit, which invites twenty local artists to have their way with the game pieces. Among those participating are Eugenia Alexander, who cites the Afrofuturism movement as a key influence on her work; fashion designer and Project Runway vet Michael Drummond; and Yuka Suga, a glass and metals artist who also works as a therapist. A second, simultaneous show, Pow! Capturing Superheroes, Chess & Comics, showcases more than 200 chess-themed comic books (you'd be surprised by how many super villains play chess to keep their minds sharp for optimal intricate scheming functionality). There are also superhero-themed chess boards and a comic book reading room. Both exhibitions opened on March 23 at the World Chess Hall of Fame (4652 Maryland Avenue; www.worldchesshof.org). Imagery of Chess continues through September 14. Pow! remains up through September 17. Admission is a suggested $5 donation.

2. Catch a symphonic/operatic mashup
Composer John Adams and librettist Peter Sellars addressed Handel's Messiah from the twentieth century with their nativity oratorio El Niño. Now, from the stark weirdness of the 21st century, they bookend that work with The Gospel According to the Other Mary, a symphony/operatic mash-up that tells the story of the Passion from the point of view of Mary Magdalene, her sister Martha and their brother Lazarus. It's a massive work that requires a sound designer, a cimbalom (a large hammered dulcimer sized for concert halls), a half-dozen vocalists and the power of a full chorus. This Gospel (a joint reply to Bach and his Passions) weaves in contemporary social narratives from writers such as medieval mystic Hildegard of Bingen and Dorothy Day, the bohemian who converted to Catholicism and advocated for the poor and homeless as part of the Catholic Worker Movement. It's a much more feminine view of the Passion than the version in the Bible. The St. Louis Symphony presents The Gospel According to the Other Mary at 8 p.m. Friday and 3 p.m. Sunday (March 24 and 26) at Powell Hall (718 North Grand Boulevard; www.slso.org). Tickets are $25 to $111.

3. Run around in your skivvies in Forest Park
Once you reach a certain age, you think more about the time that's behind you than what's in front of you. And you know what else is behind you? Your colon. Colorectal cancer is highly treatable, but only if discovered early. Once you hit 50, you should get tested for colon cancer regularly. And even if 50 is still a ways away, you probably have a loved one in the danger zone — give 'em a reminder to get it checked out. March is Colon Cancer Awareness month, and to help raise awareness about the efficacy of early testing, the
St. Louis Undy Run/Walk
invites you either to compete in the 5K run or 1-mile fun run to help raise money for the Colon Cancer Alliance. You don't have to strip down to your underwear to participate, but all racers and fun-runners receive a free pair of boxers with their registration. The St. Louis Undy Run/Walk starts at 9 a.m. Saturday at Forest Park in the Lower Muny parking lot (
www.undyrunwalk.org
). Registration is $35 to $40.


Turn the page for more things to do this week, including a drum performance.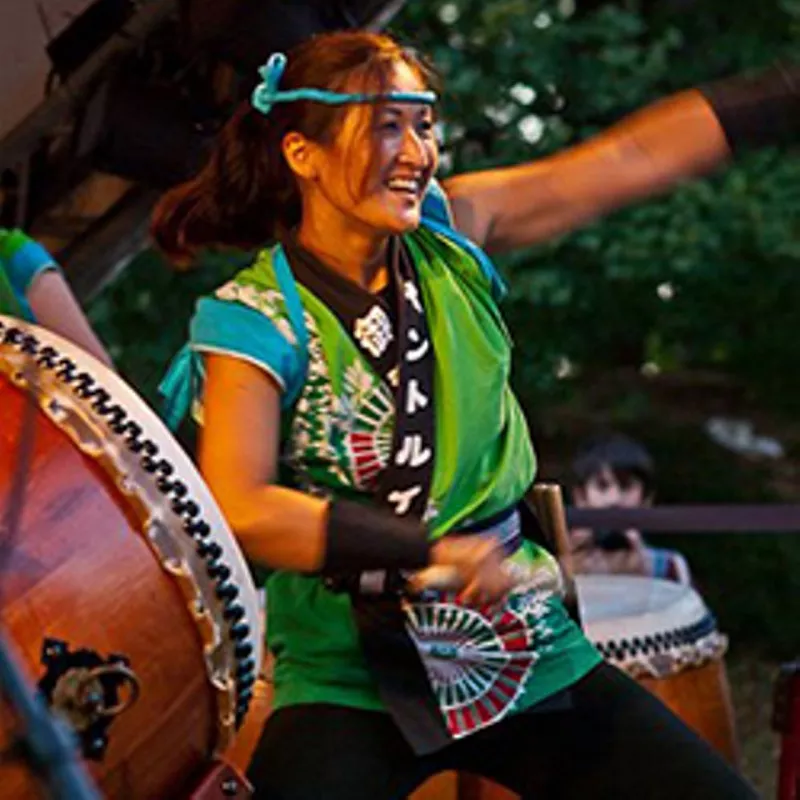 4. See a drum performance group at the Touhill
If you've ever been the Missouri Botanical Garden's Japanese Festival, you've likely heard the group
St. Louis Osuwa Taiko
, if not actually seen it. Members perform intricate and rhythmic percussion pieces on traditional Japanese taiko drums, some of which are so large that their report can be heard throughout the garden. On Saturday at 8 p.m. the group takes its act indoors to the Touhill Performing Arts Center on the University of Missouri-St. Louis campus (1 University Drive at Natural Bridge Road;
www.touhill.org
). Osuwa Taiko will collaborate with special guests Afriky Lolo (well-known for his west African drum and dance ensemble) and local Japanese musical ensemble Gaku during the show, which also features some new songs the drummers have never performed live before. One is a traditional Japanese festival song, and the other is a Polish folk song that will blend Eastern and Western instrumentation. It should be interesting. Tickets are $10 to $25.

5. Catch the Gateway Men's Chorus in U. City
The Gateway Men's Chorus will not give in to the darkness of this year. Instead, the group fights back with a program of songs dedicated to life in the midseason concert of its 30th year, Light. "Community" and "courage" are the watchwords, as the chorus joins forces with soloist Christine Brewer and two additional choirs (the Council Oak Men's Chorale of Tulsa, Oklahoma, and the Lindenwood University Men's Chorus) to perform the music of Verdi, Radiohead and Florence and the Machine. Also on the bill is Randall Thompson's Testament of Freedom, which underlines the ongoing fight for LGBT equality by joining the struggle to the words of the founding fathers. The chorus also has the privilege of debuting a new work in Eric Lane Barnes' composition that satirizes the cruel stupidity of North Carolina's bathroom bill. The Gateway Men's Chorus celebrates Light at 3 p.m. Sunday at the 560 Music Center (560 Trinity Avenue, University City; www.gmcstl.org). Tickets are $15 to $25.

6. Cheer on the St. Louis Blues
Who are the 2017 St. Louis Blues? The team has been doing its best roller coaster imitation with a long winning streak followed by a long losing streak — and then, just to mix things up, another solid winning streak. Management traded away a top defenseman (Kevin Shattenkirk) during that streak of streaks, so it feels like the Blues aren't championship contenders this year. But maybe they're still playoff contenders? Recent wins against the Minnesota Wild and the Los Angeles Kings have shown there's still fight left in this team. Maybe the Blues can bang into the post-season and then play spoiler. Don't underestimate the power of schadenfreude — ruining the Blackhawks' season is always a pleasure. Monday at 7 p.m. the Blues take on the Arizona Coyotes, who are hanging out near the bottom of the standings once again, at Scottrade Center (1401 Clark Avenue; www.stlblues.com). The Coyotes have nothing to play for but pride, so expect a tight-checking game (that spoiler role is also an option near the end of the regular season for some teams). Tickets are $20 to $319.

7. Catch some LGBT films at .Zack
For its tenth installment, QFest moves into a new home. The annual festival of LGBT films takes over .Zack (3224 Locust Street; www.cinemastlouis.org) for five nights (Wednesday through Sunday, (March 29 to April 2) of features, classics and documentaries, with topics including the fight for the right to get married in your hometown and ex-girlfriends who share a true crime podcast. Qfest opens with a free screening of Lovesong at 7 p.m. Wednesday. So Yong Kim directs the story of two friends, Sarah and Mindy (Riley Keough and Jena Malone), who take a road trip together mostly because Sarah is tired of being ignored by her husband. Somewhere out there on the road, they both feel a more romantic spark for each other — but Mindy pulls back and returns home. Several years later, Sarah goes after Mindy and attempts to rekindle the feelings they shared on the ill-fated trip, but arrives shortly before Mindy's own wedding. William Friedkin's 1970 film version of Matt Crowley's seminal play, The Boys in the Band, screens at 9 p.m. ($10 to $13). Michael hosts a birthday party for his pal Harold and their small circle of friends — all of whom are gay and out. When Michael's college roommate Alan unexpectedly shows up, his thinly veiled revulsion for homosexuality leads to spats, fights and a cruel game designed to humiliate everyone that plays it.