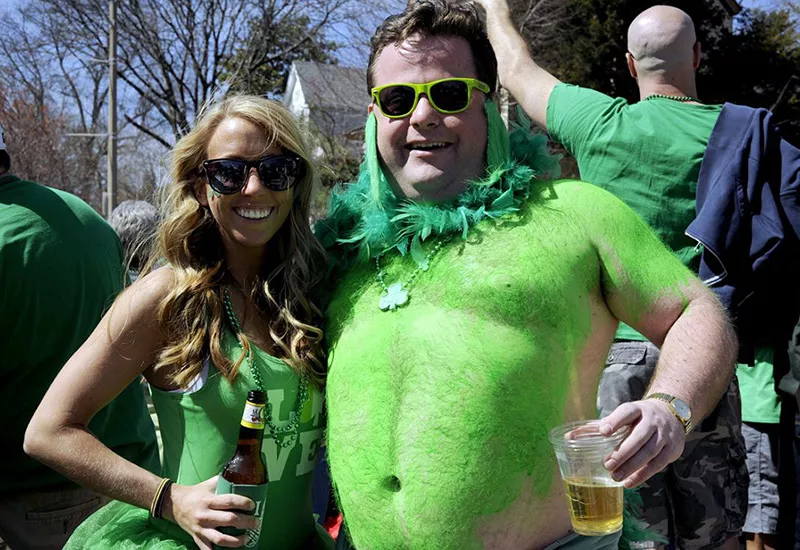 PHOTO BY KELLY GLUECK
Dogtown. Friday. Be there.
Maybe you're taking a three-day weekend, painting your entire body green and getting to Dogtown at 8 a.m. to pre-party. Or maybe you just want something a little bit more interesting than Netflix and chill. Whatever your speed, this week has something for you.
Here are the week's picks.
1. Celebrate St. Patrick's Day in Dogtown
St. Patrick's Day falls on a Friday this year, and it's right in the middle of Lent. But good Irish Catholics (and all other Catholics) needn't worry about enjoying corned beef on the big green day. Archbishop Carlson has granted a dispensation for those attending the Dogtown St. Patrick's Day Parade, with encouragement to abstain from meat on an additional day next week instead. So eat up, have a beer and honor St. Patrick with a clear conscience. This year's parade kicks off at 12:30 p.m. at the corner of Tamm and Oakland avenues (www.stlhibernians.com), with most of Dogtown coming out to join the festivities. The bars will be open, the grills will be fired and everyone will be wearing green, so don't be the stick-in-the-mud who wears black (what's with those jerks who always wear black?). Admission is free, you can't bring coolers or backpacks with you and if you're underage, you have no dispensation to drink alcohol — and the police will be checking IDs. Stick to the corned beef.
2. Pay tribute to a legend
Most people know Nat Hentoff as a reviewer and admirer of jazz (you write a jazz column for 50 years, you get a reputation). But he was also a staunch advocate for free speech, civil rights and education. Hentoff, who passed away in January, was a complex human being who couldn't be contained by any political box or ideological niche; to him, abortion was as evil as capital punishment and the kind of grinding poverty that kills you in your teen years, not just at thirteen weeks. His daughter Jessica Hentoff is the director of St. Louis' Circus Harmony, and a firm believer in her father's ideal that "words that lead to action matter." To honor her dad and continue the family business of using the arts to motivate social change, Circus Harmony presents a special benefit show this Friday, Defying Gravity and Social Injustice: A Tribute to Nat Hentoff. The evening starts at 7 p.m. at .Zack (3224 Locust Street; www.circusharmony.org) with hors d'oeuvres and cocktails and jazz, followed by a Circus Harmony performance. Special guests include alumni Sidney "Iking" Bateman and Melvin Diggs, plus Nat's granddaughters Elliana Grace and Kellin Quinn, who are both now circus professionals. Tickets are $75.

3. Recall the horror of Leopold and Loeb
Nathan Leopold and Richard Loeb shocked Chicago when they murdered Robert Franks, a fourteen- year-old relative of Loeb's. When the two were caught they became an American scandal. Wealthy, well-educated, attractive and charming, the friends didn't seem like typical murderers. The more that was revealed, the more horripilated the public became. Followers of Nietzsche, the duo believed they were beyond law and morality and could kill without fear of punishment. Driven by their love for each other and an ever-escalating need to thrill, they seemed to be beautiful monsters. John Logan's drama
Never the Sinner
uses original research and a keen eye for human nature to explore the psychology of young, well-to-do thrill-killers. New Jewish Theatre presents
Never the Sinner
at 7:30 p.m. Wednesday and Thursday, 8 p.m. Saturday and 2 p.m. Sunday (March 16 to April 2) at the Wool Studio Theatre on the campus of the Jewish Community Center (2 Millstone Drive, Creve Coeur;
www.newjewishtheatre.org
). Tickets are $39.50 to $43.50.

4. See a classic film at Webster U
After more than 50 years, people still obsess over Alain Resnais' 1961 film Last Year at Marienbad (L'année denière à Marienbad), which can't be said about many films. In what's either a menacingly empty hotel or an eccentric and abandoned château, a man accosts a woman and claims they met a year ago at Marienbad and that he knows she's been waiting there for him intentionally. The woman claims to have no memory of this. A second man is there as well; the idea that the woman is his wife comes across through implication more than any concrete statement. There are flashbacks, repetitions of dialogue in multiple locations and the strange, mirrored passages of the château. Last Year at Marienbad screens at 7:30 p.m. Saturday at Webster University's Moore Auditorium (470 East Lockwood Avenue; www.webster.edu/film-series), as part of Cinema St. Louis and the Webster Film Series' Classic French Film Festival. Tickets are $10 to $13.
FIRST NATIONAL TOUR (C) JOAN MARCUS
Motown the Musical is here.
5. See The Wiz at UMSL
If this year felt unnaturally long and far too disheartening, maybe it's time you eased on down the road to enjoy a musical. William F. Brown and Charlie Smalls'
The Wiz
transports the heroine's journey of
The Wizard of Oz
from a magical fairytale land to the inner city, but the important stuff remains unchanged. Dorothy's companions learn that the power to achieve their dreams was always inside them, Dorothy gets home again a little older and little wiser, and everybody gets to enjoy the show's R & B and soul score. UMSL Theatre presents
The Wiz
at 7:30 p.m. Thursday through Saturday and 2 p.m. Sunday (March 16 to 19) at the Touhill Performing Arts Center on the University of Missouri-St. Louis campus (1 University Drive at Natural Bridge Road;
www.touhill.org
). Tickets are $20.
6. Catch the "Frozen Four" in St. Charles
There is a women's professional hockey league. You may not know that, because it's confined to the East Coast, but the NWHL began in 2015 with four teams competing for the Lady Isobel Gathorne-Hardy Cup, named in honor of the daughter of Lord Stanley, who donated the NHL's most famous trophy. It's not too great a leap to believe that some of the women you see at the NCAA Women's Frozen Four will head for the NWHL after college eligibility ends. Sunday at 2 p.m. at the Family Arena (2002 Arena Parkway, St. Charles; www.familyarena.com), a champion will be decided. Top-seeded Wisconsin is the safest bet, but don't discount the Bulldogs of Minnesota-Duluth. Tickets are $24 to $44.

7. "Meet a Muslim at the Movies" on Tuesday
Bassem Youssef followed the standard path of any young comedian trying to make it in show biz. He went to medical school, graduated and went into practice as a heart surgeon. But Dr. Youssef lived in Egypt, where the government controls the media and the election process, and brutally stamps down anyone who stands in its way. Being a big fan of
The Daily Show with Jon Stewart
, Youssef decided to embark on his comedy career by creating a sort of
Daily Show
for Egypt — where the same ruthless dictator who dominates the press could threaten, beat up and even kill everyone involved if he decided to do so (did anyone else hear Sean Spicer's boner spring into action just now?). And then a funny thing happened, just as Youssef planned: The show,
Al Bernameg
, took off, reaching an audience of 30 million people hungry for satire and the relief laughter brings. Documentarian and
Daily Show
senior producer Sara Taksler decided to make a film about the success of Youssef's comedy career in the film
Tickling Giants
, and her timing was excellent; she got to Egypt just as the government decided to really crack down on
Al Bernameg
. You can catch
Tickling Giants
Tuesday night at 7 p.m. at the Landmark Tivoli Theatre (6350 Delmar Boulevard, University City;
www.landmarktheatres.com
) as part of "Meet a Muslim at the Movies" night. Tickets are $15.
8. Thrill to the sounds of Motown at the Fox
The story of Motown founder and songwriter Berry Gordy Jr. is one of determination and luck. He met singer Jackie Wilson through family friends, and sold him a song he'd written with the help of his sister and songwriter/producer Billy Davis. That modest hit led to more songs for Wilson and an eventual No. 1 hit. Gordy used his money to segue into producing, which is how he met Smokey Robinson. Before too long, he had a fledgling record company — Motown Record Corporation, you may have heard of it — and was well on his way toward chart domination, crossover success with a young white audience, and ascension to the top of the music business.
Motown the Musical
is based on Gordy's 1994 autobiography and uses more than 50 Motown classics to tell the story of Gordy's meteoric rise. Along the way it shines the spotlight on stars such as Diana Ross, the Four Tops, Marvin Gaye and Rick James. The jukebox musical is performed at 7:30 p.m. Wednesday through Friday, 2 and 7:30 p.m. Saturday and 1 and 6:30 p.m. Sunday (March 21 to 26) at the Fox Theatre (527 North Grand Boulevard;
www.fabulousfox.com
). Tickets are $25 to $95.