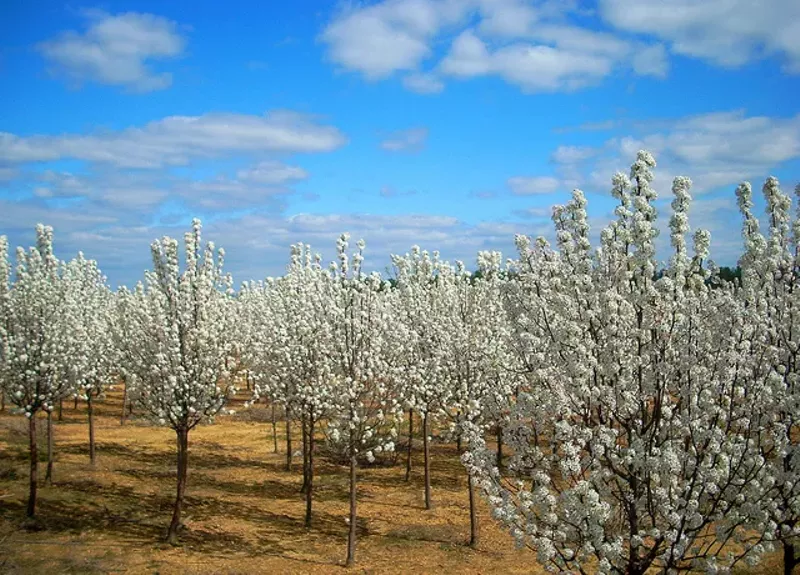 It shouldn't smell like semen outside yet.
Or, to put it another way, Bradford pear trees — those white deciduous ones with the, um, distinct odor — should not be blooming this early. In fact, according to the Missouri Botanical Garden,
we're a full month ahead of schedule
.
This follows an unusually warm February that saw temperatures in St. Louis repeatedly reach in excess of 70 degrees. It's a phenomenon that played out across the U.S. this year. An
article published this week
by the
New York Times
with the headline "Spring Came Early" —
ahem
— says the date of "first leaf" has arrived weeks earlier in 2017 than the 30-year average.
Shorts weather aside, that's not a good thing, according to the
Times
:
An early spring means more than just earlier blooms of fruit trees and decorative shrubs like azaleas. It can wreak havoc on schedules that farmers follow for planting and that tourism officials follow for events that are tied to a natural activity like trees blooming. Some plant species that bud early may be susceptible to a snap frost later, and early growth of grasses and other vegetation can disrupt some animals' usual cycles of spring feeding and growth.
The culprit, according to a group of climate scientists called
World Weather Attribution
, is — you guessed it — human-driven climate change.
"We found clear and strong links between last month's record warmth in the United States and climate change," says that group's Geert Jan van Oldenborgh, a senior research at the Netherlands Meteorological Institute. "Temperatures like those seen across the lower 48 this past February are becoming more and more common as cold winter months are getting rarer. The observations show a clear trend and climate models confirm it is caused by greenhouse gases."
In practical terms, that means that St. Louis smells like jizz a month earlier than expected, as the Bradford pear trees blossom in early March rather than April.
The proliferation of the trees themselves is its own form of man-made havoc wrought upon nature as well. Once a popular ornamental (amongst people who like the smell of semen, we guess), the tree is now classified as an invasive species and has
largely fallen out of favor
. Native to China and brought to the U.S. by the Department of Agriculture in the 1950s, the exceptionally brittle and short-lived trees were thought to be sterile and were planted everywhere.
As it turns out, they are
not
sterile — the smell should have been a clue — and they cross-pollinate and spread like weeds across the landscape, decimating native trees in the process. They produce fruit that is not edible, and their steep "v" crotch branch structure ensures they will crack and explode in extreme weather events — which, of course, are expected to increase in frequency as climate change continues unchecked.
All that and, well, they smell like ejaculate. Which, all things considered, is kind of appropriate. After all, with global temperatures on the rise and politicians seemingly unwilling to do anything about it, we're all screwed anyway.
Might as well smell like it!