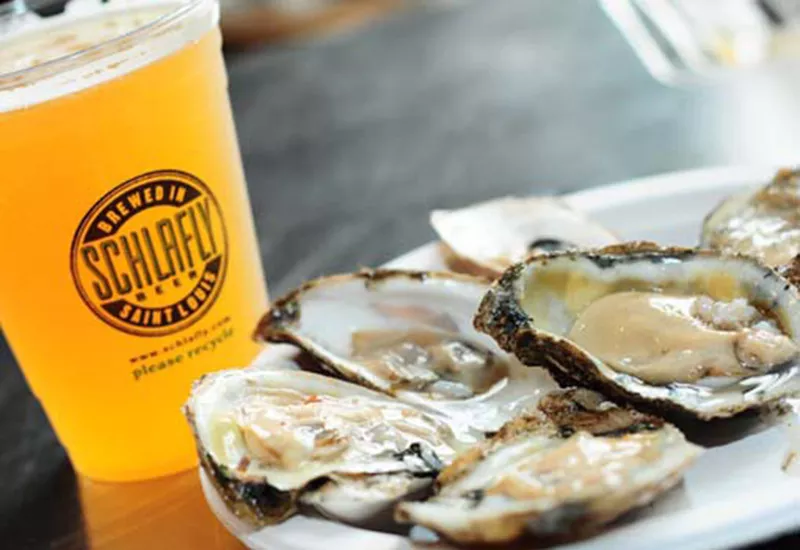 EGAN O'KEEFE
Oysters and stout come together this weekend at the Schlafly Tap Room.
OK, so it's not 70 degrees anymore, but what did you expect? It's still March, after all, and just because winter still has a little energy left doesn't mean you need to spend the weekend curled up under a blanket at home. Head over the Schlafly Tap Room for some oysters, cheer on the marchers in Saturday's St. Patrick's Day parade, watch a staged reading or check out two new museum shows. It's all going on, and entry is totally free. Get your coats and get moving!
Here are this week's top five picks.
1. Slurp and sup at the Stout & Oyster Festival
Tastes of the East and West Coast come together at the Stout & Oyster Festival at the Schlafly Tap Room (2100 Locust Street; www.schlafly.com). While you chow down on some of the 70,000 bivalves flown in from both sides of the country, you can also indulge in some of Schlafly's finest stouts, such as Oatmeal Stout, Coffee Stout and Nitro Irish Stout. Several bands will be on hand to entertain while you dine at the festival, including the Funky Butt Brass Band, Big Mike Aguirre & the Blu City Allstars and Boudin Brothers Band. Don't like oysters? No need to worry, because the Tap Room menu will be available in the downstairs dining area. Get ready for Schlafly's biggest food and beer festival. The event will be held from 5 p.m. to midnight Friday and 11 a.m. to midnight Saturday (March 10 and 11). Admission is free, but bring money for food and beverages. — Bill Loellke
2. Check out a new exhibit honoring St. Louis' activism
St. Louis' history as a wellspring of civil rights activism is deep and impressive. Dred and Harriet Scott's legal fight to be free, Mary Meachum's bold actions leading slaves to freedom across the Mississippi River, the Jefferson Bank protesters organizing to get access to better jobs, Percy Green and the daring VP Ball invaders who challenged St. Louis' powerful elite and the exclusionary nature of their private party — all of these people fought the good fight in St. Louis. #1 in Civil Rights, the new exhibition at the Missouri History Museum (Lindell Boulevard and DeBaliviere Avenue; www.mohistory.org) chronicles the history of the civil rights movement in the metro area through artifacts, historical photos, oral histories, art work and actors' performances. Every key moment in the black struggle for equality is covered up to the present day, with artifacts collected by the museum staff following the killing of Michael Brown and the resulting civil unrest in Ferguson playing a major role in the exhibit. #1 in Civil Rights opens on Saturday, March 11, and continues through April 15, 2018. Admission is free. — Paul Friswold


3. Witness the fun of downtown's St. Patrick's Day Parade

Pinch yourself, because it's that time of the year again: the day when St. Louisans and leprechauns (we all know they totally exist) come together for the downtown
St. Patrick's Day Parade
. This year's parade includes more than 130 floats, bands, marching units, balloon mascots and 5,000 marchers. Also taking place is the St. Patrick's Day Run, which will have runners, walkers and wheelchair racers of all ages competing on a five-mile course. The run also includes a Best Costume competition, in which runners are encouraged to dress in Irish-themed gear. The St. Patrick's Day run begins at 9 a.m. Saturday, and the parade kicks off from the intersection of Market Street and Broadway (
www.irishparade.org
) at noon. — Bill Loellke

4. Learn about "the Empress of the Blues"
Life came at Bessie Smith hard and fast. Her father died when she was still an infant, and her mother died when she was nine. Raised by an older sister, she went to work as a street busker while still a child. Bessie began working as a dancer on the black theater circuit while still in her teens, eventually transitioning to her rightful place as a singer. With her powerful voice, unique phrasing and stage presence, she became a star working for Columbia Records and earned her title "the Empress of the Blues" through a relentless touring schedule. She lived her own life, engaging in affairs with men and women, traveling in a custom-built rail car and working with all the greats (Coleman Hawkins, Fletcher Henderson, Joe Smith). Douglas M. Parker's play Bessie: The Life and Music of Bessie Smith gets a staged reading as part of the Black Rep's 40th anniversary season, with Denise Thimes in the role of Bessie. The play is performed at 3 p.m. Sunday at Washington University's Edison Theatre (6445 Forsyth Boulevard; www.theblackrep.org). Admission is free.— Paul Friswold
5. See a new show at Saint Louis Art Museum

Classical Chinese artists often used trees as inspirations or the focus of their works. Trees and the natural world are the focus of the new exhibition at the Saint Louis Art Museum (1 Fine Arts Drive;
www.slam.org
),
In the Realm of Trees
, which includes photographs, paintings and decorative works that glorify the beauty found in nature. The centerpiece of the show is a set of contemporary photographs called
Sacred Tree on Mount Lu
, made by Beijing-based photographer Michael Cherney, which was acquired for the museum's permanent collection in 2016 and will be presented for the first time in this exhibit.
In the Realm of Trees
opens on Friday, March 10, and remains up through Sunday, September 3, in gallery 225. The gallery is open Tuesday through Sunday, and admission is free.
— Bill Loellke