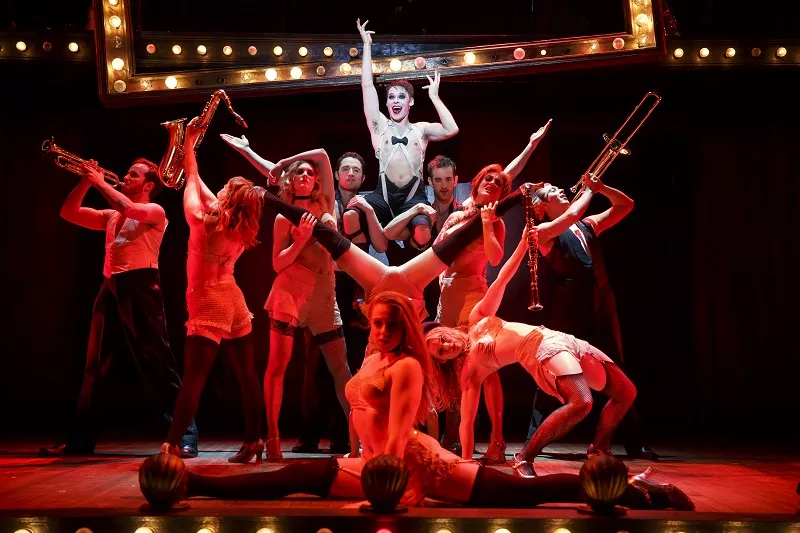 JOAN MARCUS
Cabaret comes to the Fox beginning March 7.
Now that we've recovered from Mardi Gras (umm, we
have
all recovered by now, right?), it's time to turn to more ... artistic ... pursuits. And this weekend offers plenty, from dance productions to plays to the return of everyone's favorite fundraiser for the arts. You can catch
Cabaret
at the Fabulous Fox or
Zorba
at the Marcelle, celebrate Harry Potter at the Science Center or learn about the gay motoring experience in less enlightened times. There's something for everyone, and it's all likely to be a blast.
Here are our picks for this week's best things to do.

1. See a musical at the Marcelle
Kander and Ebb's Zorba is a show that many critics feel hasn't aged well. It's important to keep in mind that critics are a sullen lot, and a musical that loudly and unashamedly declares that life is worth living because of the endless flow of joy and woe is perhaps too much for the mondo dismos of the press. Zorba is an older man who pursues women the same way he dances — with lusty abandon — and attaches himself to Nikos, a young man who comes to Crete to get the family's mine back in the black. Under Zorba's tutelage, Nikos learns to live for the moment, because the future is "a pig's behind," according to Zorba's philosophy. Together they chase women, sing, dance and enjoy the inevitable pain because it makes their too-brief joy that much sweeter. New Line Theatre presents Zorba at 8 p.m. Thursday to Saturday (March 2 to 25) at the Marcelle Theater (3310 Samuel Shepard Drive; www.newlinetheatre.com). Tickets are $15 to $25. — Paul Friswold


2. Catch a film about gun control
America is stuck in what seems like a never-ending debate on gun control. Tim Sutton's drama Dark Night is about American gun culture, especially the mass shootings. The film is loosely based on the Aurora, Colorado, shooting at a screening of The Dark Knight Rises, which left twelve dead and 70 injured. The story explores the activities of six strangers over one day leading up to a devastating shooting, with one of them being the perpetrator. Sutton uses non-professional actors and documentary techniques to add layers of realism without being exploitative. It is a film that is for those who have an investment in the gun control debate as well as those who advocate for the art-house provocateur. Dark Night screens at 7:30 p.m. Friday through Sunday (March 3 to 5) in Webster University's Moore Auditorium (470 East Lockwood Avenue; www.webster.edu/film-series). Tickets are $5 to $7. — Bill Loellke


3. Celebrate Harry Potter on First Friday
The adventures of the Boy Who Lived continue to live in the hearts of readers worldwide. The Saint Louis Science Center delves into the world of magic with its latest First Friday: Harry Potter, which has something for every Potterhead. There will be a presentation from Dan Yezbick, professor of English and media studies at St. Louis Community College at Wildwood, on some of the most closely guarded secrets of J.K. Rowling's most famous creation. The Webster University Quidditch Team will be there to train people in the famous sport, Muggle-style, and Harry Potter and the Chamber of Secrets is screened in the Planetarium at 9 p.m. and in the OMNIMAX theater at 10 p.m. First Friday: Harry Potter takes place Friday from 6 p.m. to midnight at the Science Center (5050 Oakland Avenue; www.slsc.org). Most activities are free, with some exceptions. Tickets for free screenings and presentations can be obtained at the box office starting at 6 p.m. on a first-come, first-served basis. — Bill Loellke
4. Raise money for Artscope in Maplewood
Artscope's largest fundraiser of the year is Wall Ball, which helps the arts education organization continue to provide a creative outlet for kids. Wall Ball gathers local artists such as Jeff Sass, Kat Kissick and Sarah Paulsen together for an evening of creation and libations. The artists handle the creation, as each one makes a new work of art during the evening, with patrons placing silent bids as the piece approaches completion. The libations come from the cash bar, which can become an open bar if you opt for the higher ticket levels. You get drinks and a new artwork for your walls, and the kids get to pursue their own artistic dreams — everybody wins. Wall Ball takes place from 7 to 11 p.m. Saturday at Majorette (7150 Manchester Road, Maplewood; www.artscopestl.org). Tickets are $35 to $1,000. — Paul Friswold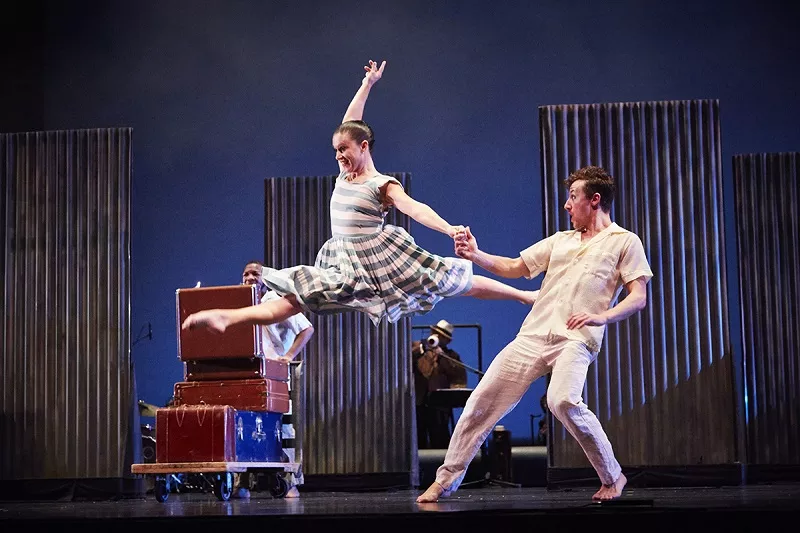 PHOTO BY STEVE TRUESDELL
MADCO dancers in performance.
5. See the premiere of new dance pieces at the Touhill
New Dance Horizons V: Women Who Inspire
celebrates the best women have to offer the world. Four respected choreographers (Amy Seiwert, Wendy Rein, Ryan T. Smith and Stephanie Martinez) have partnered with Saint Louis Ballet, MADCO and the Big Muddy Dance Company to premiere their new works. These choreographers were inspired by Brain on Fire: My Month of Madness author Susannah Cahalan, Chilean poet Gabriela Mistral, visual artist Louise Bourgeois and twelfth-century abbess and religious visionary Hildegard of Bingen. New Dance Horizons V: Women Who Inspire is presented by Dance St. Louis. It will be performed 8 p.m. Friday and 2 and 8 p.m. Saturday (March 3 and 4) at the Touhill Performing Arts Center on the University of Missouri-St. Louis campus (1 University Drive at Natural Bridge Road;
www.dancestlouis.org
). Both evenings are preceded by panel discussions and short performances inspired by Katherine Dunham and Josephine Baker. Tickets are $20.
— Bill Loellke

6. Learn about the Underground Railroad through dance
The Underground Railroad is one of the greatest examples of civil disobedience in America's history. Regular citizens risked their lives, their property — everything they had — to smuggle black people out from the slavery of the deep South and into freedom in Canada. Choreographers Mona Störling-Enna and Tobin James use a cast of more than 50 dancers to tell the inspiring story of how Americans worked together to subvert a great evil and heal a moral sickness. The Störling Dance Theatre presents
Underground
at 7 p.m. Sunday at the Touhill Performing Arts Center on the campus of University of Missouri-St. Louis (1 University Drive at Natural Bridge Road;
www.touhill.org
). Tickets are $20 to $60.
— Paul Friswold

7. See a timely play about 1930s Germany
Director Sam Mendes may be best known for his film work (American Beauty and Spectre), but his 1998 revival of Kander & Ebb's Cabaret won three Tony awards. For Roundabout Theatre Company's 50th anniversary, it's taking that production of Cabaret back on the road to shake up an already shook public. Inside the Kit Kat Klub, Sally Bowles dazzles and the Emcee chills an audience of desperate Germans who are hiding from the rise of the Nazis. Outside is where aspiring American novelist Cliff belongs and where he must navigate his rising attraction to Sally Bowles and the demands of an acquaintance who wears the brown shirt. But hiding your head in the cabaret doesn't do anything to stop the theft of the country by a madman bent on war. The Roundabout Theatre Company's Cabaret sets up in the Fox Theatre (527 North Grand Boulevard; www.fabulousfox.com) for a short run. Performances are at 7:30 p.m. Tuesday through Friday, 2 and 7:30 p.m. Saturday and 1 p.m. Sunday (March 7 to 19), with an additional 6:30 p.m. show on Sunday, March 12. Tickets are $25 to $100. — Paul Friswold

8. Learn about LGBT cross-country drives at the History Museum
If you were gay in the mid-twentieth century, a cross-country drive could be a harrowing experience — unless you had a Damron Guide, which identified LGBT-friendly hotels and restaurants along Route 66. The Damron Guide (which is still in publication) helped closeted and out travelers embrace the freedom of the open road. At 7 p.m. Wednesday at the Missouri History Museum (Lindell Boulevard and DeBaliviere Avenue;
www.mohistory.org
), the St. Louis LGBT History Project hosts
Rainbow Road: The LGBT Community on Route 66
, a presentation about the gay motoring experience in the old days. Everything from the rise of gay motorcyclists to Liberace's performances at the Chase Park Plaza will be covered. Admission is free. — Paul Friswold