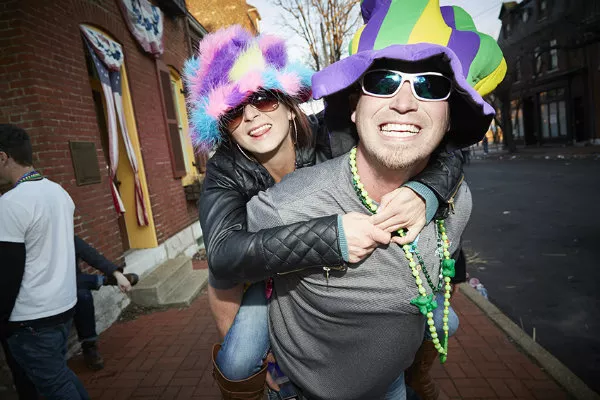 Photo by Steve Truesdell.
Mardi Gras is back.
Soulard disappears this week in a rising tide of purple, green and gold (hey, bruises, money & beer! Now I get it), but there are more sober options for fun as well. You could always combine Mardi Gras with something else, if you don't go HAM on Saturday. No? Well, it was just a suggestion. See you under the desk on Monday, cowboy.

1. See a classic Arthur Miller play about the immigrant experience
Eddie Carbone is an Italian-American longshoreman who lives with his wife, Beatrice, and her niece Catherine. Catherine is almost eighteen, and is more interested in boys now — something that bothers Eddie more than it should. When Beatrice invites her cousins Marco and Rodolfo to live with them (they're Italians here illegally, looking for work), Catherine and Rodolfo feel an immediate attraction. This drives Eddie crazy; these feelings he has for her are more than those of a protective uncle. Eddie jeopardizes the brothers and his own marriage when he schemes to break up the young couple. Arthur Miller's drama A View from the Bridge is a bloody-knuckled examination of the differences in how the Old World and the new one settle scores. Clayton Community Theatre presents A View from the Bridge at 8 p.m. Thursday through Saturday and 2 p.m. Sunday (February 23 to March 5) at the Washington University South Campus Theatre (6501 Clayton Road; www.placeseveryone.org). Tickets are $15 to $20. — Paul Friswold

2. Enjoy the artistic arrangement of flowers
With the first day of spring only a month away, we know it's not long until the flowers again bloom. And while we wait for the Midwest to get out of its winter funk, the Saint Louis Art Museum gives us a taste of floral beauty with the return of its Art in Bloom: A Celebration of Art and Flowers. This event combines beautiful floral creations from some of the best designers in the region, who offer interpretations of more than 35 works in the museum's collection. There will be a preview party, good food from Panorama executive chef Ivy Magruder, a lecture and demonstration from celebrity florist Jeff Leatham, and fun family activities. Art in Bloom will be held 10 a.m. to 9 p.m. Friday and 10 a.m. to 5 p.m. Saturday and Sunday (February 24 to 26) at the Saint Louis Art Museum (1 Fine Arts Drive; www.slam.org). Admission to the festival is free. Auditorium programs require tickets, which are $15 to $45. — Bill Loellke

3. Check out the special effects of France's early film industry
The first films made following the invention of cinema in late-nineteenth century France were of highly kinetic events — circuses, street performers and magic shows, which the French called spectacles de curiousité. As directorial techniques advanced, primitive special effects began to transform these documentaries into fictionalized stories. Professor of Film and Media Studies Colin Burnett screens examples of the rapid transformation of early films tonight in the program Spectacles de Curiousité. From the Lumière Brothers' everyday sights, such as a train pulling into a station (Arrival of a Train at La Ciotat), to Georges Méliès' spectacular fantasia, A Trip to the Moon, film progressed dramatically in just seven years. Spectacles de Curiousité starts at 6:30 p.m. Friday at Mildred Lane Kemper Art Museum on the Washington University campus (1 Brookings Drive; www.kemperartmuseum.wustl.edu). Admission is free. — Paul Friswold
4. Watch a Shakespearean play about power politics and bad leaders
Spurred on by the prophecy of an eerie trio of witches, Lord and Lady Macbeth (well, mostly the latter) hatch a scheme to kill King Duncan to make way for King and Queen Macbeth. Shakespeare's Macbeth continues to astound with its keen insights on certain people's lust for power and the toll it takes on their psyche and their groaning subjects. The Washington University Performing Arts Department presents a modern gloss on Macbeth at 8 p.m. Friday and Saturday and 2 p.m. Sunday (February 24 to March 5) at Washington University's Edison Theatre (6445 Forsyth Boulevard; www.edison.wustl.edu). Tickets are $10 to $20. — Paul Friswold
5. Throw yourself into Mardi Gras madness
Party hounds, can you hear that? Soulard is calling you for the Bud Light Grand Parade and Mardi Gras. The parade starts at 11 a.m. Saturday at Busch Stadium (601 Clark Avenue; www.stlouismardigras.org), with more than 10 million beads being flung from more than 100 floats. By the time the parade makes its way to the Anheuser-Busch Brewery, the streets of Soulard will be bubbling over with happy people. Live bands, costumed revelers, food and drink vendors and a couple dozen surprises will all be part of the largest street party of the year. Dress for the weather, leave your coolers — and bottles and all outside drinks — at home and enjoy the celebration. Admission is free, but you'll need money for drinks and snacks. — Paul Friswold

Turn the page for even more weekend fun.
Photo by Abby Gillardi.
The High Heel Drag Race.

6. Watch the most stylish sprinters in the world
If you think running is hard, try doing it in high heels. Once you're done taking in the sights of the Mardi Gras Parade, head on over to Nadine's Gin Joint (1931 South Twelfth Street;
www.mardigrasinc.org
) at 3 p.m. Saturday, where full-drag performers don their best attire and heeled footwear for a
High Heel Drag Race
. This year offers a few bonuses, including an all-genders heat, where you can wear your shoes of choice for a relay race, and a "boys in heels" category, in which the men do not have to wear a dress, but do need heels. There will be lots of running, but probably more balancing. Admission is free, and winners get prizes and beads, of course.
— Bill Loellke
7. Get a taste of more than 2,000 years of Chinese history
Wondrous, genuine Chinese culture and awe-inspiring spectacle are on full display in the critically acclaimed Shen Yun. The production features 100 dancers showing what they are made of, 400 sets of hand-made costumes and an orchestra that blends the musical styles of the East and West. It all plays out in front of animated backdrops that recreate some of the best architectural structures of classical China. Performance, art and music come together to deliver a spectacle for anyone seeking to experience the richness of Chinese culture. Shen Yun is performed at 2 and 7:30 p.m. Friday and 2 p.m. Saturday (February 25 and 26) at the Peabody Opera House (1400 Market Street; www.peabodyoperahouse.com). Tickets are $70 to $150. — Bill Loellke
8. Skip the movies, take the kids to a play
Children's books by author Mo Willems come to life in the musical that young audiences will love, Elephant and Piggie: We Are in a Play, presented by Kennedy Center on Tour. This high-energy show follows the characters of Elephant Gerald and Piggie as they help solve some of life's many burning questions (how to share? what to wear?) through old-fashioned song and dance. This musical is designed to introduce young audiences to the world of theater. Head on over and get ready for "Flippy Floppy Floory." Elephant and Piggie: We Are in a Play is performed at 1 and 5 p.m. on Saturday and Sunday (February 25 and 26) at Founders' Theatre in the Center of Creative Arts (524 Trinity Avenue, University City; www.cocastl.org). Tickets are $16 to $20. — Bill Loellke
9. Try to figure out if the Blues have figured it out this year
What the what? The St. Louis Blues just completed a five-game sweep on the road, and every skater on the ice contributed (let's quickly forget what happened with the Panthers). This is a changed team since the release of Ken Hitchcock and the installation of head coach Mike Yeo. Passes are crisp, and they're skating the puck in instead of the ol' dump 'n' chase. The sieve-like defense also tightened up — things are very positive, indeed. The revitalized Blues take on the Edmonton Oilers Tuesday at 7 p.m. at Scottrade Center (1401 Clark Avenue; www.stlblues.com). Remaining tickets are $21.75 to $353. — Paul Friswold
10. Enjoy the crass commercialism of the '80s and zombies, together at last
Valley Girl sisters Regina and Samantha go to the movies one night to get out of the house, and emerge to a desolate Los Angeles. A comet has passed through the earth's orbit, and everyone exposed to it was reduced to piles of red dust. The girls cope with the tragedy with a massive shopping run through the empty mall. Some of the citizens were only indirectly exposed, and they're now flesh-eating zombies — a terror Regina and Samantha cope with through the cool detachment of teenagers who care only for shoes, clothes and full-auto firepower. Thom Eberhardt's 1984 cult classic Night of the Comet is a surprisingly stylish, funny romp through the aftermath, and it stars Catherine Mary Stewart as Regina. The Webster Film Series Strange Brew division shows Night of the Comet at 8 p.m. Wednesday at Schlafly Bottleworks (7260 Southwest Boulevard; www.schlafly.com). Admission is $5. — Paul Friswold