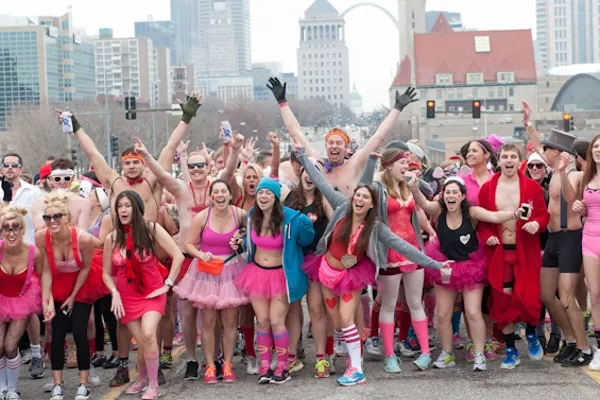 This week you can see a classic tearjerker, catch a bill of great slapstick from the Three Stooges, or even run around downtown St. Louis in your skivvies — truly, something for everyone!
Here are this week's recommended picks. Want more ideas for Valentine's Day week? Check out our list of
special events around town related to the holiday
, or peruse our
roundup of creative date ideas
. Interested in seeing some art? We've got
some suggestions for that
, too.
1. See a Neil LaBute play in the Central West End

The morning after is always a pain, and the person you wake up with can make it better or worse. That premise is the jumping-off point for Neil LaBute's
The Way We Get By
. This two-person play follows Beth and Doug, who wake up in the same bed after a crazy party and one-night stand. They aren't strangers, but they also aren't certain if their fling could, or should, continue past the morning. St. Louis Actors' Studio continues its season with
The Way We Get By
. Performances take place at 8 p.m. Thursday through Saturday and 3 p.m. Sunday (February 10 to 26) at the Gaslight Theater (358 North Boyle Avenue;
www.stlas.org
). Tickets are $30 to $35.
— Bill Loellke

2. Catch a play about ice fishing
In Minnesota, ice fishing is more than a sport. It's a way of life. If everything goes perfectly, you get your shack out on the lake as soon as the ice is thick enough to support it, and youll be there every weekend until your feet start getting wet. Ron Huber made it to his shack, but he's deriving very little enjoyment from it this year. Instead of enjoying some solitude he ends up entertaining a steady stream of visitors. There are his wife Irene, his brother Duffer, a pair of preachers who just sorta show up, another ice fisher — he's caught quite a crowd, but no fish. Kevin Kling's The Ice Fishing Play is a comedy about a man with everyday dreams who never seems to attain them, but is still doing all right. West End Players Guild presents The Ice Fishing Play at 8 p.m. Thursday to Saturday and at 2 p.m. Sunday (February 10 to 19) at Union Avenue Christian Church (733 North Union Boulevard; www.westendplayer.org). Tickets are $20 to $25.— Paul Friswold

3. Stuff your face at a Cajun cook-off
The tempting tastes of Louisiana take center stage at the Mardi Gras Cajun Cook-Off. Professional chefs from across the area demonstrate how to prepare authentic Cajun cuisine throughout the day. In the amateur division, ten local chefs compete with each other to prove they rule the region (and for cash prizes). Attendees receive a complimentary Cajun dish cooked to perfection by some extraordinary St. Louis chefs, and Cruzan Rum hurricanes and Bud Light will be available to get you moving on the dance floor. The 2017 Mardi Gras Cajun Cook-Off takes place from noon to 4 p.m. Saturday at the Bud Light Party Centre in Soulard Market Park (Lafayette Avenue and South Ninth Street; www.stlmardigras.org). Tickets are $35 to $45.— Bill Loellke

4. Show off your unmentionables at Cupid's Undie Run
"No shoes, no shirt, no service" is not in play at Cupid's Undie Run, which encourages you to wear your unmentionables for a one-mile jog preceded and followed by a party. What may sound insane in concept is matched by an insanely good outcome, as the nationwide party/race raises money for the Children's Tumor Foundation, an organization committed to ending neurofibromatosis (NF), a disease that causes tumors to grow on nerves throughout the body. In all, the pantsless parties raised $3.5 million last year; organizers hope to raise $4 million this year. You can be a part of a great cause while showcasing your banging body in the process. Cupid's Undie Run takes place from noon to 4 p.m. today at St. Louis Ballpark Village (601 Clark Avenue; www.stlballparkvillage.com). Admission starts at $35.— Bill Loellke

Turn the page for more great things to do.
5. Cry your eyes out over Cary Grant and Deborah Kerr
Noted playboy Nickie Ferrante first meets Terry McKay on board a ship when they're both returning from Europe to New York. There is an almost immediate attraction, but both are already romantically involved. The more time they spend together, though, the more Nickie and Terry realize they would be happier together. They hatch a plan to meet again in six months atop the Empire State Building, giving them time to break up with their current partners and get their lives in order. At the appointed time Nickie is there, but Terry never shows. What happened? Leo McCarey's
An Affair to Remember
is widely regarded as one of the most romantic films ever, with Cary Grant and Deborah Kerr playing the star-crossed lovers. Fathom Events and TCM celebrate the 60th anniversary of
An Affair to Remember
with nationwide screenings, just in time for Valentine's Day. You can see it locally at 2 and 7 p.m. Sunday and Wednesday (February 12 and 15) at Wehrenberg Ronnies 20 Cine (5320 South Lindbergh Boulevard;
www.fathomevents.com
). Tickets are $10 to $12.50.— Paul Friswold
6. Thrill to the Saint Louis Ballet's V-Day special
George Gershwin and George Balanchine intended to collaborate on the 1937 film
Follies
, but Gershwin died before he was able to complete the music. In 1970 Balanchine resumed the project by setting his choreography to seventeen of Gershwin's best-loved songs, including "Strike Up the Band," My One and Only" and "Fascinatin' Rhythm," with orchestrations by Hershy Kay. The finished piece,
Who Cares?
, channels the very American exuberance of Gershwin's songs and their inherent "Manhattan" energy. The Saint Louis Ballet presents the joyous
Who Cares?
as part of its Valentine's Day program,
It's Only Love
. Work by Francis Patrelle and a contemporary dance piece choreographed by artistic director Gen Horiuchi round out the performance.
It's Only Lov
e is presented at 8 p.m. Saturday and 2:30 p.m. Sunday (February 11 and 12) at the University of Missouri-St. Louis' Touhill Performing Arts Center (1 University Drive at Natural Bridge Road;
www.touhill.org
). Tickets are $24 to $59.— Paul Friswold
7. Catch the Stooges at Schlafly Bottleworks

Comedy styles change with time, but one thing remains constant: The tightly choreographed mayhem of the Three Stooges will forever be popular with a select group of people. (They're called "men.") Larry, Curly, Moe (and occasionally Shemp) never fail; all they need are a simple set-up (they're plumbers, they're actors, they're spies) and they're off. Although the trio is famous for their violence, they also display verbal dexterity and musical talent they had it all.
Three Stooges Night
at Schlafly Bottleworks (7260 Southwest Boulevard, Maplewood;
www.schlafly.com
) features five great Stooges shorts projected from 16mm film and free admission, with beer and food available for purchase. You can catch them from 7 to 9 p.m. on the second Monday of the month, including this one. — Paul Friswold
8. Revisit a classic in an all-new production

Jean Louise Finch (better known as Scout) lives the charmed life of a happy child in Maycomb, Alabama. Her father is respected lawyer Atticus Finch, and with her brother and her best friend for companions, her days are filled with fun and games (and occasional scoldings from family housekeeper, Calpurnia). But when Atticus is given the task of defending Tom Robinson, a black man accused of assaulting a white woman, young Scout discovers that the adult world is full of injustice, disappointment and shiftless people. Christopher Sergel's adaptation of Harper Lee's
To Kill a Mockingbird
continues the Repertory Theatre St. Louis' celebratory 50th season.
To Kill a Mockingbird
is performed Tuesday through Sunday (February 10 to March 5) at the Loretto-Hilton Center (130 Edgar Road;
www.repstl.org
). Tickets are $18 to $81.50.— Paul Friswold
9. LOL at Adam Devine at the Pageant

You might know
Adam Devine
as one-third of the Comedy Central show
Workaholics
, as the prick a capella performer in
Pitch Perfect
or as Haley's too-nice-for-his-own-good boyfriend on
Modern Family
. Devine has become a fixture in the world of comedy, and with
Workaholics
finished he's back on the road with his Weird Life Tour 2017. There will be no shortage of funny stories and comedic possibilities when he takes the stage at 7:30 p.m. Wednesday at the Pageant (6161 Delmar Boulevard;
www.thepageant.com
). It'll be a divine night for Devine fans. Tickets are $35 to $40.
— Bill Loellke