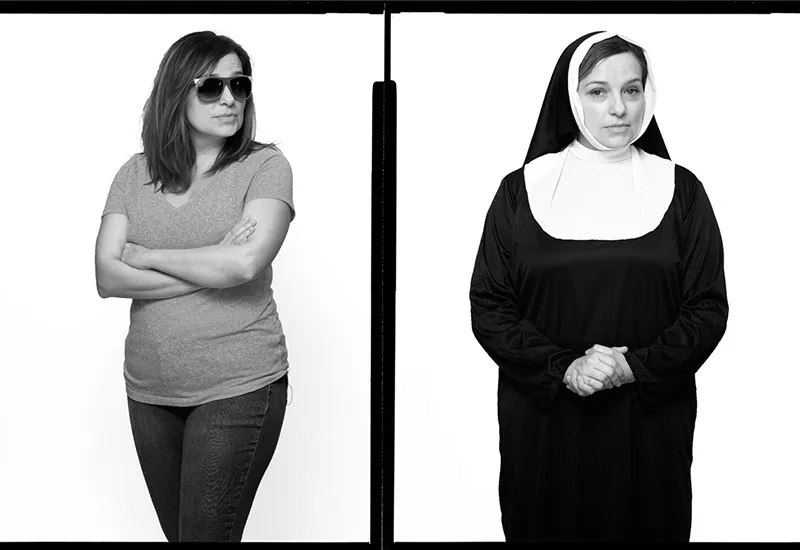 TODD DAVIS
Little Thing, Big Thing comes to Avatar Studios this weekend.
Not every January weekend can be as blissfully warm as the one we got last week — but that's not reason to stay home. Stop by the
RFT's brunch event
for a host of delicious dishes under a single roof, see the
new show at the Contemporary Art Museum
, or check out one of the eight plays, readings and musical performances on this week's shortlist.
1. See a comic romp set in a convent
Larry is an ex-con who's been sent to steal a statue of the Virgin Mary from an abandoned convent. It ought to be an easy job, but he arrives at the scene of the crime just as Sister Martha shows up. She was sent from Nigeria to manage the sale of the property, and she's on guard for anything out of the ordinary. Before she left Africa a child shoved a roll of film in her hands and told her to get it to Henry Barr in Dublin, and to "trust no one." Before she and Larry can figure each other out, a small gang of thugs crashes the party, sending Larry and the nun on the run. Donal O'Kelly's play Little Thing, Big Thing is a suspenseful, comic romp with a touch of tenderness. Midnight Company stages the show at 8 p.m. Thursday through Saturday (January 27 to February 11) at Avatar Studios (2675 Scott Avenue; www.midnightcompany.com). Tickets are $15.
2. Explore what divides us at the Kranzberg
Amelia and Andile met when he kicked a ball into her backyard. Amelia lives in a tony suburb of post-apartheid South Africa, while Andile lives in one of the crowded and rundown townships on the outskirts of the city. Despite their cultural differences they strike up a friendship, the way eight-year-olds do, and it grows stronger over time. But South Africa has a way of separating white girls and black boys, even when they're friends. When the two unexpectedly meet again years later, how much of their shared past can they recreate? Joanna Evans' drama The Year of the Bicycle is about the things that divide white and black, friend and foe, and the past and the present. Upstream Theater presents the American premiere of The Year of the Bicycle at 8 p.m. Thursday through Saturday (January 27 to February 11), with Sunday shows at 7 p.m. (January 29 and February 5) and 2 p.m. (February 12). Performances take place at the Kranzberg Arts Center (501 North Grand Boulevard; www.upstreamtheater.org). Tickets are $20 to $30.
3. See a new drama at the JCC
A seamstress who specializes in undergarments, Esther has a clientele that includes both prostitutes and society matrons. Her life is fairly constrained because of her race; as a black woman in 1905, she doesn't have many options. Still, Esther dreams of one day opening her own shop — and perhaps also of a relationship with Mr. Marks, the Jewish shopkeeper who sells her fabric. The pair definitely feel something for each other, but neither can safely pursue it. When she begins receiving letters from George, a friend of a friend, Esther considers altering her dreams to include marriage. The New Jewish Theatre continues its season with Lynn Nottage's drama Intimate Apparel. Performances are at 7:30 p.m. Wednesday and Thursday, 8 p.m. Saturday and 2 p.m. Sunday (January 26 to February 12) at the Jewish Community Center's Wool Studio Theatre (2 Millstone Campus Drive, Creve Coeur; www.newjewishtheatre.org). Tickets are $39.50 to $43.50.

4. Check out a pair of classical guitarists at the Ethical Society
Not only are Thomas Flippin and Christopher Mallett gifted classical guitarists, they're also self-appointed role models for aspiring musicians in at-risk communities. Flippin and Mallett toured nine St. Louis schools as Saint Louis Classical Guitar Society artists-in-residence in 2014, performing classical music for students and inspiring new classical guitar programs in three of those schools. Now more than a dozen schools in the St. Louis, Jennings, Ferguson-Florissant and Normandy districts are participating. The pair stage their triumphant return to St. Louis at 8 p.m. tonight at the Ethical Society (9001 Clayton Road, Ladue; www.guitarstlouis.net). Duo Noire, their nom de guitar, will premiere new works by Clarice Assad and Courtney Bryan, and probably charm another audience with their informed and engaging commentary on the music. Tickets are $24 to $28.
Turn the page for more great things to do.

SCOTT FERGUSON
The Saint Louis Symphony Orchestra performs Wednesday at the Pulitzer.
5. See a play from Mustard Seed Theatre
Fresh off his divorce from his non-Muslim wife, Abdul Samee Lopez Hassan has a new disappointment for his Iraqi immigrant father and Puerto Rican mother: He's going to drop his given name and go by "Sam" to better assimilate. Whey his parents try to take the sting out of this news by suggesting he go with them to meet his potential new bride — an Iraqi woman named Yasmina — he reluctantly agrees. Yasmina is new to America and refuses to forget her homeland, as her necklace (the outline of Iraq) shows. But when she divulges snippets of her recent past, Abdul Samee thinks maybe she should forget more. Or should he remember more of his distant homeland? Rohina Malik's new play Yasmina's Necklace is about the immigrant experience and the struggle to keep the weight of your past from holding you back from your future. Mustard Seed Theatre presents Yasmina's Necklace at 8 p.m. Thursday through Saturday and 2 p.m. Sunday (January 27 to February 12) at the Fontbonne Fine Arts Theatre (6800 Wydown Boulevard; www.mustardseedtheatre.com). Tickets are $30 to $35.
6. Enjoy Winter Opera St. Louis
Giochino Rossini's dramedy opera La Cenerentola is a twist on the Cinderella story. Angelina is still a lovely young woman forced to toil for her nasty stepsisters, but now she must also deal with a stern and demanding stepfather, the audaciously named Don Magnifico. The rest of the plot remains essentially unchanged, although instead of a fairy godmother Cenerentola is aided by the handsome prince's disguised tutor. Winter Opera Saint Louis presents La Cenerentola in the original Italian with English supertitles at 7:30 p.m. Friday and at 3 p.m. Sunday (January 27 and 29) at the Skip Viragh Center for the Arts (425 Lindbergh Boulevard; www.winteroperstl.org). Tickets are $35 to $55.
7. Catch a reading at Left Bank Books
Detroit native Aaron Coleman is a Fulbright scholar and a graduate of Wash U's MFA program, but those facts seem thin and far away when you read his poems. Coleman composes dense thickets of words that scan clearly and sharply, flowing through the reader like clear water. "Through," written as an homage to A. Van Jordan's fondness for formatting his poems like dictionary definitions, charts the course of a relationship in nine definitions of the word "through," each with examples. On Monday at 7 p.m. at Left Bank Books (399 North Euclid Avenue; www.left-bank.org), Coleman reads from and signs copies of his poetry collection St. Trigger. Admission is free, but you need to buy a copy of the book to get in the signing line.
8. Check out the symphony on the road at the Pulitzer
The third installment of the St. Louis Symphony and the Pulitzer Arts Foundation (3716 Washington Boulevard; www.pulitzerarts.org) Concert Series features works by a pair of modern composers. David Robertson will lead the group through Dutch pianist/composer Louis Andriessen's Nietzsche Redet (for speaker, flute, English horn, two clarinets, two violins, two celli, two pianos and a double bass) and American composer Frederic Rzewski's North American Ballads. The two works are a study in contrasts. Andriessen's piece incorporates the writings of Friedrich Nietzsche recited aloud against pervasive dissonance, while Rzewski's composition reinterprets labor movement protest songs ("Dreadful Memories," "Which Side Are You On?," "Harlan County, U.S.A." and "Down by the Riverside") as dynamic, challenging and overwhelmingly gorgeous piano pieces. It's tempting to think of this concert as a commentary on America's inner dialogue, but that contrast also applies to the sculptures of Medardo Rosso, whose work comprises the current show in the galleries. The concert begins at 7:30 p.m. Wednesday at the Pulitzer. Tickets are $20.