PHOTO BY JON GITCHOFF
The Loop Ice Carnival should be an icy good time.
Yeah, yeah, ice storm yeah yeah yeah. Come hell or freezing rain, the roads will be fully clear at some point, and when that hour comes, you will need something to do.
So here it is: Eight really fun things, all of them downright affordable. Make plans now and show the weather who's boss.
1. Check out the Loop Ice Carnival
If you're one of the happy few who enjoys a nice cold day, the
Loop Ice Carnival
has you covered. The annual festival of frosty fun features more than 50 ice sculptures, ice-carving demonstrations, game booths, human dog sleds, a giant snow globe (stand inside and have your picture taken!), and a skateboard demo. If you're more of an indoor person, most of the businesses in the Delmar Loop (6200 Delmar; www.visittheloop.com) will offer specials and deals throughout the day. The Loop Ice Carnival runs all day Saturday, and admission is free.
2. See some fan favorites at Cardinals Care Winter Warm-Up
It's a little too cold for baseball, but the
Cardinals Care Winter Warm-Up
can provide a nice substitute for major league fans in the dead of winter. Current and former St. Louis Cardinals players return to town to talk a little baseball, sign some autographs and dream about warmer days, all in the hope of raising some money for Cardinals Care. This year's edition takes place from 9 a.m. to 5 p.m. Saturday and Sunday and 9 a.m. to 3 p.m. Monday (January 14 to 16) at the Hyatt Regency St. Louis at the Arch (315 Chestnut Street; www.stlcardinals.com/winterwarmup). Passes are $10 for kids up to age fifteen and $40 for adults, with player autographs ranging from $5 (Jack Clark) to $150 (Yadier Molina).
3. See a play about tough choices
Denitra wants what is best for her child. A well-rounded education at a school that can challenge her daughter to achieve her best possible future isn't a ridiculous demand, but because of the state of things in Newark, New Jersey, it feels like an impossible dream. So Denitra does a little boot-strapping and falsifies paperwork to gain admittance to a better school in an affluent neighborhood. It's technically illegal — but only a problem if Denitra is found out. Unfortunately, a former police officer is on staff to sniff out district jumpers, and he's very persistent. Nikkole Salter's drama
Lines in the Dust
is about how 60 years after Brown vs. Board of Education, America still hasn't figured out how to give everyone — poor people and minorities included — the same basic education. The Black Rep continues its season with
Lines in the Dust
. Performances are at 7 p.m. Thursday, 8 p.m. Friday and Saturday and 3 p.m. Sunday (January 13 to 29) at Washington University's Edison Theatre (6445 Forsyth Boulevard;
www.theblackrep.org
). Tickets are $15 to $40.
4. See a smart take on an old story
Dr. Franken has made an incredible medical discovery that changes the very nature of humanity. What if you could be brought back from the dead? Franken proves the validity of his research by going on a lengthy lecture tour showcasing a key piece of evidence: his test subject, Adam. Theirs is a fraught relationship. Did Adam want to return to life? Is the doctor using him to advance his own career? Caleb King's drama Prometheus' Dream is a modern retelling of Mary Shelley's classic Frankenstein, in which fame and glory drive the quest for immortality. First Run Theatre presents Prometheus' Dream at 8 p.m. Friday and Saturday and 2 p.m. Sunday (January 13 to 22) at the Thomas Hunter Theater at DeSmet Jesuit High School (233 North New Ballas Road; www.firstruntheatre.com). Tickets are $10 to $15.
Turn the page for more fun events, including one at the city's O.G. craft brewer.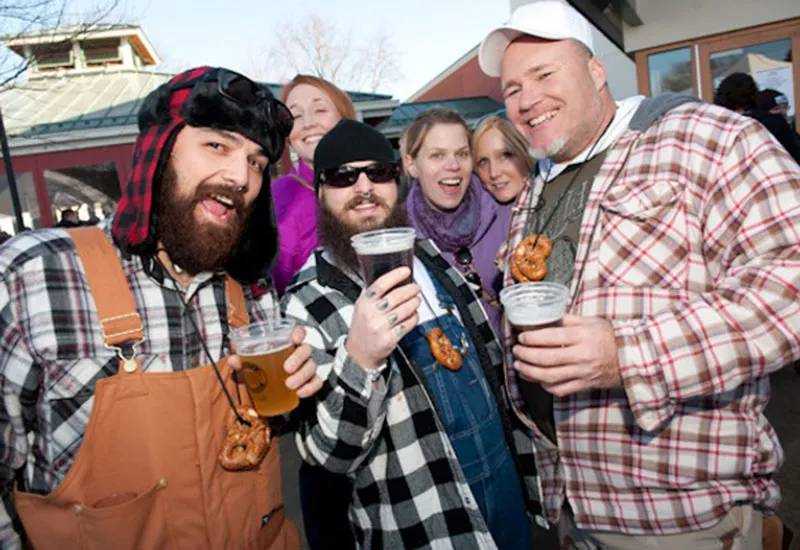 PHOTO BY JON GITCHOFF
Got cabin fever? Schlafly's got the cure.
5. Cure your cabin fever at Schlafly Bottleworks

Unlike wine, which is reserved for special occasions such as coronations and the successful completion of grad school, beer is an every day beverage. And it just so happens that today is a day, which means it's time for beer. Schlafly obliges with its annual
Cabin Fever
party. Today from noon to 4 p.m., Schlafly Bottleworks (7260 Southwest Avenue, Maplewood;
www.schlafly.com
) takes it outside to the expansive parking lot, where staff will serve up samples of more than 40 different Schlafly brews. Some of the more interesting options include Sticky Toffee Porter, Mexican Chocolate Stout and a Baltic Porter. Tickets are $30 to $35 and include a commemorative tasting glass and unlimited beer samples.
6. Check out a Sunday bike expo

After a year off and some rebranding, the
Mississippi Valley Bike + Outdoor Expo
(formerly the St. Louis Bike Expo) returns to the Gateway Center (1 Gateway Drive, Collinsville, Illinois;
www.bikeandoutdoorexpo.com
) with an expanded vision. In addition to vendors hawking bicycles and bicycle-related gear, the new look expo includes products and demos for rock climbing, running, hiking, camping and paddling. The show caters to both enthusiastic amateurs and professionals, offering expert advice, sneak peeks at new products and a chance to try your hand at Goldsprints, which are side-by-side bike races on rollers with a projected course and computer timing. Also there to be experienced: the North Face's virtual reality tour of national parks and Upper Limits' mobile rock climbing wall. The Mississippi Valley Bike + Outdoor Expo takes place from 10 a.m. to 5 p.m. Sunday, and admission is $8 to $12.
7. Hum along to Gershwin at the Fox

American G.I.s Jerry and Adam decide to stay in Paris after World War II to pursue their artistic goals, Jerry as a painter and Adam as a composer. Joined by Henri, a wealthy heir who dreams of becoming a a song-and-dance man, the three get back to living life in peacetime. There's also the matter of Lise, the beautiful French dancer Jerry recently bumped into — she's worth sticking around for as well. But Jerry's not the only one dazzled by her charms, and the course of true love never did run smooth. The stage version of
An American in Paris
is inspired by the 1951 MGM film, and it features the same swooping romance and exceptional dancing that made its namesake a classic.
An American in Paris
is performed Tuesday through Sunday (January 17 to 29) at the Fox Theatre (527 North Grand Boulevard;
www.fabulousfox.com
). Tickets are $25 to $95.
8. Catch Debbie Reynolds at her most adorable on the big screen
If you're still bummed about Debbie Reynolds' sudden passing, there's no better way to fight through the sorrow than by watching her career-making film,
Singin' in the Rain
. The musical is a bright, colorful confection about an established star of silent pictures, Don Lockwood (Gene Kelly), falling in love with newcomer Kathy Selden (Reynolds) just as sound is introduced to film. There's romance, there's Donald O'Connor at his rubbery, comic best and there's about a half-dozen classic dance numbers. Fathom Events celebrates
Singin' in the Rain
's 65th anniversary with screenings at 2 p.m. Sunday and 7 p.m. Wednesday (January 15 and 18) at Wehrenberg Ronnies 20 Cine (5320 South Lindbergh Boulevard;
www.fathomevents.com
). Tickets are $10 to $12.50.