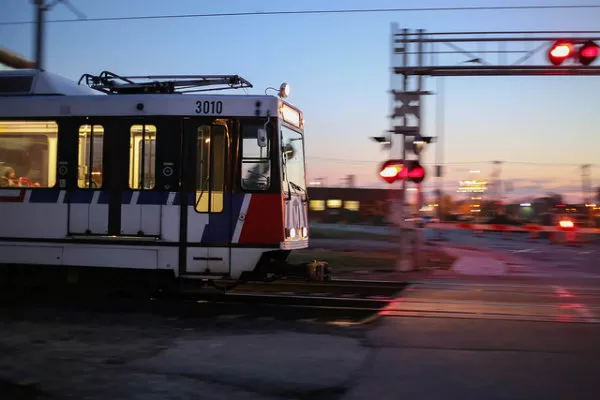 Did you find love on the MetroLink (or MetroBus, or Metro Call-a-Ride)? If so, listen up, lovebird.
In honor of Valentine's Day, Metro transit is doing
a call-out for stories of couples who met on the Metro
. Metro riders-turned-lovers will be featured on Metro's
NextStop blog
this February, complete with details about how they use public transit, why they choose to ride and, of course, how they met.
Apparently, finding true love on the Metro isn't all that uncommon — this will be the third year that Metro is publishing Valentine's passenger profiles. And some of the stories are impressively romantic. For instance, take a rider named Amy, who chatted with Steve regularly while waiting for the train at the Brentwood I-64 MetroLink Station.
Photo courtesy of Metro Transit.
Amy and Jack met while waiting for the train at the Brentwood I-64 MetroLink Station. They married in September 2013.
"After a while, when I didn't see him, I'd wonder where he was," she told NextStop in 2015. "And I would say to myself, 'What is wrong with this picture,' something changed here. All of a sudden, I was looking for him."
Amy and Jack
married in September 2013.
Or there's
Jermaine, who proposed to Aquesha
at the Civic Center MetroLink Station in 2015 — just a few steps away from the bench where they met while waiting for the bus two years prior. Apparently, it all started when Aquesha dropped a pen — and the rest was history.
"As I reached down to pick it up, he did too and our fingers met. Our eyes met and we smiled at each other," Aquesha told Metro last year.
How cute is that?
NextStop blogger Matthew Hibbard says these stories go back to Metro's vision of improving the region's quality of life by providing excellent transportation.
"We get people to work, to school and around town. And sometimes, we even bring people together," Hibbard tells us in an email.
Anyone wanting to share their Metro love story is asked to email Hibbard at nextstop@metrostlouis.org, preferably before Valentine's Day. You can also contact Metro via
Facebook
or
Twitter
.
You can find links to "Met on the Metro" stories from years past
here
, and find regular passenger profiles published to the
blog
every Wednesday.