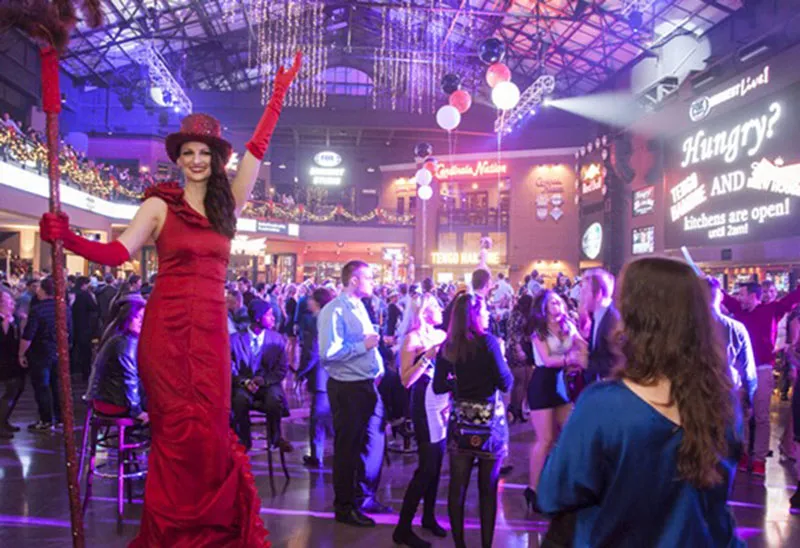 MICAH USHER
Ballpark Village will be the place to be on Saturday night.
No New Year's plans? No problem! Check out our list of 24 great parties around town on New Year's Eve — or keep reading below for all the week's highlights. Whether you're looking for a party as the ball drops or seeking a new photography exhibit to expand your horizons in the new year, we've got eight intriguing options that will keep you busy well into 2017.
Here are our top picks for things to do from now until next Wednesday.
1. See
Doctor Who on the big screen

The
Doctor Who Christmas episode
is as much a holiday tradition in some households as mistletoe or feats of strength. This year's installment —
The Return of Doctor Mysterio
— sees the Doctor (Peter Capaldi) in New York as a swarm of brain-swapping aliens prepare to attack the city, or at least Manhattan. Aided by his assistant Nardole (Little Britain's Matt Lucas), the Doctor attempts to forestall disaster with the help of a reporter and a masked man who insists on being called The Ghost.
The Return of Doctor Mysterio
combines super heroics and super science for an usual kind of Christmas special unusual even for Doctor Who. You can see it locally at 7 p.m. Thursday at Wehrenberg Ronnies 20 Cine (5320 South Lindbergh Boulevard; www.fathomevents). Tickets are $12.50 to $15.

2. Catch a performance by the St. Louis Symphony Orchestra
Performing classical music at the highest level, as the musicians of the St. Louis Symphony do, requires discipline, commitment and control. Those qualities also enable the group to keep the format and content of its annual New Year's Eve Celebration top secret. The evening features sterling performances and surprises, often in the form of unexpected guests, and also in the musical selections. The year-ending concert has become a hot ticket because of its mystery, and because you never see the same show twice. David Robertson and the St. Louis Symphony do it once again — whatever it may be — at 7:30 p.m. Saturday at Powell Hall (718 North Grand Boulevard; www.slso.org). Tickets are $55 to $134.

3. Dance the old year away at Ballpark Village
The biggest party in downtown St. Louis is NYE Live! at Ballpark Village (601 Clark Avenue; www.stlballparkvillage.com). The celebration spreads across five different venues within the complex, with live music, a set by DJ Dynamix and the only real-time ball drop in town. There are two different packages to chose from. The Gold GA Package offers all-inclusive drinks from 8 p.m. to midnight (premium liquor, wine and domestic beer) and complimentary midnight champagne toast. The Platinum VIP package features the same all-inclusive drink options from 7 p.m. to midnight, your choice of either the VIP buffet at Budweiser Brew House or the buffet at Cardinals Nation (from 7 to 10 p.m.) and a complimentary midnight champagne toast. Tickets are $50 to $130.


4. Say farewell to 2016 with your fam
We haven't had a nighttime New Year's party you could bring your kids to since First Night stopped happening. But this year, the St. Louis Blues and the CityArchRiver Foundation have planned a little something for everybody. The Family Friendly New Year's Eve at the Winterfest at the Arch skating rink in Luther Ely Smith Square (North Fourth and Market streets; www.archwinterfest.com) features a day of skating ($7 to $12) from 11 a.m. to 8 p.m. with food trucks, music and performances by Circus Kaput, the local practitioners of everything from comedy stunts to aerial artistry. And then at 8 p.m., you get fireworks over the Mississippi.

Turn the page for more events, including some on New Year's Eve. Or check out our roundup of the night's best parties.
COURTESY OF LOLA VON ELLA
The Spectaculaire comes to Casa Loma again this year for New Year's Eve.
5. Start the new year with a bang at the Casa Loma Ballroom
If you're tired of the hectic pace of the modern New Year's Eve party, take a trip back to the 1920s with
A Spectaculaire New Year's Speakeasy
. Lola Van Ella and her burlesque beauties recreate a simpler time when the men wore suits and hats and the ladies wore very little. The showgirls are backed by the jazzy tunes of the Van Ella band, and the acts range from fire performers to amazing aerialists, with magicians, flappers and fortune tellers thrown in as well. A Spectaculaire New Year's Speakeasy starts at 9 p.m. at the Casa Loma Ballroom (3354 Iowa Avenue;
www.eventbrite.com
). Tickets are $55 to $350 and include the show and a midnight champagne toast. You can upgrade to get access to the midnight breakfast buffet if you'd like. This is a party for adults, so 21 and older only, please.

6. See the hockey game America will be talking about
On a purpose-built ice rink in the heart of Busch Stadium (Broadway and Poplar streets; www.stlblues.com), two old enemies meet once again on the national stage. The St. Louis Blues, a team with an excellent pedigree that is mostly ignored by the league and the networks in favor of the Canadian clubs or the teams on either coast, finally gets to take the spotlight on one of hockey's biggest stages. The NHL Bridgestone Winter Classic is broadcast live from St. Louis Monday at noon on NBC and KMOX (1120 AM), as the St. Louis Blues take on the Chicago Blackhawks. The long-range forecast predicts a balmy 46 degrees for game time, which should make for an interesting game; short, sharp passes may be the key to victory. Let's Go Blues!

7. Relive the presidential race at the Dark Room
Is it too soon to relive the 2016 presidential race?
Daniel Shular
is an independent photojournalist who followed the campaign from start to finish as it criss-crossed the country. He photographed the supporters and protesters who filled the streets as America struggled with the most unusual election season in recent memory. With no news organization to subsidize his journey, Shular resorted to sleeping on couches, in his car and occasionally springing for a room in a seedy motel.
Camp-Pain, 2016
is an exhibit of Shular's best work, some of which you may recognize from Fox News, Al Jazeera, the Daily Mail or any of the other outlets that bought his photos as he followed the race. The show is open Tuesday through Saturday (January 3 to 28), at the Dark Room (615 North Grand Boulevard;
www.thedarkroomstl.com
) with the opening reception on Friday, January 6.

8. Think about the apocalypse with a 1985 classic
Zac Hobson is one of many scientists working on an energy project when something goes wrong overnight. Hobson wakes up to a city devoid of people, and as he explores his New Zealand home looking for other survivors, he slowly comes to accept that he is the last man on earth. Not only is he alone, he's partially responsible for what's happened — and this burden begins to erode his sanity. When Hobson discovers fellow survivors Joanne and Api his fears are quieted, but only for a short time. Director Geoff Murphy's 1985 apocalypse film The Quiet Earth is a weird excursion into late Cold War paranoia and modern science fiction, set in an unlikely New Zealand location. The Quiet Earth screens at 8 p.m. Wednesday at Schlafly Bottleworks (7260 Southwest Avenue; www.webster.edu/film-series) as part the Webster Film Series' Strange Brew program. Admission is $5.