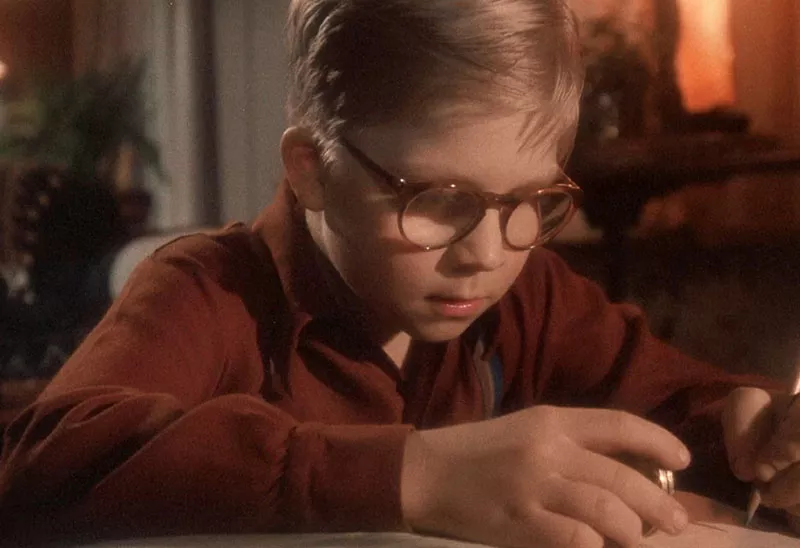 A Christmas Story airs at Schlafly Bottleworks tonight.
Maybe you've got a three-day weekend — or maybe, lucky duck, you're looking at a four-day version. Whatever your schedule, Christmas being on a Sunday has thrown things off a bit, leaving this handy guide a great shortcut to making plans. Whether you want to watch a holiday classic with craft beer lovers or skate the night away, we've got you covered.
Here are our nine picks, beginning with tonight — Thursday, December 22.

1. Hear the Bach Society's beautiful songs by candlelight

The Bach Society of Saint Louis' annual Christmas gift to the city is its
Christmas Candlelight Concert
, a tradition started in 1951. This yearly event sees the group enter a darkened Powell Hall (718 North Grand Boulevard;
www.bachsociety.org
) singing while carrying lit candles. It's a solemn and beautiful experience that celebrates the season and the joy that comes from voices raised on high. Classical music magazine
BBC Music
recently rated the concert one of the top twenty Christmas events in North America don't let it pass you by. The main event this year is John Rutter's Latin American-tinged
Magnificat
, with soprano Emily Birsan performing as the featured soloist. The St. Louis Children's Chorus joins forces with the Bach Society to sing carols and provide a few other festive surprise. The Christmas Candlelight Concert takes place at 7:30 p.m. Thursday at Powell Hall. Tickets are $30 to $75.

2. See a Christmas classic set in the Midwest
Bob Clark's classic film A Christmas Story gets a 24-hour marathon on Christmas Day courtesy of one of the cable channels, but it's chopped up by commercials. Come see it unsullied by the crass commercialism of the season in a bar — Jean Shepherd, whose book In God We Trust, All Others Pay Cash, is the inspiration for the film, would appreciate it. He was a guy who liked beer and salami in equal measure, and since he's the guy who's narrating the film, so why not order a beer while you're there and hoist it in his memory? Relive Ralphie's quest for a very specific model of BB gun, remember every great gift you ever received, and then spare a thought for all those kids anticipating Christmas morning right now. Culture Shock presents A Christmas Story Thursday at 7 p.m. at Schlafly Bottleworks (7260 Southwest Boulevard, Maplewood; www.afilmseries.com). Tickets are $6.

3. Check out the Compton Heights Concert Band
For 40 summers the Compton Heights Concert Band has been rocking Tower Grove Park with Sousa marches and Tchaikovsky's 1812 Overture, complete with cannon blasts. But the band also performs one show every winter: its Holiday Pops Spectacular. Joined by special guests Hugh K. Smith (tenor, pictured) and St. Louis' own Gina Galati (soprano), the band performs a family-friendly program of Christmas carols and sacred classics. The big finish is the best bit of Handel's Messiah, the Hallelujah Chorus, with all hands on deck and additional vocal reinforcements in the form of the East Central College Combined Choirs. Powell Hall (718 North Grand Boulevard; www.chband.org) is the only building in town that won't get its roof blown off during the crescendoes, so that's where the concert takes place. The Holiday Pops Spectacular starts at 7:30 p.m. Friday. Tickets are $30 to $75.

4. See a great old film at Webster U
In the era of remakes and reboots, it's difficult to imagine a time when any film was the first of its kind. Henry Edwards' 1935 effort Scrooge was the first "talkie" version of Charles Dickens' A Christmas Carol, and it made a few key innovations. Edwards spent more time developing the London that created the miser Ebeneezer Scrooge, a city in which incalculable wealth and grinding poverty exist cheek by jowl, and he keeps the spirits that haunt Scrooge invisible to the audience. There's a sense of reality that pays off when the Spirit of Christmas Future reveals the corpse of Tiny Tim to Scrooge — no euphemisms or niceties here. Kids end up dead and Ebeneezer is damned unless he changes his ways. The Webster Film Series screens Scrooge at 7:30 p.m. Thursday and Friday (December 22 and 23) at Webster University's Moore Auditorium (470 East Lockwood Avenue; www.webster.edu/film-series). Admission is free.
Turn the page for more Christmas week fun.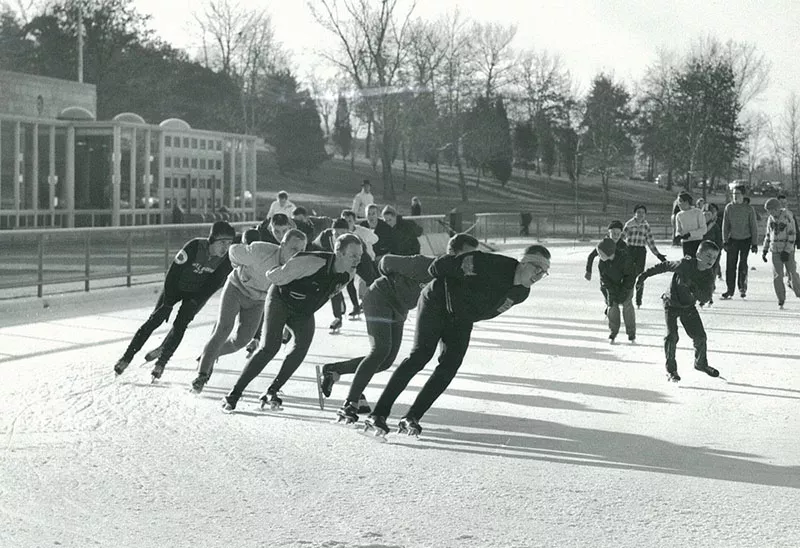 Skating at Steinberg ice rink is a Christmas tradition.
5. Take a whirl around Steinberg Skating Rink
You could do worse things in your life than learn to ice skate. It's great exercise, sure, but skating's real value is that it's a solitary pursuit that gives you time to think. Once you become proficient you can turn your brain off and glide along it's the cheapest re-set button available. The restorative powers are even greater if you can do it outdoors, and that's exactly where Steinberg Skating Rink (400 Jefferson Drive; www.steinbergskatingrink.com) is located. The city's largest rink is a great place to stretch your legs, get some fresh air and realign your system, especially during the stressful holiday season. Steinberg is open from 10 a.m. to midnight December 16 to January 7 so you can burn off some steam late into the evening. Regular hours are 10 a.m. to 9 p.m. Sunday through Thursday and 10 a.m. to midnight Friday and Saturday through February 23. Admission is $7 for an all-day pass, and skate rental is $6 for hockey or figure skates.

6. Eye the work of the Grandpa Gang in Alton
The Grandpa Gang are the men of a certain age who hang all the lights that transform Rock Springs Park (2116 College Avenue, Alton, Illinois; www.visitalton.com) into Christmas Wonderland. In recent years the gents put up 3 million lights; this year they topped 4 million. The area is so bright that you won't even need your headlights when you make your loop of the park. It's an excellent last-minute excursion to tire out the kids before their favorite day of the year, just in case you want to sleep in tomorrow. (It's never going to happen.) Christmas Wonderland is open from 6 to 9 p.m. Monday through Friday and 5 to 9 p.m. Saturday and Sunday through December 27. Admission is $7 for cars and small vans.

7. Celebrate the 25th anniversary of a craft brewing pioneer
The beer culture of St. Louis has changed tremendously in the last 25 years, and only Schlafly has been here to witness every last one of them. When the Schlafly Tap Room (2100 Locust Street; www.schlafly.com) first opened its doors, Schlafly was a microbrewery — and the only one in town. Then other small and dedicated brewers joined the fun and helped jump-start the craft beer revolution. Today we have beer riches that were simply unimaginable in 1991: Scotch ales, saisons, IPAs, APAs, stouts, brown ales, fruity seasonals it's never been a better time to have a beer. Come celebrate Schlafly's 25th Anniversary from 11 a.m. to 10 p.m. Monday with original, 1991 prices on all beer and live music by Tom Hall, Trigger 5, Middle Class Fashion and Tortuga. There's no charge for admission, and the music starts at noon.

8. See what the excitement's about at Winterfest at the Arch
We're so close to the Bridgestone NHL Winter Classic that you can almost feel those body checks rattling the boards. To help the time pass faster, the St. Louis Blues and the CityArchRiver Foundation have joined forces to present Winterfest at the Arch, the centerpiece of which is an outdoor ice rink in Luther Ely Smith Square (North Fourth and Market streets; www.archwinterfest.com). It uses synthetic ice in case of inclement weather, but it feels just like ice under your skates. The rink opens with an all-day celebration from 11 a.m. to 8 p.m. Tuesday, December 27, that includes current Blues players, autograph signings and skating, of course. Blues alumni show up around 5 p.m., and there will be a drawing for Winter Classic Alumni game tickets. The rink is open daily from 11 a.m. to 8 p.m (December 27 to January 8) for regular skating. Skate rental is $7 to $12.
9. Catch the St. Louis Blues vs. Philadelphia Flyers

The Philadelphia Flyers are revered as the handsomest, the strongest and the bravest team in the NHL. Yet despite their manly bonhomie and generous spirits, the team does have its flaws. The Flyers rank near the bottom of the league in goals against and their penalty kill is dismal. And yet the team scores goals in bunches and has a top-notch power play. If the
St. Louis Blues
can stay out of the sin bin and draw a few penalties, they'll have a good chance of pouring in goals by the bucketful. If not, these new-look young Flyers will run 'em off the ice. The Blues take on the Flyers at 7 p.m. Wednesday at Scottrade Center (1401 Clark Avenue;
www.stlblues.com
). Tickets are $49 to $445.