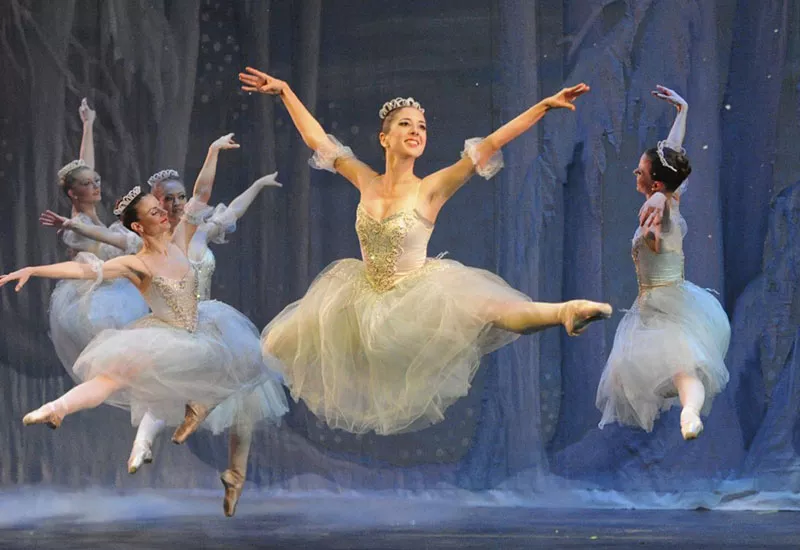 COURTESY SAINT LOUIS BALLET
Christmas Eve is one week from tomorrow, which means this week is chock-full of holiday-related merriment. Do you want to see
The Nutcracker
on the campus of Wash U or at UMSL? What about a hip-hop
Nutcracker
at the Fox? And while we're at it, what about a screening of
White Christmas
?
Now, maybe your idea of the Christmas spirit is more along the lines of "Bah, humbug." If that's the case, may we suggest getting tickets to the Blues, or perhaps checking out a comedian at Helium Comedy Club? When we promised you'd get into the spirit of things, we didn't promise that would be all peace and joy. Ho, ho, ho also counts, as does a good old hockey brawl. Proceed accordingly with this week's eight picks.
1. See The Nutcracker (Missouri Ballet Theatre version)
If you believe it's just not Christmas until you take in a performance of The Nutcracker, this is your week. Missouri Ballet Theatre presents its annual production of the beloved Tchaikovsky ballet. Watch as Clara receives the gift of a nutcracker soldier from family friend Herr Drosselmeyer, and falls asleep dreaming of his his dashing adventures in a wintery wonderland of dancing dolls and malevolent rat kings. Performances are at 7:30 p.m. Friday, 2 and 7:30 p.m. Saturday and 2 and 6 p.m. Sunday (December 16 to 18) at Washington University's Edison Theatre (6445 Forsyth Boulevard; www.edison.wustl.edu). Tickets are $40 to $60.

2. Catch a comedian at the Helium Comedy Club
Comedian Hari Kondabolu transcends most of the easy labels. He's a first-generation American who's just as comfortable exposing the idiocy of celebrity interviews as he is unspooling a long riff about race and politics in America. Kondabolu somehow approaches every topic from a unique position of sharp social commentary combined with empathy, all delivered in a weary tone that implies he shouldn't have to be telling you this in 2016. He's currently on tour across the country, and you'd better believe he has stuff to say about this past year. Hari Kondabolu performs at 8 p.m. Thursday and 7:30 and 10:30 p.m. Friday and Saturday (December 15 to 17) at the Helium Comedy Club in the Galleria (1151 St. Louis Galleria; st-louis.heliumcomedy.com). Tickets are $15 to $20. It's an eighteen and older show, so if you can't vote yet don't show up.
3. See our best LGBT Concert Band in U. City
This year marks BandTogether's twentieth season as the city's premiere LGBT concert band. In that time the group has grown from a handful of friends gathered together to form a small marching band for the Pride Parade to a more than 100-member strong powerhouse. BandTogether's repertoire includes pop standards, modern symphonic works and, at this time of year, holiday music. You can bet you'll hear a sleigh-full of that last genre at BandTogether's seasonal show, In the Christmas Mood. Expect music from TV Christmas specials, carols and a few surprises. In the Christmas Mood starts at 8 p.m. Saturday at the 560 Music Center (560 Trinity Avenue, University City; www.bandtogetherstl.com). Admission is free but donations are greatly appreciated.

4. Catch a holiday classic in Edwardsville
Singing along with a film is normally frowned upon at the cinema, but because it's so close to Christmas, we will allow it for today only — and only because the film in question is White Christmas. The 1954 musical features Bing Crosby and Danny Kaye as a pair of dashing veterans who have teamed up as a very successful song-and-dance duo. They meet beautiful sisters Rosemary Clooney and Vera-Ellen and form a quartet, in more ways than one. Together they plan to put on a televised show to save the failing inn owned by our heroes' former commanding officer. Their secret weapon is a treasure trove of great Irving Berlin songs, including "Sisters," "Count Your Blessings Instead of Sheep" and the title track. White Christmas is shown at 2 and 7 p.m. Saturday at the Wildey Theatre (254 North Main Street, Edwardsville, Illinois; www.wildeytheatre.com), and singing along is encouraged. Tickets are $10 to $15 and include a goodie bag of props to use during the screening.


Turn the page for more four more events this week, including two more Nutcrackers.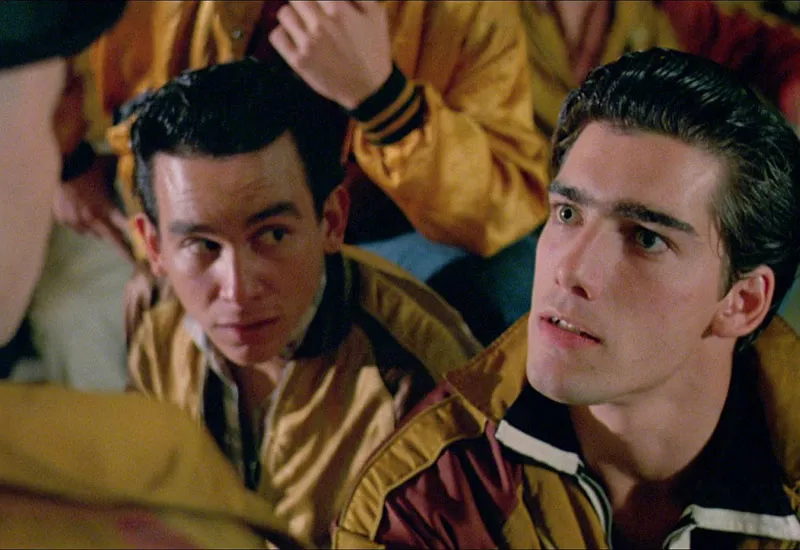 5. See The Wanderers on the big screen at Webster U
America was on the precipice of unimaginable social and cultural change in 1963, but neither Richie nor his gang the Wanderers had any inkling of a world outside their corner of the Bronx. For them the whole of the world was encompassed by rock & roll, their Italian-American families and the important task of not mixing it up with any other gangs, particularly the violent Ducky Boys. But no matter how safe and carefree your youth is, eventually you gotta grow up even in the Bronx. Philip Kaufman's coming-of-age film The Wanderers is something of a cult classic, both for its rock & roll soundtrack (Dion, the Shirelles and the Four Seasons) as well as for the clarity with which it captured a moment in time. The Webster Film Series presents The Wanderers at 7:30 p.m. Friday through Sunday (December 16 to 18) at Webster University's Moore Auditorium (470 East Lockwood Avenue; www.webster.edu/film-series). Tickets are $5 to $7.
6. Cheer on the Blues at Scottrade Center
The
St. Louis Blues
have been on a bit of a tear recently, picking up some much-needed wins in ways both dramatic (that come-from-ahead shootout win over Minnesota) and determined (that come-from-behind win against Montreal) providing we ignore that stumble against Winnipeg (and the Nashville collapse). They're going to need both dramatics and determination to handle the (maybe-possibly-finally?) resurgent Edmonton Oilers. Wonder-kid Connor MacDavid leads the Oilers in goals, assists, points and pure hockey smarts but is his offensive genius greater than Colton Parayko's defensive prowess? The Blues lost the last game in Edmonton, but the team's playing better hockey now. The Blues take on the Oilers on Monday at 7 p.m. at Scottrade Center (601 Clark Street;
www.stlblues.com
). Tickets are $16 to $319.
7. See The Nutcracker (Saint Louis Ballet version)
The Saint Louis Ballet performs The Nutcracker every holiday season to sell-out crowds, but you'll never see the same show twice. Every year sees new choreography from artistic director Gen Horiuchi, which also requires a re-thinking of the show's lavish special effects (pyrotechnics and glitter among them). The dancers of the professional company are joined by students of the Saint Louis Ballet School, and Mother Ginger (the character whose many children emerge from under her voluminous skirts to perform a celebratory dance) will be played by a special surprise guest this year. The Saint Louis Ballet presents The Nutcracker at 7:30 p.m. Friday, 2:30 & 7:30 p.m. Saturday and 2:30 and 7 p.m. Sunday (December 16 to 18), and then at 2:30 and 7:30 p.m. Tuesday, Thursday and Friday (December 20, 22 and 23). All shows are at the Touhill Performing Arts Center on the University of Missouri-St. Louis campus (1 University Drive at Natural Bridge Road; www.touhill.org) Tickets are $35 to $69.

8. See The Nutcracker (Hip-Hop Version)
Clearly
The Nutcracker
has stood the test of time; look how many productions there are of it this week alone. Jennifer Weber and Mike Fitelson have recast this holiday fairy tale about a young girl dreaming of holiday adventures as a hip-hop romance set in Brooklyn. Here Maria-Clara is whisked away by the magic of Drosselmeyer to a certain New Year's Eve in 1980s Brooklyn. In a nightclub on the last night of the year, her parents will meet and fall in love.
The Hip Hop Nutcracker
features b-boys, a DJ and an electric violinist remixing a beloved favorite right before your eyes. It's performed at 7:30 p.m. tonight at the Fox Theatre (527 North Grand Boulevard;
www.fabulousfox.com
). Tickets are $25 to $65.