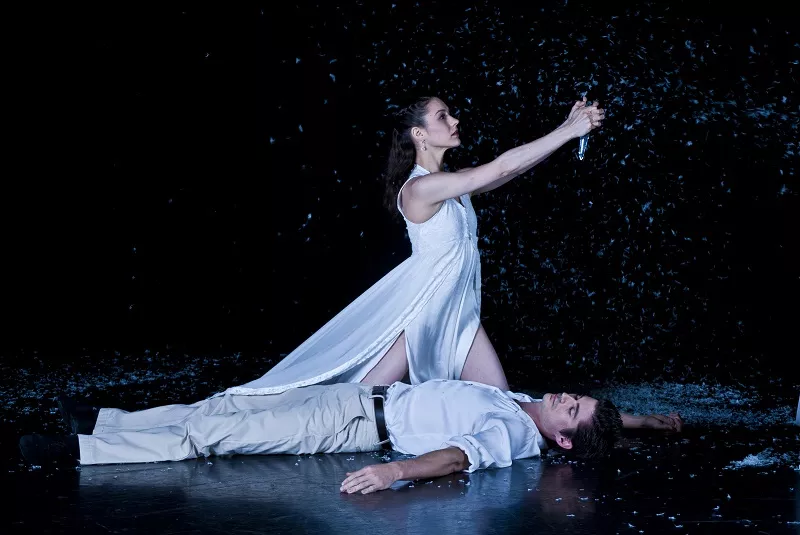 COURTESY DANCE ST. LOUIS
Grand Rapids Ballet will perform Romeo & Juliet at the Touhill this weekend.
There's finally a bit of a nip in the air — which makes this the perfect weekend to do something indoors. See art openings in Soulard and Grand Center, catch a classic ballet at UMSL, or get a new perspective at a few new plays.
Or don't! Enjoy the fact that it isn't actually winter yet by bicycling around the city with the Cranksgiving celebrants — and raise money for a good cause, too.
Here are our picks for this week's nine best things to do.
1. See a new show at Mad Art
Famous Fictional, the group show at Mad Art Gallery (2727 South Twelfth Street; www.madart.com), is back for its tenth year. Artists create portraits of pop culture and fictional characters in all media. There's a different theme for each outing; this year's guiding principle is "versus." Den Smith's wooden sculpture is based on the fable of the tortoise and the hare, but with Japanese sci-fi monster turtle Gamera and the rabbit from Donnie Darko in place of more mundane fauna. Both characters are mounted on wooden wheels so they can be used as pull toys. Barbara Rutledge chose surprise hit TV show Stranger Things as her inspiration; her embroidered portraits are immediately recognizable. Famous Fictional opens with a free reception from 7 to 11 p.m. tonight.
2. Thrill to Prokofiev's Romeo & Juliet
Despite its unhappy ending, Romeo & Juliet remains a perpetual crowd-pleaser. Is it the young love theme people are attracted to, or perhaps the "two against the world" defiance that binds the two lovers? Mario Radacovsky takes the latter approach for his specially commissioned adaptation of the Prokofiev ballet. His focus is on the social barriers that insulated the wealthy Capulet and Montague families, and how Romeo and Juliet are willing to break those barriers for love. Grand Rapids Ballet dances Radacovsky's interpretation of Romeo & Juliet at 8 p.m. Friday and 2 and 8 p.m. Saturday (November 4 and 5) at the Touhill Performing Arts Center on the University of Missouri-St. Louis campus (1 University Drive at Natural Bridge Road; www.touhill.org). Tickets are $30 to $50.

3. See a new show at the Kranzberg Arts Center
Vita Eruhimovitz's new show, Synthetic Landscapes, is all about the artist's fears of a mechanized future and the rise of man-made environments over the natural world. Her mixed-media pieces combine sculptural and electronic elements with traditional painting methods. A vertical abstract painting that could be a noxious landscape has metal washers stuck to its surface; artificial clouds of colored Plexiglass are bolted to the painting in rising tiers. Synthetic Landscapes opens with a free reception from 6 to 9 p.m. Friday, November 4, at the Kranzberg Arts Center (501 North Grand Boulevard; www.kranzbergartscenter.org). The work remains up through Sunday, December 18, and the gallery is open Wednesday through Sunday.
4. Witness a new play coming together in just 24 hours
You might recall the Immediacy Theatre Project, the company that produced 24-hour play festivals in the early aughts. Kyle Kratky was its co-founder, and he's now formed with Andrea Standby a new company called Prime that hopes to present four 24-hour play festivals every year. Transmigration is Prime's debut production. Inspired by the tenets of reincarnation, Transmigration provides six writers each a different reason for reincarnation. Those writers will then have until the following dawn to write a short play from that prompt. By nightfall, a team of two actors will perform the cycle of new lives to their ultimate reward. Transmigration takes place at 8 p.m. Saturday at Southampton Presbyterian Church (4716 Macklind Avenue; 314-884-1647). Tickets are $10 at the door.

Turn the page for more of this week's events.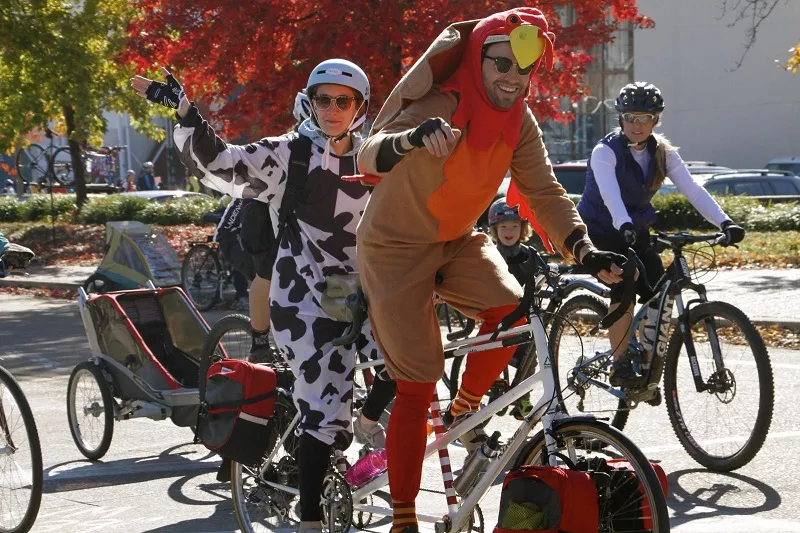 COURTESY OF CRANKSGIVING
This could be you ... this Sunday.
5. Cycle around the city for Cranksgiving
We're not even three weeks away from Thanksgiving at this point. This a critical time for local food pantries, which are feeding more families than you'd think. That's why this Sunday, November 6, is the perfect time for a foodraiser. St. Louis BicycleWorks' Cranksgiving is your opportunity to pitch in. Bicyclists gather at the City Museum (750 North Sixteenth Street; www.bworks.org/cranksgiving) between 8 and 9 a.m. to register and pick one of three courses (five, ten or 25 miles) to ride. There are grocery stores along each route for you to stop at and buy at least $20 worth of non-perishable food, which you can then drop off at designated SAG trucks near the stores or schlep back to the City Museum. Bailey's Restaurants will sell food and beverages in the parking lot when you complete your route, and all riders get discounted admission to the museum. If you're not a cyclist and still wish to donate, you're a good person; canned food can be delivered in advance to Bworks in Soulard or the Alpine Shop in Kirkwood.

6. See a play about immigration
America is a nation of immigrants, but not always gladly. For something so intrinsic to the fabric of our country, we can be awfully touchy about letting more people in. Vladimir Zelevinsky's play Manifest Destiny examines more than 500 years of immigration using only four actors. They play multiple roles ranging from the first people who arrived after Christopher Columbus to the big waves of Europeans who arrived in the nineteenth century. We learn of their motivations for leaving what was home and come to understand something of the forces that spurred them to keep going until they hit the Pacific Ocean. West End Player's Guild presents Manifest Destiny at 8 p.m. Thursday through Saturday and 2 p.m. Sunday (November 4 to 13) at the Union Avenue Christian Church (733 North Union Boulevard; www.westendplayers.org). Tickets are $20.

7. Catch a documentary about hockey enforcers
Fighting has been in hockey since almost the very beginning of the sport. Some fans hate it and think it's holding the NHL back from greater popularity; some fans love it and believe fighting is integral to the game's overall health. The accepted truth is that when your team's star suffers a cheap shot, everybody screams for blood — and once the fight breaks out, nobody goes to get a beer. Brett Harvey's documentary Ice Guardians doesn't argue for either point of view. Instead, it allows current and retired enforcers to explain how they got started on the road to fighting for a living. Some have mixed feelings about their on-ice role. Legendary '70s enforcer Dave "The Hammer" Schultz spoke publicly about regretting the violence after he retired (he's also featured in the documentary). It's a common feeling for the guys who throw the punches — they got into the sport to play hockey, not fight. Ice Guardians screens at 7 p.m. Monday at the Pageant (6161 Delmar Boulevard; www.thepageant.com). Edmonton Oilers great Dave Semenko will be present to discuss his years bodyguarding Wayne Gretzky on the ice, and he'll be joined by the Blues' one-time heavyweight Kelly Chase and his pal, Brett Hull. Tickets are $40. There is also a $100 VIP option that gets you in early for a buffet and special access to the balcony.

8. See an actual film at the St. Louis International Film Fest
If you prefer to watch your films on film, not digital projections, Eyes of Fire is your only chance to do so at the St. Louis International Film Festival. The 1983 film is a horror story set in the wilderness of colonial America. A preacher is sentenced to death for polygamy, but escapes with his followers into the woods. Harried by the Native American tribes, they end up in a valley that the tribes consider forbidden territory. But when the fugitives discover why it's forbidden, they'll wish they let the Native Americans take them. Eyes of Fire is an unjustly forgotten gem of the horror genre. It screens Tuesday at 8 p.m. at Webster University's Moore Auditorium (470 East Lockwood Avenue; www.cinemastlouis.org). Tickets are $10 to $13.

9. Catch a new rom-com aimed at black audiences
Ray is a love-'em-and-leave-'em guy who blames his inability to commit on a bad break-up. His blog "Occasionally Dating Black Women" (which is all about his trysts) has garnered him some notoriety, but it all starts to fall apart when he meets Rochelle, who is also a writer. Her intellect and sharp wit — and even sharper rejection of his advances — suggest to him that she could be the one. The trouble is, Rochelle doesn't necessarily think Ray's worth her time. Tahir Jetter's debut feature film How to Tell If You're a Douchebag has won praise as a genuinely funny African-American rom-com. It screens at 9 p.m. Wednesday at the Landmark Tivoli Theatre (6350 Delmar Boulevard, University City; www.cinemastlouis.org). Tickets are $10 to $13.
Editor's note: This story was edited after publication to clarify that registration for St. Louis BicycleWorks' Cranksgiving takes place this Sunday between 8 and 9 a.m., not p.m. We regret the error.