PHOTO BY SARAH BERNHARDT
Leverage Dance Theater has a Halloween-appropriate dance concert this weekend.
It's Halloween weekend, which is always a grand good time. See our complete guide to the
season's best events here
. But even if you're not into crazy costume parties and getting jostled by the hordes, there's lots to do in St. Louis weekend. See a site-specific dance performance at an old school or catch Richard III in a striking new production at the Touhill. Or, for a break from anything involving a costume, come see an awesome new exhibit of classic toys at the Missouri History Museum.
1. See some Shakespeare
Shakespeare's history play
Richard III
may appear to be about 400 years too old for any modern relevance, but you'd be surprised. A story about a power-hungry, blood-thirsty man scheming his way to the thrones will never go out of style. The Actors From The London Stage collective brings the drama to the stage with a cast of five. Those five actors regularly work with the Royal National Shakespeare Company, the Royal National Theatre of Great Britain and Shakespeare's Globe Theatre, so they know what they're doing. Liz Crowther takes the lead as the devious title character, a hunchback with a chip on his shoulder. In keeping with the small cast, this production of
Richard III
uses few props and costumes, and the scenery is sparse.
Richard III
is performed at 8 p.m. Friday and Saturday (October 28 and 29) at the Touhill Performing Arts Center on the University of Missouri-St. Louis campus (1 University Drive at Natural Bridge Road;
www.touhill.org
). Tickets are $20.

2. Catch a dance performance at an abandoned school

There is a peculiar sense of freedom that empty spaces have — you can run through them, jump or stage an impromptu wrestling match on all that open ground. Leverage Dance Theater has conceived a new site-specific dance performance for just such a space. An abandoned school serves as the stage for
unOrdinary
, a Halloween-appropriate dance concert that draws its inspiration from the architecture of the building. The dancers will move from classrooms to hallways to bathrooms and even across the balconies, so be prepared to follow them through the dimly lit corridors (some limited seating will be available). Audiences are encouraged to get into the spirit of the performance and the season by wearing "creepy and/or decaying" costumes.
unOrdinary
is performed at 7 and 9 p.m. Friday and Saturday (October 28 and 29) at the Intersect Arts Center (3630 Ohio Street;
www.leveragedancetheater.org
). Tickets are $20 to $25.

3. See a Terrence McNally play
It has been twenty years since Cal and Katharine have spoken to each other. Cal loved Katharine's son Andre and was with him when he died of AIDS, while Katharine could not accept Andre's homosexuality — or Cal's. After the death of her own husband, she's driven by grief to find Cal just to be close to some memory of Andre. But Cal has a husband and a young son now, while Katharine has nothing. Terrence McNally's play Mothers and Sons is about a disapproving mother and the man she once blamed for her son's death coming to grips with loss, regret and the passage of time. The Repertory Theatre of St. Louis opens its Studio Series with Mothers and Sons. Performances take place Tuesday through Sunday (October 28 to November 13) at the Emerson Studio Theatre in the Loretto-Hilton Center (130 Edgar Road; www.repstl.org). Tickets are $43.50 to $67.50.

Turn the page for more weekend fun.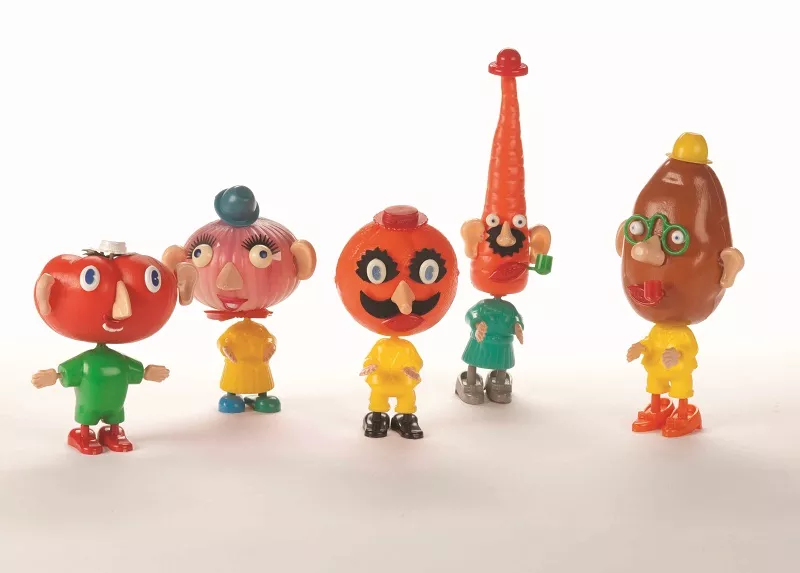 Courtesy of the Minnesota History Center
Vintage toys come to the Missouri History Museum beginning Saturday

4. Enjoy a classic St. Louis Halloween extravaganza ...

The Central West End (Euclid and Maryland avenues;
www.cwescene.com/halloween
) does
Halloween
in a big way with its famous all-day street party. The kids' costume contest and parade starts at 11 a.m., this year featuring Cinderella in her carriage leading the way, followed by the Moolah Shriners in their YOMO cars. At noon the kids can go trick-or-treating at participating businesses, and then at 1 p.m. the famous costumed dog parade starts. At 2 p.m. live music and street entertainers rock you sweetly while you eat and party before for the main event: The CWE's infamous adults-only costume contest with its $2,500 top prize. Registration for the contest starts at 6 p.m., and you must be present at the 10 p.m. finals to win.

5. ... Or a newer, but just as exciting, Halloween tradition
Johnny Brock's Dungeon and Ballpark Village team up for the biggest party of the season. Freakshow is a carnival-themed party (that means psycho clowns creepy-crawling through the dance floor) that spans four bars and clubs and offers live entertainment, fire breathers, freak performances and Creepy Clown DJ (see?). This year's costume contest comes with a $5,000 prize package, so no half-assed Batman and Joker get-ups if you want to win. Freakshow runs from 8 to 11 p.m. tonight at St. Louis Ballpark Village (601 Clark Avenue; www.stlballparkvillage.com). Tickets are $25 to $50 and include draft beer, house wine, premium well spirits and a souvenir cup. This is a 21-and-older event.

6. Ogle classic toys at the Missouri History Museum
There comes a time in every young person's life when they decide to put away childhood things, and they give away all their toys. Those people are known as "suckers," because vintage toys can end up being worth a lot of money — some of 'em even end up in museums. The Missouri History Museum's (Lindell Boulevard and DeBaliviere Avenue;
www.mohistory.org
) new exhibition
Toys of the '50s, '60s and '70s
is proof of that. Social historians can glean valuable information about American culture from the toys that were once popular; even the reasons why one toy lasts (the venerable Slinky is still around) while another falls by the wayside (seen any erector sets lately?) offer insights into America's past. The great toys of your parents' and grandparents' childhoods are displayed in recreation living rooms for full effect. And despite what you know about museum rules, on opening weekend of the exhibition you can play with some of the toys. At noon on Saturday and Sunday (October 29 and 30) you can get reacquainted with Spirographs, Lite Brites and the vastly under-appreciated ViewMaster. Toys of the
'50s, '60s and '70s
is open daily through Sunday, January 22. Admission is free.

7. See a scary movie at Wehrenberg Ronnies
Halloween is on a hard-to-party Monday this year, so what are you going to do? RiffTrax to the rescue. The professional movie enhancers are here to talk you through the recently restored '60s flick Carnival of Souls, directed by the mortal Herk Harvey. The story is an atmospheric (some would say "slow moving") psychological thriller about Mary. She's a regular young woman who crashes her car into the river one fine day. She emerges alive, but changed. Mary leaves town and starts a new life in Utah, but it seems like someone is following her: She keeps spotting the same gaunt man in a nice suit wherever she goes. Mike Nelson, Kevin Murphy and Bill Corbett mine this quiet cult classic for spooky comic gems in a live broadcast at 7 p.m. Thursday, October 27, and then make the same jokes in a taped rebroadcast at 7:30 p.m. Monday, October 31. You can see it both times at Wehrenberg Ronnies 20 Cine (5320 South Lindbergh Boulevard; www.fathomevents.com). Tickets are $14.