PHOTO BY JERED SCHNEIDER
Christ Church, a megachurch in Fairview Heights, Illinois, offers a short trip to hell for just $5.
A piercing scream is the first thing to break the silence. It's a scream not of excitement or fear, but pure agony. The source of the scream is writhing on the ground, bound by chains and surrounded by creatures with glowing eyes who seem energized by the pain they are inflicting.
Dropping into this room with no context, you might assume you're in a haunted house, but there are no ghosts here. This is a "hell house," and according to the Christians who run it, the experience is more scary – and more real – than anything you'll find anywhere else this Halloween.
For decades, rural and suburban churches across the country have hosted their own versions of haunted houses called judgment houses. Brought to pop culture consciousness in 2001 by the
critically acclaimed documentary Hell House
, these houses have become a yearly tradition for many evangelicals.
A judgment house, according to the official J
udgement House organization website
, "is a walk through drama displaying the joys of following Jesus Christ and the afflictions of denying him." Participating churches use volunteers from the congregation to design, create, and perform in the event.
Christ Church
, an evangelical megachurch in Fairview Heights, Illinois with an average weekly attendance of more than 2,000, is one of the area churches participating in this yearly tradition.
This event was no small undertaking for Christ Church. Dozens of volunteers spent weeks preparing and even working as late at 2 am in preparation for its opening last Thursday night — its first-ever Judgment House opening.
"It was a lot of work," acknowledges Michelle Barncord, the church's special events coordinator.
Bamcord had never attended a judgment house in the past, let alone staged one. She explains that Christ Church had decided to host the event upon the prompting of a group of regular attendees who had been converted through the event at another church. Upon hearing this, the church decided it would be a worthwhile endeavor.
"Judgment House is a very good opportunity for people to see how the choices they make in life affect their after-life," she says.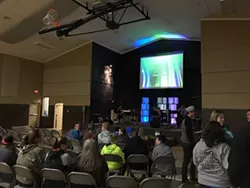 PHOTO BY JERED SCHNEIDER
The youth group band kicks things off.
When I arrived at Christ Church's Judgment House,
I was guided to the entrance of the Fellowship Hall that served as a holding area for visitors. I flashed my $5 Eventbrite ticket and was assigned to the red group.
On stage on the far side of the hall, the youth group's praise and worship band, made up of eighth graders in jeans and hoodies, strum along on acoustic guitars as the youth pastor sings intensely to contemporary Christian hymns. Even though the words to the songs were projected on a screen above the band, most of the crowd knew the words by heart.
My group included everyone from a ten-year-old in head-to-toe fluorescent yellow Under Armour gear to an elderly man, head to toe in denim. We were quickly called and guided into a holding area to be briefed before entering the show. The vibe was not much different than within a group waiting to enter a traditional haunted house; tense and anxious, a little excited about the fact that we were about to be scared. A tall, middle-aged Ms. Frizzle type named Susan announced that she would be our guide as we traveled through this story.
Traditionally, judgment houses follow the same basic story. The visitor is introduced to the main characters through a series of vignettes performed in different sets throughout the church building. The main characters fit into a several archetypes; a lifelong Christian, a converted Christian, a bad boy, and a good person who is not quite a Christian. The visitor follows these characters as they make different choices in their lives, almost always revolving around a conservative hot topic such as abortion, homosexuality, or pre-martial sex. Ultimately, these characters are tragically killed and must face their judgment in the afterlife.
PHOTO BY JERED SCHNEIDER
There are atheists in these foxholes — and that won't end well.
Christ Church stuck to most of the traditional tropes, but with a decidedly more patriotic spin. When we enter the first room, a Sunday school classroom converted into a living room set, we meet Corey and Kevin, pre-teen pals who share an affinity for video games and good old-fashioned horse play. Corey's father, sporting an Army t-shirt, tells a story about Kevin's late father, a war hero who served with Corey's father in Operation Desert Storm, quickly segueing from war stories to guiding Kevin through a conversion to Christianity.
The next stop, another classroom, is designed to look like a career fair. Here Corey and Kevin are both eager to follow in their fathers' footsteps as they get more info from an Army recruiter. We also meet Derek, who wears the telltale sleeveless tee and do-rag of your archetypal bad boy. Derek is quick to hassle Corey and Kevin about their faith, pointing out the irony in Christians who are eager to join the Army.
"What are you going to do, praise Jesus and then pump them full of lead?" Derek interjects with a smirk, getting a timid chuckle from the group.
"No man, God understands war." Corey rebutts. The audience members' chuckles quickly turn to nods of concurrence.
Our final character Amy spares Corey and Kevin, as well as the audience, from further sparring by sharing the fact that she sees herself as a good person, and a casual Christian, attending church on holidays. And then, all too quickly, we are in Iraq.
Upon entering the large foyer of the church's main sanctuary, we find ourselves embedded with our four characters in the heat of combat. A large PA system pumps in sounds of automatic weapon fire and distant explosions, while the characters duck behind lumpy green barricades and a large potted plant. Taliban fighters take out the non-Christians while they attempt to call in air support.
Our heroes then drag themselves into an adjacent medical tent. While Kevin covers Amy's dead body with a sheet, Corey forgoes providing Derek medical treatment, instead pleading with Derek to convert. In a final act of defiance, Derek refuses, and with a sputtering cough, he passes. In a melodramatic crescendo, Kevin is then hit by a stray bullet, and dies in Corey's arms.
The following scene brings down the house: Army chaplains present Kevin's mother with a folded flag, and a disembodied Kevin reads a letter to his grieving mother. The majority of red group is reaching for the tissue box as we leave this scene for yet another room.
The shared grief quickly shifts to fear, as we see black lights and the haze of smoke machines. We know that Hell is not far away.
Everything up to this point has been a prelude to the real reason we are here, the scenes that put the judgment in Judgment House. The first 45 minutes of the event have painted a clear picture of the fates that await our deceased characters. Now we'll get to see it play out before us.
We are led into a large nursery room that has been converted into the gates of heaven and hell. In an (unintentional?) analogy of how many evangelicals look at real life, much more time and attention has been put into the afterlife scenes than the ones on earth. Instead of an obvious classroom with a few props, this room is transformed, with large walls constructed around a raised podium flanked on either side by iron gates, one lit with an inviting white light, the other by a foreboding red glow. A burly angel guards Heaven's gate, manning a velvet rope. A robed figure stands behind the Book of Life, determining who goes to Heaven and who is to be eternally damned. Each of our three deceased characters approaches one by one and are judged on their lives — allowed either to enter Heaven, or be dragged by demons into Hell.
Derek and Amy do not take the news of their damnation lightly, screaming and pleading as the gatekeeper drags them away. We follow these unfortunate souls into Hell.
Hell is a larger room covered floor-to-ceiling in crinkled orange crate paper accented with red up-lighting, casting scary story shadows on everyone in the room. Black lights line a table in the center of the room, and a fog machine belches just the right amount of brimstone. Amy and Derek writhe and scream in pain.
Demons in florescent face-paint work feverishly at the center table, consulting clipboards of souls they are meant to be monitoring. Then Satan appears from a back room for a status update from his minions. His black business attire runs contrary to the more traditional Satan personifications, but the small horns poking out of gelled hair, and glowing black-light-friendly contacts provide clear evidence of his devilishness.
Their discussion is interrupted as Amy is stuck with a fresh bout of torment.
"Help me Jesus! Help me please!" Amy pleads. The orange of the faux flames dimly lights her as she pulls at her chains and shackles, desperately looking for someone or something to save her.
"Don't say that name ever again!" shouts Satan, pointing a finger into Amy's face as she pulls away. "Take her away!"
The demons pull her kicking and screaming into the darkness.
Satan then turns to us.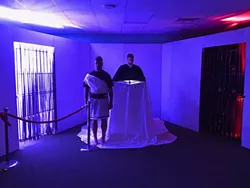 PHOTO BY JERED SCHNEIDER
Heaven: A wonderful place.
"I look forward to seeing you all here again soon!" he shouts. Then a door opens at the back of the room, flooding fluorescent light into our temporary Hell.
Now it is time to ascend into Heaven.
We are led into the sanctuary of the church and draped with white shawls by our guide Susan. Here we are greeted by Jesus, sporting a smart linen suit and a very shiny wig. Christ kindly reunites the newly deceased Kevin with his war hero father. They quickly embrace and disappear behind white double doors along with Jesus.
One of the pastors appears next to summarize the lessons we've learned and then invites everyone to bow their heads and close their eyes to join with him silently in prayer of salvation. The pastor then asks for anyone who said the prayer to raise their hand. I sneak a quick peak up and see that all are obliging in the bowing of heads and closing of eyes, but it appears that all in attendance are already certain of their fate.
As we walk out of the sanctuary into the cold fall night, it feels like walking out of a movie theater with a group that has just seen a startling film and no one is sure how to process it. We all experienced something together, but we just aren't sure how to interact after that experience. We opt for silence.
In a nearby pavilion, Christ Church members are passing out hot cocoa near an inviting bonfire. A large group of preteens from a previous group run around the fire, fueled by either incalculable cups of cocoa or by a desire to not look too long into the fire, the flames and smoke in the Halloween air too true a reminder of the fate of the damned.
Jered Schneider lives in Benton Park with his wife Jordan and dog Ruthie. You can follow him on Twitter @JeredSchneider