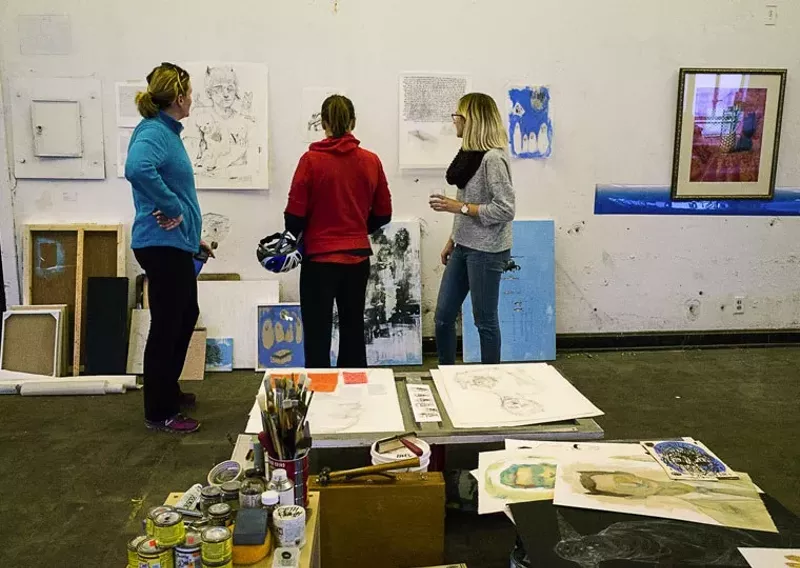 Visit artists studios this weekend for free as part of the Open Studio STL program.
This weekend, forget the same old bar crawls and Netflix streaming. Why not do something a bit more, well, interesting? Learn about the science behind video games at the Saint Louis Science Center. Visit artist studios across the city — for free — via the Open Studio STL program. Or catch any number of intriguing plays and ballet making their local debut this weekend. Just don't waste this wonderful weather on your couch!
Here are our top seven picks for things to do this weekend.
1. Go deep on video games at the science center
Gamers, your weekend is made. PixelPop Festival is a celebration of video games and game development, and it takes over the Saint Louis Science Center (5050 Oakland Avenue; www.pixelpopfestival.com) this Saturday and Sunday (October 8 and 9). You can sample panels and seminars on game design that examine everything from voice acting to the psychology used to hook players' imaginations. Oh, and you can also play 35 brand-new games and give feedback to their designers. Among those new games are Rain of Arrows, a first-person shooter in which you ride a raft down a river and have to pick off assailants along the banks using your archery skills, and Joggernauts, a cooperative party platformer that requires two to four players to solve tandem jogging puzzles, navigate teleportation swaps and yell colors at each other as members of an interstellar high school track and field team. There will be tournaments for the competitive as well as analog games (tabletop, card and board games). Registration opens at 9:30 a.m. Saturday and at 11 a.m. Sunday. Single-day admission is $15 and two-day passes are $25.


2. Take a series of studio tours around the city

One of the benefits of creating art in St. Louis as opposed to that large East Coast city whose name we can't recall is that rent here is comparatively cheap. That means artists have options when it comes to studio space, which means they can spend more time on their work and less time trying to find a thirteenth person to get on the lease and defray costs. You can see for yourself during the
Open Studio STL
program. More than 150 artists welcome you into their studios this weekend to demystify the artistic process — it's something that's happening all over the metro area every day of the week. The kick-off party runs from 6 to 9 p.m. Friday, October 7 at the Contemporary Art Museum St. Louis (3750 Washington Boulevard;
www.openstudios-stl.org
), where you can also pick up a map that shows the participating artists' studio locations. Those studios are open starting at 10 a.m. Saturday and Sunday (October 8 and 9). You can take a self-guided tour, sign up for a bicycle tour through Trailnet, or register for select studio visits led by local gallery and museum curators. Admission is free.



3. See a play about refugees in Grand Center
Immigrants to a new country may learn the language, adopt the clothing and customs of their new neighbors, and become naturalized citizens, but something holds them back from making it truly home. They might long for the nation they left, or find that what happened in the past keeps them from moving forward. In Maya Arad Yasur's drama
Suspended
, two men work as window washers on skyscrapers, able to see the corridors of power but unable to enter them. They're both refugees from war-torn countries, and so they've made an agreement not to speak of the past. Is their future nothing more than menial labor under the unknowing and uncaring gaze of their new home, or is there a way for them to finally pass through that barrier to full acceptance? Upstream Theater opens its twelfth season with
Suspended
. Performances are at 8 p.m. Thursday through Saturday and at 7 p.m. Sunday (October 7 to 22) at the Kranzberg Arts Center (501 North Grand Boulevard;
www.upstreamtheater.org
). The final performance is at 2 p.m. on Sunday, October 23. Tickets are $20 to $30.

4. Catch a timely political play in south city
Out of all of Shakespeare's plays that deal with governance, Macbeth might be the perfect distillation of the forces that drive men to strive for ultimate power. Staging a production of it during an election year is a canny move, but St. Louis Shakespeare gilds its lily by casting Maggie Winniger as Lord Macduff. Now when bloody-minded Macbeth (Ben Ritchie) vies against his former friend for the crown, the battle will be between a man and woman. (Wherever did they ever get that idea?) The always-excellent Michelle Hand plays Lady Macbeth, which should be a rare treat. St. Louis Shakespeare presents Macbeth at 8 p.m. Friday and Saturday and 2 p.m. Sunday (October 7 to 16) at the Ivory Theatre (7620 Michigan Avenue; www.stlshakespeare.org). There is a 7:30 p.m. performance on Thursday, October 13. Tickets are $15 to $20.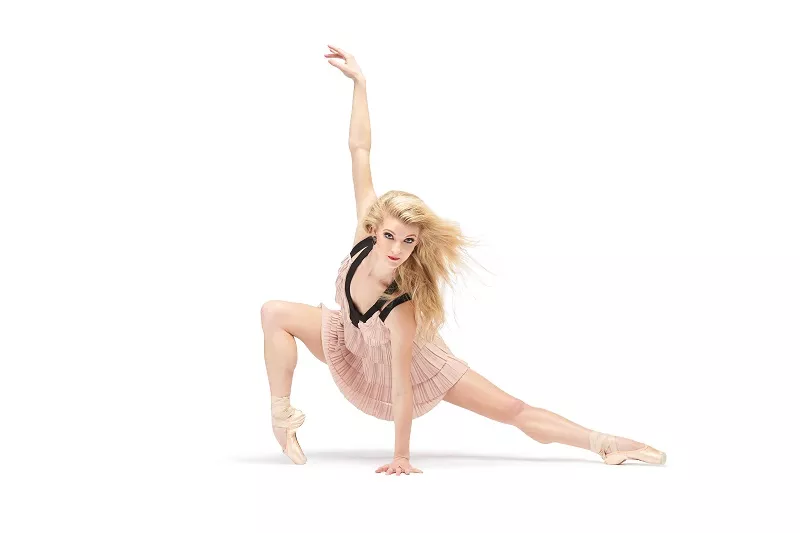 Courtesy of Saint Louis Ballet
Vision: Where Ballet + Fashion Meet premieres this weekend.


5. Catch a ballet about fashion at UMSL
Costuming is important for dancers. What they wear tells a visual story, even as it enhances (or hinders) their movements. The nexus of fashion and motion is explored in the Saint Louis Ballet show
Vision: Where Ballet + Fashion Meet
. Choreographers Emery LeCrone and Tom Gold fuse classical ballet and innovative thinking in two new pieces featuring costumes designed by Jordana Warmflash and Emily Brady Koplar. The well-dressed dancers take the stage at 8 p.m. tonight at the Touhill Performing Arts Center on the University of Missouri-St. Louis Campus (1 University Drive at Natural Bridge Road;
www.stlouisballet.org
). Tickets are $24 to $59.


6. See a play about Golda Meir in Creve Coeur
The New Jewish Theatre opens its 25th season with
Golda's Balcony
, William Gibson's meditation on idealism and realpolitik. The play follows the life of legendary Israeli Prime Minister Golda Meir, a Russian immigrant who grew up in Milwaukee and then personally raised $50 million to help fund the birth and arming of Israel. But in 1973, during the Yom Kippur War, Prime Minister Meir needed military aid from a reluctant America. The play focuses on this tense time, when Meir may or may not have blackmailed her former adopted home in order to keep her dream — Israel — alive.
Golda's Balcony
is performed at 7:30 p.m. Wednesday and Thursday, 8 p.m. Saturday and 2 p.m. Sunday (October 6 to 29) at the Jewish Community Centers' Wool Studio Theatre (2 Millstone Campus Drive, Creve Coeur;
www.newjewishtheatre.org
). Tickets are $39.50 to $43.50.

7. Pay tribute to the Purple One at the symphony
Prince was a once-in-a-century talent, and it's still difficult to believe he's gone. Your ongoing transition to living in a Prince-less world may be aided by conductor Brent Havens and the Saint Louis Symphony Orchestra's Tribute to Prince. The program includes the Minnesota Maestro's greatest hits and most beloved songs — "When Doves Cry" and "U Got the Look" among them. Is it too much to ask for Havens and company to go deep and break out some of that Black Album nastiness? The show starts at 8 p.m. tonight at Powell Hall (718 North Grand Boulevard; www.slso.org). Tickets are $35 to $98.