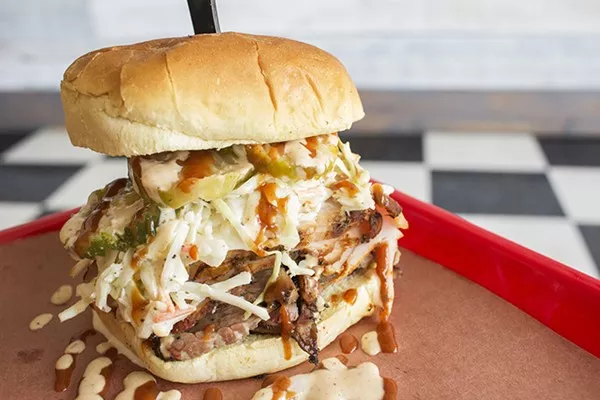 PHOTO BY MABEL SUEN
Get your Q in the Lou this weekend — or check out a host of other great events.
This weekend marks the first-ever Murmuration Festival —
more about that here
. But while we're excited about this St. Louis version of SXSW premiering in the Cortex district, there are plenty of other options for people looking for something to do.
Head downtown for Q in the Lou. Make your way to Lafayette Square for the area's best craft and folk art festival, Strange Folk. Or head to Chesterfield to watch some Scottish feats of strength. You can't go wrong as long as you're keeping busy.
Here are the weekend's top things to do:
1. Watch the Scottish Games in Chesterfield

Scottish games are a unique combination of keen athletic competition and social gathering. It doesn't matter if you're not Scottish (it's just a shame, is all). It also doesn't matter if you're not competing. If you're there to have fun, you're welcome. This year's
St. Louis Scottish Games
return to Chesterfield, and feature an equal measure of competition and camaraderie. The games open at 3 p.m. Friday, September 23, with a sheepdog demonstration and a tug o' war between police and firefighters from the St. Louis County Cadet Academy. After that comes a quidditch match contested by Webster University student teams and a good old-fashioned farmer's walk, which sees two strong fellas carry a pair of 250-pound weights for as long a distance as possible. The Wee Heavies band is also on the bill. Day two opens at 8:30 a.m. Saturday, September 24, and includes sword-fighting demos, a kilted kids race, highland dancing, pipe band competitions and the actual highland games. The heavies, as the gents who compete in the games are known, will compete in the open stone put, light and heavy weight throws, the Scottish heavy hammer, the sheaf toss and the caber toss. Basically, if it's massive and unwieldy, the heavies will throw it. The St. Louis Scottish Games take place on the field at Spirit Airpark West Drive and Olive Street Road in Chesterfield (
www.stlouis-scottishgames.com
). Admission is $5 to $15, with two-day passes ($20) and family passes good for two adults and four kids ($25-$50) also available.
2. See a prize winner at the Gaslight
"A" is dying. The old women languishes in her bed, telling stories of her long life to her younger caretaker, "B." B deals easily with the older woman, who rambles and repeats herself as she goes. "C," the third woman in the room, is the youngest, and is the most put-off by the old woman's chatter. C is here to get A to sign important paperwork, and she has no time for advice or an old woman's memories. Edward Albee's Pulitzer Prize-winning drama Three Tall Women is a play about what it is to be human. There are happy memories, optimism and pride, and there is sorrow, pain and regret. St. Louis Actors' Studio opens its tenth season with Three Tall Women. Performances take place at 8 p.m. Thursday through Saturday and 3 p.m. Sunday (September 23 to October 9) at the Gaslight Theater (358 North Boyle Avenue; www.stlas.org). Tickets are $30 to $35.

See also: 20 Festive Things to Do This Fall in St. Louis
PHOTO BY DOYLE MURPHY
Once based in O'Fallon, Illinois, Strange Folk is taking up residence in Lafayette Square.

3. See what the creatives are up to at Strange Folk
Strange Folk Festival
is on the move. After bringing the strange to Union Station in 2015, the festival of DIY art, craft, music, food and what-have-you sets up shop in Lafayette Square (Park and Mississippi avenues;
www.strangefolkfestival.org
) from 10 a.m. to 6 p.m. Saturday and Sunday (September 24 and 25). This year's Strange Folk Festival includes art vendors and site-specific installations inspired by the Belle Epoque feeling of the neighborhood and the festival. If you get hungry, food trucks and restaurants including Fruit Crushers, Whisk, Urban Eats and Indian Sunshine Cuisine (and several more) will take care of you. If your ears are starving for something good, Ellen the Felon, Androbeat, CaveofswordS and an interesting handful of additional bands perform. There's even a designated nursing/family rest area, so you can bring the kids. Admission is free.

4. Eat some 'cue at Q in the Lou
Any time is the right for barbecue, but this weekend is particularly opportune. Q in the Lou returns, bringing live music and a mountain of barbecue to Soldiers Memorial downtown (Fourteenth and Chestnut streets; www.qinthelou.com). This year's pitmasters include Mike Emerson (Pappy's) and Mike Johnson (Sugarfire Smoke House), Brad and Brook Orrison (the Shed in Ocean City, Mississippi), Carey Bringle of Nashville's Pig Leg Porker and Big Moe Cason from Des Moines' Ponderosa BBQ Company. They'll be serving it up from 4 to 10 p.m. Friday, 11 a.m. to 10 p.m. Saturday and 11 a.m. to 6 p.m. Sunday (September 23 to 25). All you have to do is show up (admission is free) and buy the one (or six) that smell the best. There's also a VIP option ($75) that lets you skip lines and gets you an open bar, barbecue sample and entrance to the VIP lounge. Locash, Pretty Little Empire and Cracker all perform throughout the festival.


5. Support a new film series devoted to celluloid
Drunken Angel
is Akira Kurosawa's first film with frequent collaborator Toshiro Mifune, and in it are all the hallmarks of their working relationship. Mifune plays Matasunga, a small-time hood who seeks medical help from Dr. Sanada (Takashi Shimura) for a gunshot wound. Sanada's a drunk and Matasunga is tubercular — both men could be seen as stand-ins for post-war Japan at large, wounded and suffering. Matasunga takes the doc's advice to stop drinking and stay in at night, but only until his boss gets out of jail. Then he's right back at his bad habits, drinking and smoking and killing himself by degrees. The new group Analog Cinema, which is dedicated to screening actual films (not DVDs, VHS tapes or digital streaming), shows a 16mm print of
Drunken Angel
at 6:30 p.m. Monday through Tuesday (September 25 to October 4) at the Gaslight Theater (358 North Boyle Avenue;
www.analogcinema.com
). Tickets are $5.


See also: 20 Festive Things to Do This Fall in St. Louis