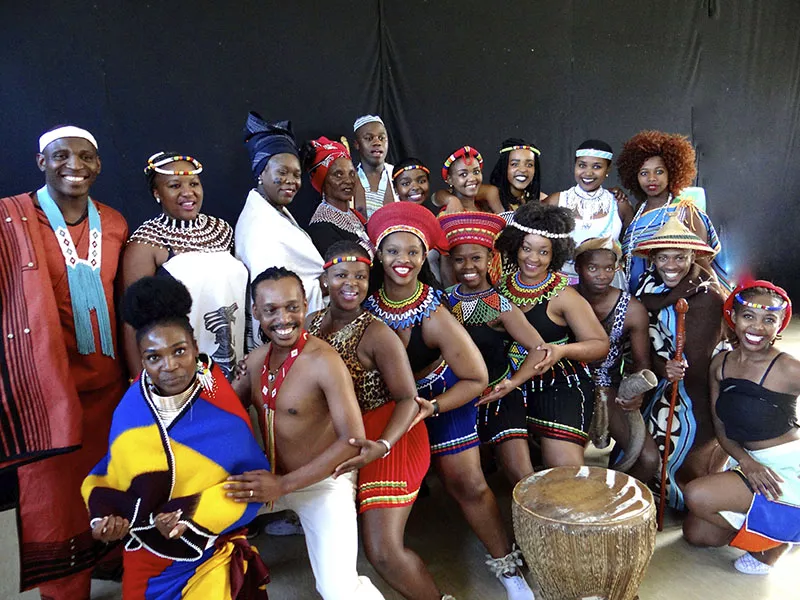 Miriam Makeba: Mama Africa the Musical.
The boss is out of town for a few days, so I'm in my jammies eating sardines right out of the tin. It's a pleasant respite at the time of year made for pleasant respites. If we weren't meant to blow off a little steam during these early autumn weekends, there wouldn't be nearly as much stuff to do this week. We got beer, we got balloons, we got everything.
See a show about a world music legend
.
Miriam Makeba was imprisoned when she was just six months old as a result of her mother serving a sentence for home brewing. It was not her last run-in with the South African legal system. As an adult, the singer was denied entry to her homeland because of her outspoken opposition to apartheid. Undaunted, she traveled the world to sing her own unique concoction of traditional South African songs and American jazz, denouncing apartheid and injustice along the way. Niyi Coker's play
Miriam Makeba: Mama Africa the Musical
is a celebration of Makeba's life that deals truthfully with her exile, her marriages and her triumphant return to South Africa in 1990. The show features a cast of 40 performers from South Africa.
Miriam Makeba
is performed at 7:30 p.m. Thursday and Friday, 2 and 7:30 p.m. Saturday and 2 p.m. Sunday (September 15 to 18) at the University of Missouri-St. Louis' Touhill Performing Arts Center (1 University Drive at Natural Bridge Road;
www.touhill.org
). Tickets are $25 to $35.
Check out an exhibition by a major American artist.
American artist Kelley Walker will have his first solo American museum show right here, thanks to the Contemporary Art Museum St. Louis. The museum throws wide its doors for Walker, allowing him to take over the entire building with works both old and new. Walker likes to explore the ways an image travels from one culture to the next, and how each culture perceives the image once it is theirs. His new series, Black Star Press, digitally prints chocolate (white, milk and dark) on canvas, depicting images of racial strife in a very unusual medium. As the images in the series are rotated 90 degrees, the power dynamic on display is obscured, altered and eventually reversed. Direct Drive opens with a free reception from 7 to 9 p.m. on Friday, September 16, at the Contemporary Art Museum St. Louis (3750 Washington Boulevard; www.camstl.org). The gallery is open Wednesday through Sunday and the show remains up through December 31. Admission is free.
Get above it all.
The highest point is St. Louis is not the obvious one — the Hi-Pointe Theater — but in fact the Compton Hill Water Tower (1900 South Grand Boulevard; www.watertowerfoundation.org). The nineteenth-century structure was built to even out the pressure in the city's water system and to look good while doing so. Still standing tall after almost 220 years, the tower is now retired from managing the water system but retains its handsome profile thanks to the efforts of the Water Tower Park & Preservation Society. The group hosts regular open houses, allowing curious antiquarians and lovers of beauty to climb the tower on select nights — tonight being one such night. From 5:30 to midnight on Friday, guests can take the 198 stairs to the top and look out over the park (and the I-44 construction, if that's your jam). It's a full moon tonight as well, so everything should be clearly illuminated. Admission is just $3 to $5.
Have a few laughs.
If any single force shaped American comedy in the twentieth century, it was the Second City. The improv collective's alumni write and star in our best sketch comedy, our sitcoms and our films. Tastes may have changed since the Chicago company was founded in 1959, but chances are those tastes changed because a new crop of Second City comics left the hive mind and spread them. The current roster of stars-in-the-making presents The Best of the Second City at 8 p.m. Thursday and Friday (September 15 and 16) at the Sheldon (3648 Washington Boulevard; www.thesheldon.org). Tickets are $18 to $36, and five percent of the price benefits the no-kill animal shelter Partners 4 Pets.
Get a crash-course in St. Louis' theater scene.
St. Louis has an exceptional theater scene. If you haven't partaken of it yet, you can rectify that buffet-style at Making A Scene: A St. Louis Theatre Expo. The event is a deep dive into how theater gets made, with demonstrations in how a show is costumed, the arts of makeup and stage combat, and discussions with Repertory Theatre of Saint Louis artistic director Steven Woolf, actor Joneal Joplin and actor/theater professor Lara Teeter. Making A Scene also gives you a chance to meet and talk with members of Opera Theatre of St. Louis, New Line Theatre, St. Louis Actors Studio, New Jewish Theatre and other companies. The Fox Performing Arts Teens and the Improv Shop round out the day with performances. Making A Scene runs from 9 a.m. to 1:30 p.m. Saturday at the Loretto-Hilton Center (130 Edgar Road, Webster Groves; www.repstl.org). Admission is free.
Turn the page for more weekend fun.
Photo by Jon Gitchoff.
Schlafly Tap Room's Hop in the City.
Try a few new beers.
The glorious festivals of fall are upon us, even if the fall weather is a little behind schedule.
Hop in the City
takes over the Schlafly Tap Room (1200 Locust Street;
www.schlafly.com
) Saturday from noon to 9 p.m., bringing with it more than 40 beer styles and a wealth of great music. Tasting tickets ($30 to $35) get you unlimited samples of both the beer and the music, while tickets just to get on the lot and enjoy the bands are $15 to $20. Food will be available for purchase, and among those previously mentioned bands are Black Pistol Fire and the mighty, mysterious Calexico.
You like balloons, right?
You'd better get up early if you want to get a good spot at the Great Forest Park Balloon Race, because seemingly everyone in the metro area is in Forest Park today. Alright, it's actually only 150,000 people, but they're all camped out on the central field well before noon. This year's race features more than 70 balloons and pilots, who start their engines at 4:45 p.m. on Saturday, September 17. Before that happens you can picnic in the park, watch the Miller Light Skydivers descend and enjoy the music of Griffin and the Gargoyles. Admission is free.
Go back to the era before presidential elections.
Some people claim they miss the good old days, but the good old days never really left. The St. Louis Renaissance Festival has all the village bakers, blacksmiths and carpenters your parents remember, plus a bunch of old-school Germans —specifically, the Landsknechts. These mercenaries dress sharp, carry sharp objects and act sharp. They'll show you how to wield a ten-foot-long pike, fire a bow or black powder rifle and play sixteenth-century games (when Germans play Monopoly, they play for keeps). This year's St. Louis Renaissance Festival is open from 10 a.m. to 6 p.m. Saturday and Sunday (September 17 to October 16) in Rotary Park (2577 West Meyer Road, Wentzville; www.stlrenfest.com). Tickets are $15.95 to $18.95.
Enjoy a play in the streets.
Strange things are afoot in Maplewood this weekend. Theseus, the mayor of the southwestern suburb, and his fiancee Hippolyta run into eternal friends Hamlet and Horatio near the Mystic Valley, which is owned by a trio of soothsaying sisters. The plot thickens with the addition of Bottom and the college student Bernardo. What's it all about? Shakespeare in the Streets, my friend. Nancy Bell's play Remember Me plucks familiar characters and elements from Hamlet, A Midsummer Night's Dream and Macbeth to create a new story about Maplewood, home of craft beer, doughnuts and bowling. The production blends music, actors, the neighborhood and the spirit of adventure to prove once again that Shakespeare is one of us. Remember Me is performed at 8 p.m. Friday through Sunday (September 16 to 18) on Sutton Boulevard in Maplewood (between Marietta and Hazel avenues; www.sfstl.com). Admission is free.
How about a classic movie?
Stanley Kubrick's Dr. Strangelove (1964) parodies all kinds of strange American elements (our endless wars, our tangled politics, our obsession with conspiracy theories) so well that it's difficult to see now how risky all those decisions were at the time. Made just four years after Hollywood stopped blacklisting people deemed "unpatriotic," the film portrays the military, the scientists and the diplomats as selfish, flawed beings. It's also a hoot, mainly thanks to Peter Sellers' work as Lionel Mandrake, President Muffley and the eerie Dr. Strangelove, the former Nazi scientist who has one hand he can't quite control. Can any of these men save the world from the impending nuclear destruction Air Force Commander Jack D. Ripper intends to unleash on those bastard commies for poisoning our water supply with fluoride? Don't bet on it. Turner Classic Movies presents a special screening of Dr. Strangelove at 2 and 7 p.m. Sunday and Wednesday (September 18 and 21). You can see it locally at the Wehrenberg Des Peres 14 Cine (12701 Manchester Road, Des Peres; www.fathomevents.com). Tickets are $10 to $12.50.