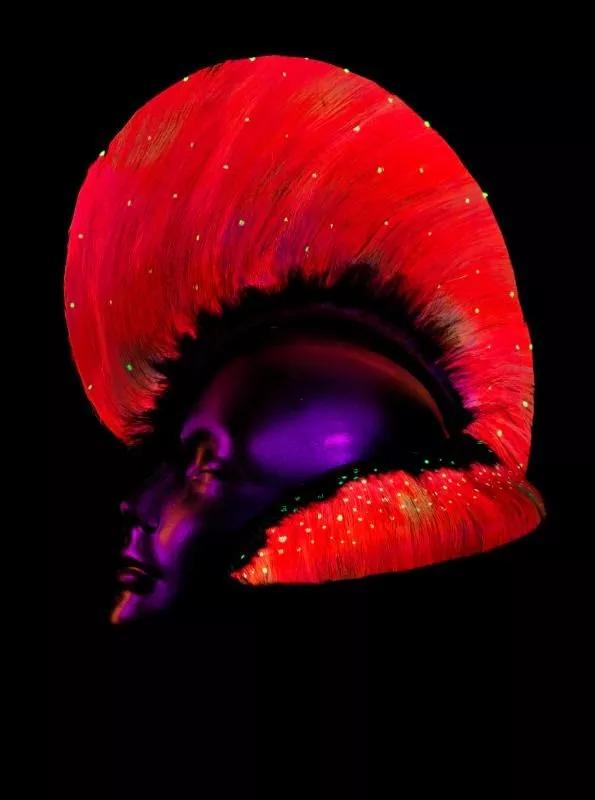 Charlies Le Mindu: Pink Mohawk from Charlie le Mindu's "Stronger Collection." Photo by Ines Dieleman.
Surprise! Three new shows go up this weekend, but two of them celebrate with receptions on Thursday evening. How cultured will you sound telling the boss you're slipping out of work early to visit the galleries?
Charlie Would...
Projects + Gallery
4733 McPherson Ave.
|
www.projects-gallery.com
Opens 5-8 p.m. Thu., Sep. 15. Continues through Nov. 19.
Charlie Le Mindu is a Paris-based artist who combines the super-heated styles of the European club with drag culture and haute couture to create extravagant sculptures and performance art. Perhaps most known for his pioneering use of natural and artificial hair as a medium (what he's called "haute coiffure"), Le Mindu's work is exuberant, exotic and cheeky beyond compare. A sense of fun runs through his work, which is characterized by bright color and a sense of high drama. This is his first American solo show, and he'll present a unique performance piece at the Contemporary Art Museum St. Louis on Sunday, September 18, with the sublime electronic-pop rabble rouser, Peaches.
Subject Lines (Donald Moffett image): Donald Moffett, #3 (Lot 061800)
Subject Lines
Philip Slein Gallery
4735 McPherson Ave.
|
www.philipsleingallery.com
Opens 5-8 p.m. Thu., Sep. 15. Continues through Oct. 15.
This exhibition features abstract painting by Alison Hall, Donald Moffett, Liat Yossifor and Robert Zungu. Yossifor mixes oil paints together until they reach a range of gray, then slathers that gray into overlapping swoops and swathes. Moffett's work is similarly tactile, as he squeezes out thousands of thin tubes of monochromatic oil paint, building up a terrain of fibrous-looking matter that approximates shag carpet made of cypress needles.
Ill Seen Ill Said (Yngve Holen image): Hater Headlight. Yngve Holen. Courtesy Stuart Shave/Modern Art, London.
Ill Seen Ill Said
White Flag Projects
4568 Manchester Ave.
|
www.whiteflagprojects.org
Opens 7-9 p.m. Sat., Sep. 17. Continues through Oct. 29.
This group show features some of the best-known practitioners of contemporary and underground art. Downtown New York poet John Giorno, photographic pioneer Jo Spence, filmmaker/photographer John Waters, artist of the extreme Banks Violette and sculptor Yngve Holen all have work in the show. Holen's
Hater Headlight
implies a menacing face in the night from cast-off objects such as a pair of headlights from a scooter and a steel mounting.