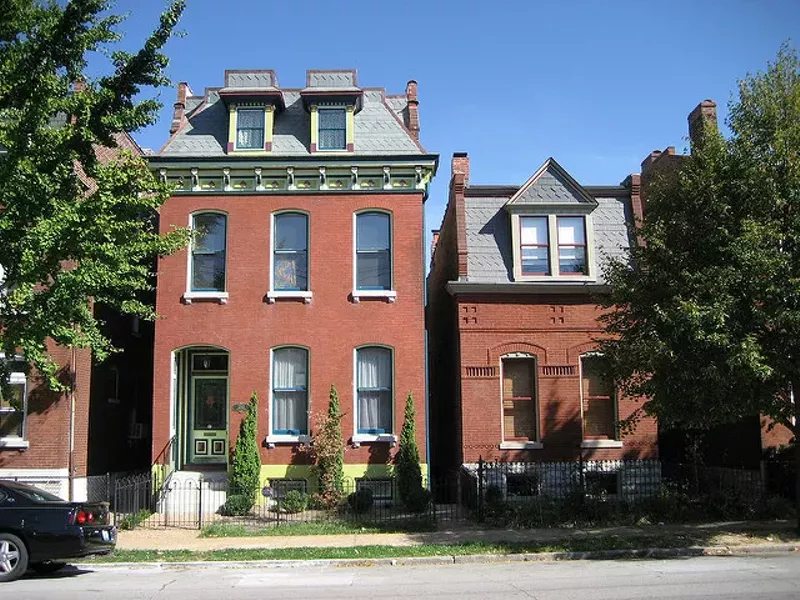 Photo courtesy of Flickr/Melissa Mackey
Soulard: Beautiful, and just a mile from downtown.
Yesterday, at least nine-tenths of St. Louis was excitedly sharing the same link on social media: Thrillist had declared that St. Louis
was the most overlooked city to visit
.
It was easy to see why the piece went viral locally — the writer at the travel site had done his homework, to the point of apparently even visiting. And in a week when St. Louis
is again making headlines for all the wrong reasons
(thanks,
Daily Mail
!), it was great to read an outsider's praise.
But the essay itself came up a bit short. And that's because, I think, it fundamentally misunderstood what makes this such a lovely place to visit — and live.
Among other things, the writer posited that "St. Louis doesn't do gentrification," that we were "LA before LA was LA" and that our growth was driven by the automobile, creating charming pockets far-flung from the city — citing the Loop, Midtown, the Central West End, Clayton, Lafayette Square and even Soulard.
Even beyond the fact that Soulard, Midtown and Lafayette Square are a scant mile or so from downtown, no.
No, no and no.
The fact is, like just about every city in America, St. Louis did have a period where homebuyers were going further and further outside the city center — and relying on the highway system to make their commutes work. That's what created such population centers as Chesterfield and St. Charles and all the other homogenized suburbs that Gen Xers grew up in, and millennials too.
Now, those places are still doing just fine; for a certain kind of person, the kind who values good schools and safe neighborhoods, they continue to be attractive destinations.
But they are not where Thrillist is sending people, and with good reason. They're not nearly as interesting as the urban core, those older neighborhoods where older St. Louisans grew up — and that people like me and my peers are discovering today.
And unlike, I think, past groups of people giving the city a try, those of us in our 20s and 30s buying homes today are determined to stay. It's not just gays and retirees committing to St. Louis proper, although they're a huge (and necessary) part of St. Louis' ongoing urban renaissance. Today young parents are buying houses, figuring out how to make the shitty school system work for them or even just get around it, putting down roots and planning futures.
As a result, the Central West End now has skyrocketing real estate prices — and a Whole Foods. Older St. Louisans boast about buying dilapidated old painted ladies in Lafayette Square in the 1980s for $7,800; today you'd be lucky to find a house there for $400,000.
Young urban professionals, too, have made Shaw unaffordable for anyone who's not bringing in a decent salary, or ideally two decent salaries — and the Grove and Botanical Heights are poised to join it, as smart new rehabs replace rundown housing stock. And let's not forget Cherokee Street. Even three years ago the place felt wild and a bit dangerous; today you can get bespoke fashion and craft beer. Let's face it: Ours may not be as statistically shocking, price-wise, but we
do
do gentrification.
And we're doing it in the places built before the automobile. My mother-in-law, who grew up in south St. Louis, remembers
taking the streetcar down to Cherokee Street
to go shopping. Someday, if the nattering nabobs who run St. Louis County
would just get out of the way
, my one-year-old daughter, who's growing up in Lafayette Square, may be able to take MetroLink to do the same. Meanwhile everyone commuting from Chesterfield will be stuck on I-64, wondering why their McMansions are slowly losing value.
And what about the Loop? Thrillist, weirdly, posited that it was ten miles from the city. It's actually right up against the city-county line, but I suspect that's just inartful phrasing (it is, after all, about nine miles from downtown). Still, even though it's further from the central city than the other thriving inner neighborhoods cited, the Loop, too, owes its growth to the streetcar line — the opposite of Thrillist's thesis.
The fact is, I lived in LA before moving to St. Louis (for the second time!) in 2014, and St. Louis is not LA before LA was LA. Not even close. Someone once told me that St. Louis is the last eastern city, and Kansas City is the first western one — and that to me feels more on point. Some parts of St. Louis look like New Orleans and some look like Cleveland. But very few look anything like the West Coast. At its core, I think, St. Louis is built on a human scale, something that just isn't true of Los Angeles or Phoenix or even Denver.
I'll concede this point made by Thrillist: We have far-flung little "downtowns" all over the region — who doesn't? You can have a craft beer in Kirkwood's central business district and a craft taco too. If you're into that sort of thing, you can even
drink wine at a chain restaurant in downtown Clayton
, like the Thrillist author did. But those aren't the essential places to visit.
No, the essential places are all right here, just a few miles from the city's center. And increasingly, there are a whole bunch of determined young families right here with them — investing in the city, hanging on in spite of those horrible crime statistics, waiting patiently for the MetroLink to spread its tentacles north and south.
That's what Thrillist overlooked. But hey, we still agree with the main point of its generous and otherwise thoughtful essay: Y'all really should come visit.
Sarah Fenske is the editor in chief of the Riverfront Times. Follow her on Twitter @sarahfenske or reach her by email at sarah.fenske@riverfronttimes.com