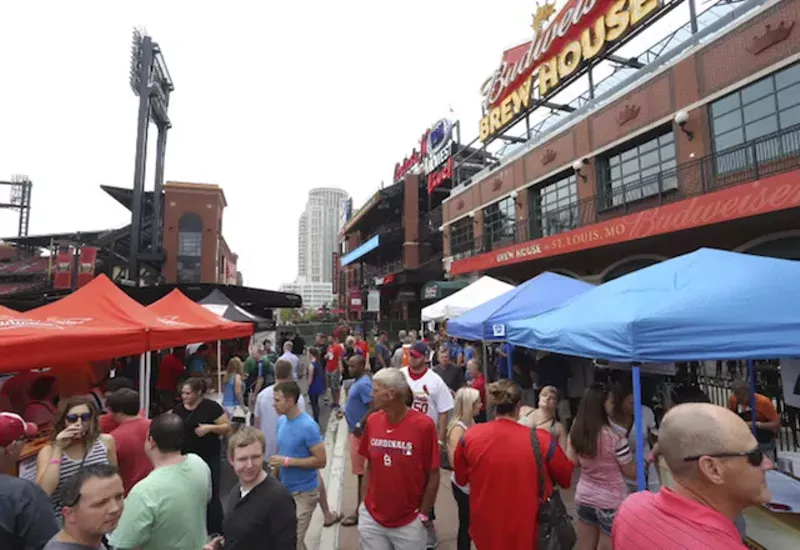 Brew Fest: Saturday at Ballpark Village.

The weekend in St. Louis promises loads of fun — a bike ramble and a brew fest downtown, an opera at Union Avenue Christian Church and several intriguing plays. Not sure what to do? Maybe see a whole bunch of experimental theater at St. Lou Fringe Fest, which kicks off tonight. As long as you're doing something, you can't go wrong.
Our top seven picks follow.
1. Get a new look at the tribulations of a classic author
Nick Otten's play
Mary Shelley Monster Show
originates in one straightforward question: Was the novel
Frankenstein
an autobiography? Like many simple questions, it's not easy to answer. Shelley's father was a liberal political philosopher who raised her to think freely. That free-thinking spirit allowed her to embark on a whirlwind romantic tour with one of dad's cronies, the Romantic poet Percy Bysshe Shelley. Their tour included Mary's stepsister but not Percy's wife, oddly enough. Upon their return to England, all three were ostracized for their scandalous behavior and the suicide of the original Mrs. Shelley. Mary and Percy subsequently married, but three of their four children would die before age five. After Percy's early death, Mary devoted herself to raising their surviving son and churning out novels for money. The author and the monster at the heart of her most famous novel (who could both speak and write eloquently, despite what you see in the films) certainly shared a peripatetic lifestyle, and both knew the feeling of being hounded. Both, too, experienced suffering. Otten has a compelling argument at any rate. Slightly Askew Theatre Ensemble opens its tenth season with
Mary Shelley Monster Show
. Performances take place at 8 p.m. Thursday through Saturday (August 18 to 20) at the Chapel (6238 Alexander Drive;
www.slightlyoff.org
). Tickets are $10.
2. Get to the Fringe Fest
Your long wait is over, St. Louis. St. Lou Fringe Fest is back in its new late-summer slot with even more performances (109 different shows) spread across seven venues in Grand Center throughout the next two weeks (August 19 to 27). Opening day features thirteen different shows spanning a wide range of performance styles. You could see Rusalka's show The Selkie (8:30 p.m. at Kranzberg Arts Center), which features an acoustic folk group from Asheville, North Carolina, that plays mountain music meant to rekindle an interest in the old ways; you could enjoy St. Louis' own Keith Jozsef (7 p.m. at Kranzberg), an illusionist with dramatic flair (his show includes a variant of Russian roulette, with the audience calling the literal shots); or you could be dazzled by An Accidental Organist (8:30 p.m at Duet Gallery), which is David Boyle's one-man confessional about how filling in as church organist for his deceased father turned into a 25-year mission. Tickets for all shows are available at the Fringe box office (3526 Washington Avenue; www.stlfringe.com) and online. No show costs more than $15 to see, and your best value is one of the super-affordable ticket packages — how does five shows for $37 sound? Great, right?


3. Celebrate 10 years of Mustard Seed Theatre with a new play
England's kindertransport program was a moment of humanity in the run-up to World War II. Close to 10,000 Jewish children were ushered safely to England after Kristallnacht, but what felt like a miracle for the parents must have felt more like rejection to the youngsters who didn't understand why they were being sent away. Eva is one of the transported. At least she gets a soft landing with Lil, a good-natured woman treats her kindly. But Lil is not Jewish, and makes no effort to maintain any of Judaism's laws or tenets. Diane Samuels' drama Kindertransport is a play about identity and the past — mainly the forgetting of them. Mustard Seed Theatre marks its first decade with the show. Kindertransport is performed at 8 p.m. Thursday through Saturday and at 2 p.m. Sunday (August 19 to September 4) at the Fontbonne University Fine Arts Theatre (6800 Wydown Boulevard; www.mustardseedtheatre.com). Tickets are $30 to $35.


4. See a Pulitzer Prize-winning play turned opera
Nature abhors a vacuum, and Sister Aloysius abhors uncertainty. As the principal of St. Nicholas School, she demands constant vigilance against any doubt creeping into the lives of her students. That belief leads her into conflict with Father Flynn, whom she suspects of having an improper relationship with a student. Commandeering Sister James, the boy's teacher, to be her witness, Sister Aloysius ambushes Father Flynn with her theory. Can absolute certainty shine a light on the truth, or is Sister Aloysius' rigid thinking blinding her? Union Avenue Opera closes its season with a production of Douglas J. Cuomo's Doubt, with local heroine Christine Brewer playing the role of Aloysius. The libretto is by John Patrick Shanley, who wrote the Pulitzer Prize-winning play on which the opera is based. Doubt is performed at 8 p.m. Friday and Saturday (August 19 to 27) at Union Avenue Christian Church (733 North Union Boulevard; www.unionavenueopera.org). Tickets are $30 to $55.

Turn the page for more great things to do — including a show at the St. Louis Art Museum.
The Moonlight Ramble goes down Saturday.

5. Take a bike ride under the stars

Styles change, new fads come and go, but the
Moonlight Ramble
continues unabated. For 53 years the midnight ride through St. Louis has remained the same thrill — the only thing that changes is the route. This year's ramble once again starts at Ballpark Village (601 Clark Avenue;
www.monlightramble.com
), with last-minute registration ($10 to $25) available between 9 and 11:45 p.m. Saturday. The bike ride officially starts at 12:01 a.m., but since this isn't a race, you can wait 'til the horde thins out and start anytime before 1:30 a.m. As always, you have a choice of either the short course (10.5 miles) or long course (18.5 miles), so pick the one that's right for you, wear light-colored clothing and have a good time. Ballpark Village is also the finish line, and when you return from your peregrinations an after-party will be waiting.


6. Enjoy a festival of beer at Ballpark Village
St. Louis, beer and pork have been in a torrid love triangle since the city was founded. As the years pass, the love only deepens and grows more meaningful. (I'm not crying, you're crying.) Dive face-first into the delicious three-way Saturday from 1 to 5 p.m. during Brew Fest by Budweiser at Ballpark Village (601 Clark Avenue; www.stlballparkvillage.com). Local home brewers compete to determine who made the best Oktoberfest, which is a very pig-friendly beer thanks to its full-bodied, roasty flavor. (Many other beer styles will be available if you're not a Märzen maniac). And it just so happens that a pig roast is part of the festivities. Your $30 ticket includes beer samples and a commemorative tasting glass, while a $50 VIP ticket includes everything in the $30 ticket plus early admission, a BBQ plate and voting privileges on the stout competition.

7. See a new exhibition at the art museum
Despite its recent expansion, the Saint Louis Art Museum (www.slam.org) does not have enough space to display all the art in its various collections. This is why exhibitions are rotated periodically, and it's also why the new show Japanese Painting & Calligraphy: Highlights from the Collection is noteworthy. A pair of folding screens painted by Kaihō Yūshō in the sixteenth century are the main draw, having not been on display for seven years. Yūshō painted an ethereal landscape using ink and gold that represents the illusory nature of the material world. Japanese Painting and Calligraphy is on display Tuesday through Sunday (August 19 to February 12) in gallery 225. Admission is free.