PHOTO BY MIKE HORNER
The Great Puppet Festival: just $5 for two hilarious shows.
The weekend is here, at long last. So don't waste these precious moments on a bar stool — check out some of the fascinating arts and culture events happening around town. (Oh, and we also recommend
these two additional art openings tonight
; consider that free advice your bonus for surviving the workweek.)
Not into arts and culture? For shame. But we've got debauchery covered, too. Just check out our
newly published guide to the city's amazing dive bars
— and start drinking!
This week's eight best things to do are below.
1. See a quirky musical
Hope Falls, West Virginia, is atwitter with news that one of the Taylor children has been attacked by something neither fully animal nor human. Fortunately the Taylors have captured the creature, which is now in the custody of the town veterinarian. The doctor's wife takes pity on the half-bat, half-human thing. She names him and begins teaching him about Christian morals and the importance of education. But the people are skeeved out, and become more agitated when their cattle start dying in strange ways. The Laurence O'Keefe, Keythe Farley and Brian Flemming show Bat Boy: The Musical, draws inspiration from a Weekly World News tabloid story and deals with our fears of the other, as well as our twin addictions of hypocrisy and violence. Stray Dog Theatre closes its current season with the off-kilter musical. Performances take place at 8 p.m. Thursday through Saturday (August 4 to 20) and 8 p.m. Wednesday (August 10 to 17) at Tower Grove Abbey (2336 Tennessee Avenue; www.straydogtheatre.org). Tickets are $20 to $25.

2. Indulge in Brew Madness on the Landing
St. Louis Craft Beer Week is in full swing, but we'd bet you're not tapped out just yet. This is St. Louis, after all — we order a beer to keep us hydrated while we peruse the beer menu. Venture out to the Morgan Street Brewery (721 North Second Street) Friday between 6 and 11 p.m. and you can sample great local brews while helping a charity during Brew Madness. All you need to do is make a donation to Backstoppers, the group that provides financial assistance to the families of fallen police and firefighters. Admission is free, so give what you can afford and have a good time. For the full Craft Beer Week schedule, visit www.stlbeerweek.com.

3. Journey to Middle Earth for First Friday
You've probably grown up believing that martial arts are the sole provenance of the Far East, but that's just not true. Plenty of wars were fought in Europe, and the men who prosecuted them needed to know more than just how to swing wildly with a sword. From the hints that Icelandic sagas give us about the ritual duals called holmgang to the transcribed teachings of German sword master Johannes Liechtenauer, it's clear that the West has a well-developed martial history. You can see modern practitioners demonstrate various techniques for unarmed, up-close fighting Friday at 6:30 p.m. at the Saint Louis Science Center (5050 Oakland Avenue; www.slsc.org). It's part of the First Friday celebration Journey to Middle Earth. In addition to the fight demo the event offers free screenings of The Fellowship of the Ring and the first episode of the BBC's Merlin series, "Call of the Dragon." You can also check out the "Fires of Mordor" science demo and a performance on the Celtic harp by Melissa Purves. Admission is free, but some events require a small fee.
4. Check out a puppet festival
Puppets in the American consciousness range from the Muppets to Crank Yankers, with very little in between. But puppets were the original mass entertainment in the pre-literate era. (Punch and Judy's brutal escapades were the
Big Bang Theory
of the Middle Ages, after all.)
The Great Regional Puppet Festival
offers you the opportunity to see many types of puppets engaged in a variety of shows. Mike Sandbank's Shadow Factory presents the mostly non-verbal performance
Still Life
at 2:30 p.m. Saturday at the Saint Louis University Theatre (3733 West Pine Boulevard;
www.puppetfestivalstl.org
), using shadow puppets to relate the struggles of a group of people dealing with a world that doesn't bend to their will. Mike Horner's
A Funny Thing Happened on the Way to the Death Star
follows at 3:15 p.m. Musician Curt Bright imagined what Star Wars would have looked like with puppets instead of pioneering special effects, and puppeteer Mike Horner brings Bright's fever dream to life. Admission to both shows is $5.

Turn the page for more events — some of them free!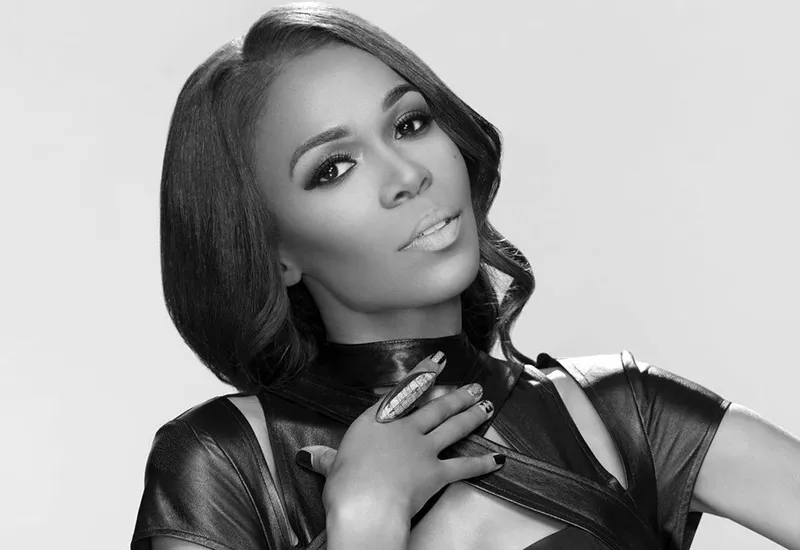 COURTESY OF THE MUNY
Michelle Williams stars as Aida at the Met — and trust us, you are so ready for that jelly.

5. Take a hard look at a local problem at CAM
The pernicious effects of debtor's prisons were exposed following the Department of Justice's review of Ferguson's municipal government practices, but it's not just Ferguson's problem. When a city views its citizens as ATMs to be drained through ticky-tacky fines and heavy penalties for missed payments, poor people go to jail just for being poor. Blake Strode, a staff attorney for ArchCity Defenders, discusses the problem in the program
Re: Debtor's Prison
. Strode is joined by Qiana Williams, who has been caught in the wheels of the debt/prison/bail cycle in St. Louis for years. The talk is held in conjunction with Los Angeles artist Mark Bradford's mural,
Receive Calls on Your Cell Phone From Jail
. This grid of paintings is made from posters that inform detainees of the difficulties of receiving prison phone calls on a cell phone — many service providers restrict collect calls from being received on cell phones. The piece sheds light on another way poor people are drained of money, time and their freedom through systems no one is allowed to vote down. Re: Debtor's Prison takes place at 1 p.m. Saturday at the Contemporary Art Museum St. Louis (3750 Washington Boulevard;
www.camstl.org
). Admission is free, but the museum asks that you register through the website if you wish to attend.

6. See one of Shakespeare's greatest histories at the Ivory

William Shakespeare's
The Tragedy of Julius Caesar
is less about the assassination of Rome's great man than about the men who commit the murder. Caesar has many enemies in the senate, all of whom fear he will use his popularity with the common man to become a tyrant. (Anyone else getting a weird, deja vu type feeling? No?) These conspirators eventually convert Julius' good friend Brutus to their cause by getting inside his head. Brutus makes the decision to kill not because of anything Caesar has done, but because of what he
might
do. Is Brutus a patriot, or a man consumed by unproven fears? It's this big question that will be answered in St. Louis Shakespeare's season-opening production of
Julius Caesar
. The drama is performed at 8 p.m. Friday and Saturday and at 2 p.m. Sunday (August 5 to 14) at the Ivory Theater (7620 Michigan Avenue;
www.stlshakespeare.org
). There is one 7:30 p.m. performance on Thursday, August 11. Tickets are $15 to $20.
7. Meet us at the Muny for one last show
The Muny closes season 98 in monumental fashion by staging Elton John and Tim Rice's
Aida
. The musical is based on the Verdi opera of the same name, but John and Rice plunder the world of music for the songs. You'll hear reggae, Motown, gospel, pop and West African melodies in the story of proud Nubian princess Aida and her Egyptian captor, Radames, who is also the pharaoh-to-be. Despite Radames' impending marriage to Amneris, he finds himself attracted to Aida — so much so that he installs her as his fiancée's handmaiden. Can love broach the culture gap and give these two a happy ending? Maybe — but it'll take a while.
Aida
is performed at 8:15 Monday through Sunday (August 8 to 14) at the Muny in Forest Park (
www.muny.org
). Tickets are $14 to $90.
8. Sober up at the new show at the Saint Louis Art Museum
War is often commemorated in statues and portraiture with a political slant. Our generals are heroic and our troops are manly, while the other guys are all slobs and monsters. But some artists document war without an official commission. Francisco de Goya made his print series The Disasters of War during Napoleon's occupation of Spain, and de Goya pulled no punches in depicting the inhumanity, cruelty and depredations wrought in the name of conquest. These 80 prints are part of Impressions of War, the new exhibition in galleries 234 and 235 at the Saint Louis Art Museum in Forest Park (www.slam.org). Impressions of War also includes Max Beckmann's portfolio Hell, which he created in Berlin in the immediate aftermath of World War I. Jacque Callot's series on the religious wars that rent apart Europe in the mid-1800s and Daniel Heyman's Amman Portfolio — the story of what occurred in Abu Ghraib prison, as told by Iraqi inmates — are also part of the exhibit. Impressions of War is on display from August 5 to February 12, 2017. The museum is open Tuesday through Sunday, and admission is free.