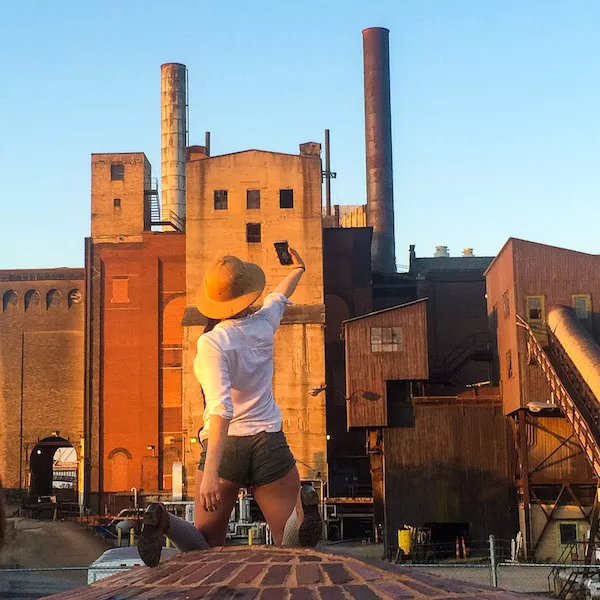 From the Street Smart series.
Interested in photography? Two new art shows opening Friday examine different ways of shooting — with a former
RFT
contributor looking at smartphone culture even as some old school shooters show off the merits of film at the Gallery at Kranzberg Arts Center. Both are in Midtown, so why not check them out as a pair?
Jarred Gastreich: Street Smarts
The Dark Room
615 N. Grand Blvd. | www.thedarkroomstl.com
Opening 6-9 p.m., Fri., Aug. 5. Continues through Sept. 29.
Pretty much everybody in the U.S. has a smart phone, which means pretty much everybody has a camera on them at all times. Does that make America a nation of photographers? Despite the number of Instagram shots being taken in restaurants at this very instant, the answer is assuredly "no." Technique, not equipment, makes the photographer. Jarred Gastreich is a street photographer whose work prominently features people, so it was almost inevitable that he would capture images of people using their phones. Gastreich, who pioneered the
RFT's "The Lede" column
in 2015, used his own phone to capture people messing about on their phones as a means of exploring how smart phones are changing the urban landscape. (The recent Pokemon Go mania, he admits, has been a great boon to his work.) Street Scapes shows the fruits of his labors, and reveals his fine sense of composition and timing.
PHOTO BY ELLEN GOODMAN
Ellen Goodman is a photographer featured in the Film Shooters Collective show.
NSEW: Divided by Land | United by Film
The Gallery at Kranzberg Arts Center
501 N. Grand Blvd. | www.kransbergarts.org
Opening 6-9 p.m. Fri., Aug. 5. Continues through Aug. 27.
The proliferation of digital cameras has done nothing to snuff the ardor some photographers have for film. The Film Shooters Collective is a loose coalition of fine art photographers who love what is possible with a well-trained eye and the rich grain of film. The group exhibition NSEW: Divided by Land | United by Film features work that was included in the third edition of the collective's anthology NSEW (the title refers to the cardinal directions). The only thing that links the work is each artist's use of film, whether 35mm, large format or instant. All disciplines are highlighted, from abstract work to classical landscape photography.