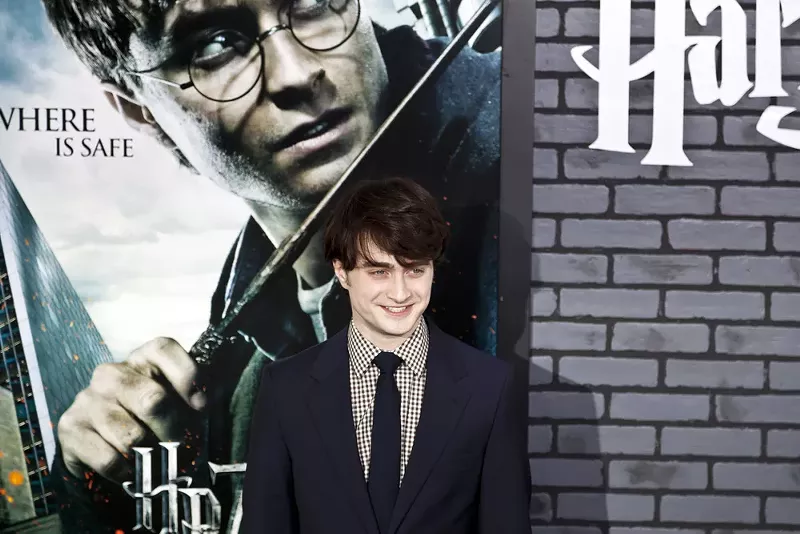 Sam Aronov / Shutterstock.com
Did you believe you'd heard the last from notorious he-witch Harry Potter? Well, he's back, and real-life has caught up with Potter at last. He's slaving away in the Ministry of Magic with three kids at home and a minor case of wand dysfunction (presumably — he's in the right demographic for it to be an issue), and his youngest child is struggling mightily with the family legacy. If you want to know how it all turns out, you'll have to read Harry Potter and the Cursed Child — Parts One & Two. The new book is actually a rehearsal script for the first Harry Potter play, which opens in London on Saturday, July 30. The book is officially available on July 31, or at the stroke of midnight as Saturday turns to Sunday.

So what's a Potter lover to do? Whether you're into costumes and camping out or just want to read the cursed volume before spoilers dribble out on our social media feeds, there's an event for you in St. Louis. Here are seven ways to get your book — and party with your fellow Potterheads, too.

1. Potterpalooza at the Library

Witches, wizards and muggles are invited to a free screening of

Harry Potter and the Sorcerer's Stone

. Participate in a costume contest and enjoy magically themed crafts, games, and snacks. Adults. Thu., Aug. 4, 6-8:45 p.m., 314-994-3300, adultprogram@slcl.org,

www.slcl.org/content/potterpalooza

. St. Louis County Library Headquarters, 1640 S. Lindbergh Blvd., Frontenac.

2. Hard Rock Cafe and the Brunch That Must Not Be Named

Hungry for more Harry? KSHE-95's Carl Middleman and movie/pop culture guru Max Foizey host a special Harry Potter brunch. Enjoy HP-themed games & crafts, a costume contest, trivia contest, jelly bean roulette, a trip to the Wand Shop and a Potions Class at which kids can mix up their own non-alcoholic beverages (and parents can make cocktails.) Sat., July 30, 11 a.m.-1 p.m., $22-$33, call 314-621-7625 for reservations. Hard Rock Cafe, 1820 Market St., St. Louis.

3. Harry Potter and the Cursed Child Midnight Pickup

Pre-order your copy of

Harry Potter and the Cursed Child

from Left Bank Books and gain access to outdoor festivities beginning at 10 p.m. on Saturday, July 30, including: a Harry Potter Tarot reading, face painting, a photo booth, quidditch, A Marauder's Map to lead you to local businesses with Harry Potter specials and, most importantly, midnight pickup for your copy of

Harry Potter and the Cursed Child

. Pre-order

your copy online here

. Sat., July 30, 10 p.m., $29.99, 314-367-6731, info@left-bank.com, Left Bank Books, 399 N Euclid Ave, St. Louis.

4. Harry Potter and the Cursed Child Midnight Release Party

The Book House feeds your habit at the stroke of midnight with "The Party That Dare Not Speak Its Name." The party includes a costume contest, Tarot readings, chocolate frogs, Butterbeer and Dragon's Milk (why would a reptile produce milk?) and other surprises.

Books are available at 12:01 a.m.; make sure to pre-order your copy. Sat., July 30, 5 p.m.-midnight, free admission. The Book House, 7352 Manchester Road, Maplewood, 314-968-4491.


5. Harry Potter and the Midnight Release Party, St. Charles Edition
Count down the minutes until the new Harry Potter book is released by playing Quidditch pong, sampling Butterbeer and participating in a Harry Potter trivia party. Books will be available at 12:01 a.m. Sat., July 30, 10 p.m.-1 a.m.; you must pre-order at least one copy. Main Street Books, 307 S. Main St., St. Charles, 636-949-0105.

6. Harry Potter Release Party at the Novel Neighbor
Pre-order the highly-anticipated eighth volume in the Harry Potter series and you can join the Novel Neighbor for snacks, activities and a few surprises in the lead-up to the midnight release. Sat., July 30, 10:30 p.m.-12:05 a.m. The Novel Neighbor, 7905 Big Bend Blvd, Webster Groves, 314-738-9384.



7.

Barnes & Noble Bookfair

Barnes & Noble welcomes the new Harry Potter book with costumed characters and family-friendly activity stations. Find your Hogwarts house with the sorting hat, and experience dramatic readings from the new book between 1 and 5 p.m. Call 314-862-6280 to reserve your copy. Sun., July 31, 9 a.m.-9 p.m., free admission. Barnes & Noble Booksellers, 8871 Ladue Road, Ladue, 314-862-6280.