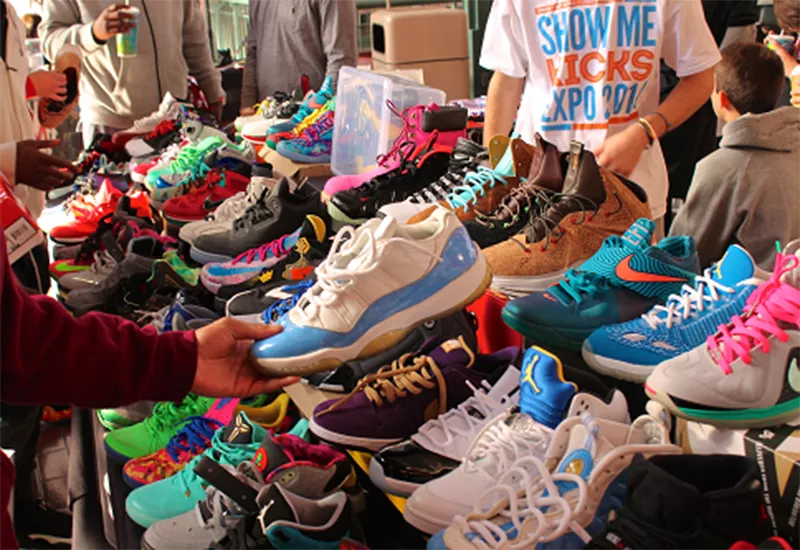 The Show Me Kicks Expo comes to the Peabody Opera House on Saturday.
Whether you're into fancy sneakers, like the idea of watching a baseball game played by blindfolded people or thrill to classic films, this week has something to get you out of the house. Best of all, none of these activities will set you back more than $15 per person — that's cheaper, surely, than this month's A/C bill!
Here are our picks for six things to do this week.
1) Catch a one-man show at Herbie's Vintage 72
The Midnight Company brings back an old, odd favorite in
Thom Pain (based on nothing)
. Will Eno's one-man show is about nothing, as promised, but our lives are accumulations of meaningless moments that somehow congeal into a full meal — sort of like how lasagna left in the fridge few days tastes richer and fuller than when eaten right out of the oven. Joe Hanrahan stars as the man who has known only suffering, from childhood bee stings to the agonies wrought by the combination of male and female.
Thom Pain (based on nothing)
is performed at 8 p.m. Friday and Saturday (July 22 to August 6) at Herbie's Vintage 72 (405 North Euclid Avenue;
www.midnightcompany.com
). Tickets are $15.

2) Watch a very unusual baseball game — for a good cause
Minds Eye Radio provides much-needed entertainment and information for the blind community of the St. Louis area. The organization gathers volunteers to read newspapers, magazines and periodicals of local and national interest over the radio to spare the unsighted the expense of acquiring Braille versions. One of Minds Eye Radio's most successful fundraisers is its annual beepball tournament, which asks teams of sighted players to play a game of competitive baseball while blindfolded. The ball beeps so batters and fielders can hear and track it through space. (The pitcher and the catcher are allowed to go un-blindfolded, however.) This year's installment is the tenth anniversary of the game, and it's being billed as the Ultimate BeepBall Tournament. The championship game starts at 4:30 p.m. Saturday at Assumption Parish (4725 Mattis Road; www.mindseyeradio.org), but play-in games will begin much earlier than that. Check the website for the full tournament schedule.
3. Attend a sneaker expo downtown
For some people, shoes are a mere necessity — something you wear so you don't get hookworm. For others, shoes are a prime example of the art of design, a fusion of function and aesthetics, and that's not the Sex in the City crowd we're talking about. For the serious athletic shoe collector, "kicks" link sports and hip-hop, and serve as a status symbol as well. They know the current going rate for a mint pair of any Michael Jordan shoe ever produced and why each one matters (or doesn't). The burgeoning kicks community converges on the Peabody Opera House (1400 Market Street; www.peabodyoperahouse.com) Saturday from noon to 5 p.m. for the Show Me Kicks Expo. They'll be there to buy, sell, trade and discuss the shoes they love. Tickets are $12, and casual fans are welcome.


Turn the page for more affordable fun in St. Louis this week.

(C) Elena Rossi, The Illusionists
A smart new documentary screens at the Missouri History Museum on Tuesday.
4. See a sci-fi classic on the big screen
Forget, if you can, the iconic ending of the original
Planet of the Apes
, and consider the rest of the movie. The 1968 film was based on Pierre Boulle's original novel, with a script by Rod Serling that was rewritten by Michael Wilson. It was expensive, it was risky (what major studio was doing serious science fiction in the late '60s?) and it became a massive hit. Everything from Charlton Heston's unforgettable performance, John Chambers' revolutionary makeup effects and the tense, sinewy Jerry Goldsmith score came together in perfect synchronicity. It's an American masterpiece, which is why Turner Classic Movies is celebrating the film with a pair of showings in movies theaters across the country. You can see
Planet of the Apes
locally at 2 and 7 p.m. Sunday at the Weherenberg Des Peres 14 Cine (12701 Manchester Road, Des Peres;
www.fathomevents.com
). TCM host Ben Mankiewicz discusses the background of the film and its making as part of the screening. Tickets are $12.50.

5. Learn about the heroes who liberated the camps
A soldier's lot during wartime is risk, fear and death. These troops are trained to believe that the side they fight for is morally right, allowing for no doubts about the justification of the killing their government has ordered them to do. But the end of WWII in Europe presented a select group of soldiers with something their training hadn't prepared them for. When the Ohrdruf concentration camp was captured by American soldiers in April 1945, they saw firsthand the atrocities the Nazis had committed against the Jews, the homosexuals and the Roma people. These horrors may have proved the morality of the Allied side, but that knowledge paled in light of the unimaginable cruelty and inhumanity the soldiers were forced to confront. Historian John C. McManus examines the lives of these first responders after they faced the ultimate evil in his new book, Hell Before Their Very Eyes. He discusses and signs his work at 7 p.m. Monday at St. Louis County Library Headquarters (1640 South Lindbergh Boulevard, Frontenac; 314-994-3300 or www.slcl.org). Admission is free.

6. Catch an important new documentary
John Keats wrote the immortal line, "beauty is truth, truth beauty," but unfortunately the advertising industry doesn't read much poetry. Instead we're bombarded with images of beautiful men and women to sell everything from clothes to home appliances to hamburgers. The oversexualization of women is particularly damaging, as girls learn to aggressively pursue a beautiful appearance or be left behind. Even young men have begun to succumb to this pernicious lie, with extreme dieting and anorexia increasing in their formerly unaffected demographic. The documentary The Illusionists reveals the tricks used to catch our eyes and influence our buying habits, featuring some egregious and absurd examples to help us consumers break the habit. The Illusionists screens at 7 p.m. Tuesday at the Missouri History Museum (Lindell Boulevard at DeBaliviere Avenue; www.mohistory.org) as part of the ongoing exhibition Little Black Dress. Admission is free, and Maryville University assistant professor Rebecca Dohrman will lead a discussion on the topic.