"What high school did you go to?"



It's one of the most frequently uttered sentences in St. Louis — a common ice breaker when two people first meet.

People claim to ask the question for various reasons: It can help discover a mutual friend, it helps quickly assess a new acquaintance's socio-economic status, or it can just be way to further the conversation.



But one thing is certain: We all make some kind of instant judgement when we hear the answer.

We decided to break down some of the good, and definitely not so good, stereotypes that are given to all of these great schools. While some are rooted in real-life experience, and others in ignorant assumptions that have been passed down from class to class, these may help you know what people think when you answer that signature St. Louis question and tell them what high school you went to. Don't like what you're hearing? Maybe just lie. We previously explained what high school you should have gone to — take that as your cue to write the story of your life the way you wish you'd live it.

Ladue Horton-Watkins

Ah, what is there to say about the school with three names that isn't already plated in gold along their halls and in their restrooms? If you went to Ladue, you've got money and grew up in a nice neighborhood. And we aren't talking just your typical west county rich kid. It's that kind of rich where we know you only shop at Frontenac — and instead of a police force, you probably just have a series of very diligent neighborhood watches because nothing bad ever happened in your area.




Parkway West

You have the sense of pride in your school that resembles the pride Americans have in themselves, only without the history of winning to back it up. What you do best is water polo, so you didn't have a real desire to attend sporting events. You are absolutely certain, however, that you were better than the other three Parkways. And finally, your friends at the other Parkway schools came to you to find weed.




Principia

If you went to Principia, you were probably ill for one of two reasons: you lived on campus in dormitories with a bunch of other unsanitary high schoolers, or you were sick and didn't take any medicine for it because your whole thing was believing that curing illness is wrong. You got a lot of crap for being a Christian Scientist, but in the end you ignore the haters who speak out against your religion that was started by a book some lady wrote in 1875 — and you pray that it will all get better.




Visitation

If you went to Viz you're one of two types of girls: the girl who goes out on weekends and parties, or the popular girl. Because at Visitation Academy, which is apparently opposite world, the academically excelling girls are the popular ones who pick on the girls who don't do as well academically, cheat and party on the weekends. Say wha? But as long as you made it to your graduation ceremony where you wore a borderline wedding gown, everything turned out just fine.




University City

If you went to U-City, then hopefully you played for the basketball or football team, and not the tennis or swim team. Time and again, history has shown those to be your strengths and weaknesses. When you see alumni from the '50s and '60s, though, you are slightly confused as to why they are a bunch of old Jewish people.




St. Louis University High School

You're that tryhard who nobody wanted to be around because you always wanted to be the best. Whether it was sports or academics, you were the epitome of elitist and strove to excel at everything. And guess what? You're probably still like that. Loser. Bet you have a big house now. Who wants that?



Kirkwood

If you went to Kirkwood, then you get actual wood just from hearing your own name. Owing to a consistently good football team, high test scores, and the surroundings of a cult-like neighborhood, you were under the impression that you are at the best public high school in St. Louis. You also lived to fuel STL's most uninteresting rivalry between Kirkwood and Webster Groves. Oh, and also at least one house on any given street was either smoking or selling weed.




Parkway Central

OK, we are going to get this out of the way at the beginning: you're Jewish (cue the other Parkway kids chuckling and saying "Parkway Temple" to their computer screens). If you're not Jewish, one of your closest friends in school was. Besides that, you did better than all the other Parkways in football, and you make sure they know it. Also, your founders decided to build your school right off 141, so you may not have a history of making great decisions.



Lutheran North/South

Well, you're Lutheran. That's not all there is to you, but it is obviously kinda the thing you all had in common in high school. You had iPads in your classrooms, so you probably have better Candy Crush scores that the rest of the city, which is cool.




CBC

Looking like you're straight out of a Vineyard Vines catalog, you were the private school that the public schools like to hate on. This is probably warranted, though, because in all fairness you did believe that you're better than them. Still do. In between ski trips with your family and getting a new car that you'll crash while racing some boner from Chaminade, you like to play soccer and hit on girls from all the other private schools.



Lafayette

You were about as far west in west county that you can get, so you still got to live the nice upper-middle class life even while having all the accessibility to drugs as someone in Eureka. We all know David Freese graduated from your school, but you still feel the need to mention it constantly, so, keep on with that.


Nerinx Hall

Considerably liberal, especially for a private school, thanks to Nerinx you are all about girl power. You run this city! But while women's empowerment was preached far and wide in your halls, which is great, you also probably tore down some classmates with utmost viciousness. Good training for your career in politics?


Clayton

Your parents are probably lawyers, and you had one friend that went to Ladue that you've known forever because one of their parents is the boss of one of your parents.

Turn the page for more snap judgments and high school stereotypes.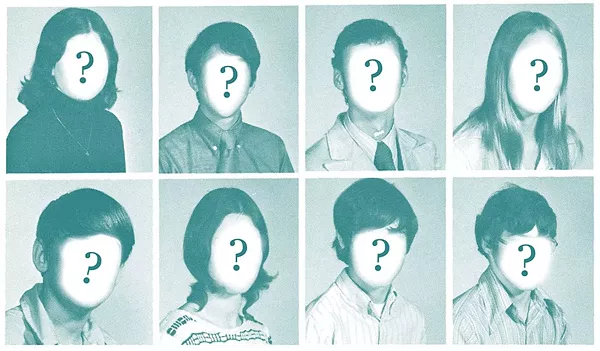 Fort Zumwalt (Choose a Direction)
You very seldom ventured outside of your O'Fallon/St. Charles neighborhood to socialize with other people. It was easier to just be friends with the kids who you knew growing up because your parents get drunk at each others' houses. Every now and then you liked to make the other St. Louis schools mad by coming from nowhere and beating them in hockey, too.
Priory
The word "privileged" could be thrown around for you. You had maids, a country club membership, private tennis lessons, and just about anything else you'd want in life. You aren't a bad person for it, but people automatically think "spoiled" in their head when you tell them what school you attend.
MICDS
You were a textbook fratboy in the making. You were pretty much a sponsor of polo, Brooks Brothers and Lacoste. You lived within three miles of your school and came from a long history of wealth. As long as you didn't screw things up, you are undoubtedly on your way to a nice future.
John Burroughs
Anything MICDS could do, you could do better…. except for sports. You were virtually the same school as MICDS — oh, except for the fact that they got your rejects because you were academically superior to them.
Vianney
The jocks of the private school boys, if you were at Vianney you'd better be playing at least one sport; two if you know what's good for you. If you attended Vianney and don't play a single sport, you may receive a few blank stares so at the least pick up a tennis racket or golf club or something.
Hazelwood (any of them)
While not the nicest of nicknames, "Hazelhood" is unfortunately thought by the other schools when they hear it… but hey, at least you can take solace that some of our high school friends made it to the NFL. That's better than most of those St. Louis "jock" schools.
Mehlville
Mehlville is like the inbred cousin of most other St. Louis schools. The most hick of St. Louis schools, it's like our own little piece of Springfield, Missouri, up here in St. Louis. You rednecks knew how to have a fun time though. We bet you have some stories.


Rosati-Kain
You had the most relaxed dress code of all the private schools because you like to express yourself. That being said, the fact that you have the option between five different color polos was about as exciting as it got in your world.


Ursuline
You don't take much too seriously, and you honestly didn't want to be in school. And it's not because you didn't like your school; it's because you honestly would rather have been doing anything else besides schoolwork. You were a pretty good support system for each other, so long as you got your teachers off-topic to go get some food. Very chill, especially for an all-girls school.

Seckman/Fox/Oakville
Honestly, it sucked going to your school, because the rest of St. Louis doesn't really care. As far as we know, you are all Arnold. You are happy that you were even remembered for this post, but once again let down when you are still bunched in with the other schools around you because there isn't really much to say individually. Hang in there, though — your alma mater is like that middle schooler that everyone is still waiting to blossom into a beautiful successful school.