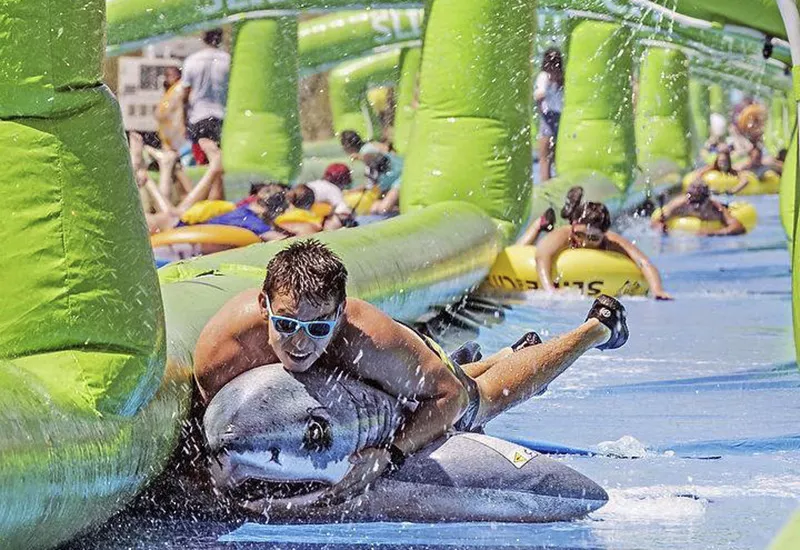 Slide the City. Dogtown. Saturday. Be there or miss the fun.
This week in St. Louis, you can slide a giant slide. You can celebrate catsup. You can even pay homage to the great cats of the Internet. In other words, this is a wonderful time to do something a little different.
Here are our picks for the week's best things to do — three of them absolutely free.
1. See an updated opera
Gilbert and Sullivan's
The Mikado
has suffered from the passage of time, but only for cultural reasons — the music is as sharp and witty as it ever was. But what was acceptable comedy in nineteenth-century England — white actors in yellow-face and singing in pidgin English — is no longer welcome. Union Avenue Opera and director Eric Gibson have updated the setting to the 1920s, and the location is now a gentleman's club in a fictional town. More importantly, it is the British institutions (military, government and monarchy) that are satirized, not the Japanese people. And so the intertwined tales of trombonist Nanki-Poo and his love for the unattainable beauty Yum-Yum, an executioner who has to cut off his own head before he can do anyone else, and an edict that an execution be carried out within the month, can all collide in a club in Titipu guilt-free for the audience.
The Mikado
is performed at 8 p.m. Friday and Saturday (July 8 to 16) at Union Avenue Christian Church (733 North Union Boulevard;
www.unionavenueopera.org
). Tickets are $30 to $55.
2. Check out some artsy bowling pins in Maplewood
Maplewood's annual celebration of Bastille Day, Let Them Eat Art, this year takes on a bowling theme: Heads Will Bowl. This is in honor of Saratoga Lanes' centennial, an amazing achievement for any business. Local design firms were given five-foot-tall bowling pins to decorate for the occasion, which will be on display next to the main stage. Twenty-five actual bowling pins were reimagined as a canvas for local artists, and these will also be displayed and auctioned off. Let Them Eat Art also features live music from Vote for Pedro, Raw Earth, Spaceship and others, as well as kids' activities and performances by Circus Kaput. A parade at 6 p.m. proceeds down Railroad Street (at Sutton Boulevard) to Saratoga Lanes to officially kick off the event. Let Them Eat Art takes place from 6 to 11 p.m. Saturday at and around Saratoga Lanes (2725-A Sutton Boulevard, Maplewood; www.cityofmaplewood.com/ltea). Admission is free.

3. Catch a theater festival in the Central West End
St. Louis Actors' Studio's LaBute New Theater Festival is your chance to experience seven new, bracing one-act plays by emerging and established playwrights in an intimate setting. The format breaks the program into two sets of two weekends, with a new play by Neil LaBute as a linchpin for both programs. The festival is better attended every year, with rapt, attentive audiences the norm and not the exception (no damn cellphone interruptions). The LaBute New Theater Festival takes place at 8 p.m. Thursday through Saturday and at 3 p.m. Sunday (July 8 to 31) at the Gaslight Theater (358 North Boyle Avenue; www.stlas.org). Set one of the plays is performed July 8 to 17, and set two takes place from July 22 to 31. Tickets are $30 to $35.

4. Slide your way through Dogtown
Slide the City, a 1,000-foot-long inflatable water slide, returns to St. Louis this Saturday in a new location (Oakland and Tamm avenues; www.slidethecity.com) but with the same all-day party and wet fun as last time. Also new is the wave time system, which means no waiting in line during the block of time your ticket is valid. Choose from noon to 2 p.m., 2 to 4 p.m. and 4 to 7 p.m. Other options include the $60 ultimate slider ticket (as many runs as you can make between 9 a.m. and noon) and the $99 all-day slider, which lets you make as many trips as you like throughout the day. All tickets include a mouth guard and an inflatable tube. Tickets for the best value, three rides during your slot, are $40 to $45.
Turn the page for four more things to do in the Lou this week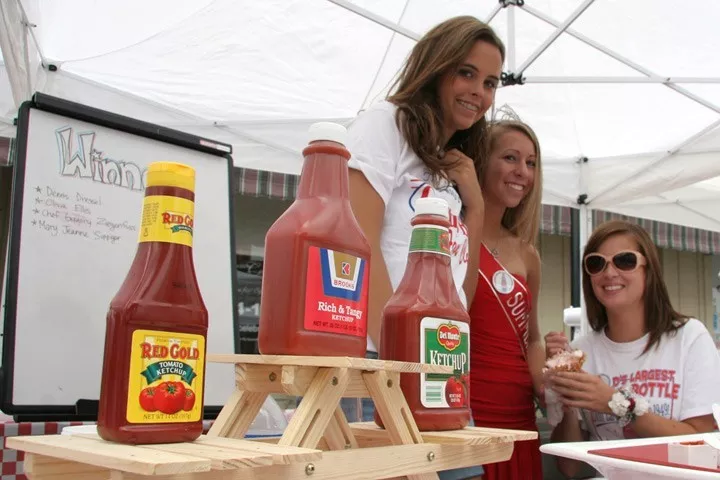 The Catsup Bottle Festival comes to Collinsville on Sunday.
5. Remember the Edies in a new Broadway classic
Albert and David Maysles' iconic 1975 documentary
Grey Gardens
captures the precarious situation of Edith and Edie Beale. The reclusive mother-daughter team was holed up in their run-down East Hamptons mansion, which they shared with various raccoons and glorious memories of Little Edie's salad days. It would have been just another hard-luck tale for a once-wealthy family, except the Beales were direct relations of Jackie Kennedy. The hermetic dream world the two lived in, Little Edie's fabulous fashion sense and the cheerful-mournful dynamic between them has been translated into the musical
Grey Gardens
, with book by Doug Wright, music by Scott Frankel and lyrics by Michael Korie. Max & Louie Productions presents the highly anticipated
Grey Gardens
at 8 p.m. Wednesday to Saturday and 2 p.m. Sunday (July 8 through 30) in the Wool Studio Theatre at the Jewish Community Center (2 Millstone Campus Drive, Creve Coeur;
www.maxandlouie.com
). Tickets are $35 to $45.
6. Pay homage to catsup in Collinsville
The World's Largest Catsup Bottle Festival — celebrating the Brooks Catsup bottle water tower that looms over Collinsville, Illinois — is an old-fashioned slice of Americana. Ketchup (or catsup if you prefer) is a fundamental part of America, and the festival celebrates it with ketchup tastings, a tater-tots-smothered-in-ketchup eating contest, a hot dog eating contest that also involves copious amounts of ketchup, and the crowning of Little Princess Tomato and Little Sir Catsup. Non-ketchup events include a Cruizin' in Antiques car show, hula hoop competitions, party games and food and drink vendors. The World's Largest Catsup Bottle Festival takes place from 10 a.m. to 5 p.m. Sunday at Woodland Park (Vandalia Street and Pine Lake Road, Collinsville, Illinois; www.catsupbottlefestival.com). Admission is free, so bring the kids and have fun.
7. Learn more about a St. Louisan's life at UMSL
Dave Holmes
got his start in show-biz on MTV as part of the Wanna Be a VJ contest. In true MTV fashion, gangly walking calamity Jesse Camp won the contest and the gig, but Holmes' quiet confidence, voluminous knowledge of music and affable, guy-next-door personality landed him a job as well. After MTV, Holmes found work as an on-air personality at a number of networks and as an
Esquire
contributor. But before all that happened, he was a closeted gay kid in a St. Louis family full of jocks, then a closeted gay kid at a Catholic college. How does a kid who feels like he's on the outside of everything cope with being an adult on the outside of fame, looking in after almost two decades of hard work? Music. His new book,
Party of One: A Memoir in 21 Songs
, discusses the artists that sustained him through hard times and the value of music, always more music. Think of it as a guidebook for the weird kids of any age — you know who you are. Holmes discusses
Party of One
with Steve Potter (
St. Louis on the Air
contributor) at 7 p.m. tonight at UMSL at Grand Center (3651 Olive Street;
www.left-bank.com
). Admission is free but reservations are requested. Only books purchased from Left Bank Books will be signed, and there will be a cash bar.
8. LOL at the kittehs at the Contemporary Art Museum
No one knows when it began happening, but somehow the internet has grown to be our greatest treasure house of cat images and videos. Which means cats essentially drive the world at this point. Celebrate our furry, aloof overlords at the Internet Cat Video Festival. This is the final time the curated collection of funny and strange cat videos will happen, so be sure to attend one of the three showings, which take place at 7:30 p.m. Wednesday through Friday (July 13 to 15) at Contemporary Art Museum St. Louis (3750 Washington Boulevard; www.camstl.org). If you wish to remain in good standing with your own cat companions, don't tell them where you're going — they are supremely jealous beings. Tickets are $10 to $25, and the same program will be shown all three nights.