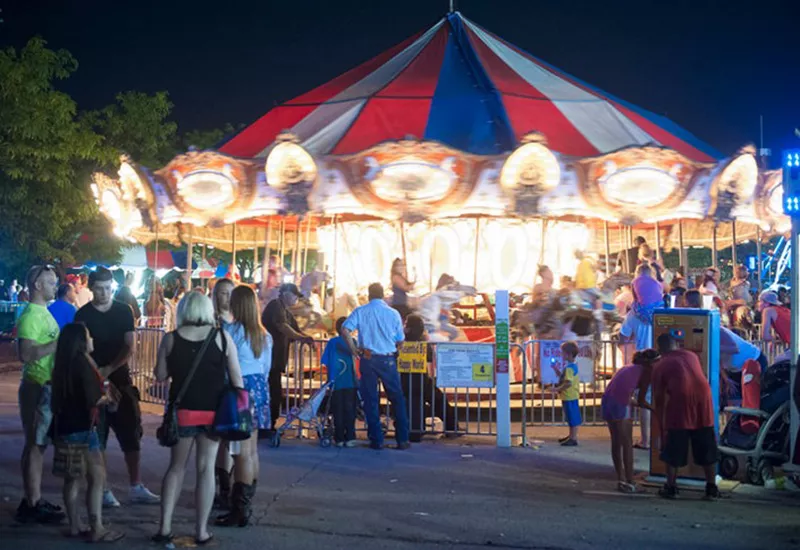 The midway at the O'Fallon Heritage & Freedom Fest.
This ain't England anymore; the Queen can't move birthdays around willy-nilly to take advantage of better weather. We celebrate America's birthday once a year, but we spread out over a long weekend. That's American ingenuity. This is that weekend, but if you're smart and have the stamina, you can spread it over six days with these great events.
Celebrate Our Right to Debate

Theorists are debating if we're already in the matrix, the simulated reality depicted in the 1999 film starring Keanu Reeves. But would we even be able to tell if we are?
First Friday: Enter the Matrix
challenges you to find out. From 6 p.m. to midnight Friday, July 1, at the Saint Louis Science Center (5050 Oakland Avenue;
www.slsc.org
) you can follow the White Rabbit through a series of challenges and hopefully come out on the other side a free human being. There will be a panel discussion on the topic and talks with entrepreneurs in the field of augmented reality and virtual reality. You can also play in the Makerspace area and watch the film that started it all at 10 p.m. Admission is free, but some activities require a small fee.

Appreciate Our Artistic Freedom

Artist Tom Sachs audaciously created his own bricolage space program command center, rocket, space suits, the works. The finished project,
Space Program 2.0: Mars,
was a gallery installation in New York. Van Neistat's film
A Space Program
documents the project from conception to construction, showing how Sachs and his team worked toward their ultimate goal putting two women astronauts on Mars in order to determine if we're alone in the universe.
A Space Program
screens at 8 p.m. Friday through Sunday (July 1 to 3) at Webster University's Moore Auditorium (470 East Lockwood Avenue;
www.webster.edu/film-series
). Tickets are $4 to $6.


Enjoy Our Great Public Spaces

The 2016
Fair St. Louis
is once again in spacious Forest Park, Saturday through Monday (July 2 to 4;
www.fairsaintlouis.org
). The only exception is the VP Parade, which takes place downtown at Seventh and Market streets at 10 a.m. Saturday. Guests are not allowed to bring food or drinks into the fair zone, but there will be numerous vendors inside and beer sales, as well as a new market-style bazaar called the Fairway. Entertainment options include the high-energy dogs of the Purina Pro Plan Performance team and demonstrations by the Lake St. Louis Water Ski Club in the Grand Basin. Live music includes Show-Me Country (the 135th Army country band), Fire for Effect (the 135th Army pop/rock band), Lee Brice (8:45 p.m. Saturday), Eddie Money and Sammy Hagar (6:25 and 8:35 Sunday respectively), and George Clinton and Parliament Funkadelic (6:25 Monday). All three nights end with the biggest fireworks display on this side of the state. Admission is free.

Gather with Family and Friends

If you're looking for a family-friendly Fourth, the
O'Fallon Heritage & Freedom Fest
has you covered with its family day from 2 to 10 p.m. Saturday, July 2 at the Ozzie Smith Sports Complex (900 TR Hughes Boulevard, O'Fallon;
www.heritageandfreedomfest.com
). It's an old-fashioned carnival, complete with a midway, rides, games, cotton candy and carnival food. The next two nights (Sunday and Monday, July 3 and 4) are for country and rock & roll, respectively. Love and Theft, Chase Bryant and the USAF Band of Mid-America play roots and blues on Sunday. Kongos, Trixie Delight and Sister Hazel rock out Monday. There are side shows, crafters and vendors both days. Admission is free all three days, but the carnival rides require tickets.




The Gateway Grizzlies in action.
Indulge in Our Abundance of Baseball Teams

The River City Rascals and the Gateway Grizzlies play their annual cross-town rivalry series over the Fourth of July weekend, and while both may be minor league teams, they're doing it up in major way. All four games (6:35 p.m. Friday through Monday, July 1 to 4) during
All-American Weekend
include post-game fireworks, plus hat giveaways on Friday and a jersey auction on Monday. Friday night also features a special appearance by Olympic gold medalist and former WWE champion Kurt Angle. All games are at the Grizzlies stadium, GCS Ballpark (2301 Grizzlie Bear Boulevard, Sauget;
www.gatewaygrizzles.com
). Tickets are $6 to $15, with seats at the picnic tables and party porch from $36 to $55.

Avail Yourself of the Three Bs: Beer, Brats & Baseball

There's nothing more American than watching a ballgame while enjoying a beer and brat. And the
Cardinals
just so happen to start a four-game series against the Pittsburgh Pirates on America's birthday. USA! USA! The fun starts at 1:15 p.m. Monday, 7:09 Tuesday, 7:15 p.m. Wednesday and 12:45 Thursday (July 4 to 7) at Busch Stadium (Broadway and Poplar Street;
www.stlcardinals.com
). The Monday game includes a throwback pillbox cap giveaway inspired by the one the Cards wore during the '76 season. Wednesday's big giveaway is a John Goodman bobblehead (he's dressed as Walter Sobchak from
The Big Lebowski
), with Goodman also making an appearance at the game. Tickets are $5 to $295.90.

Bask in Our Freedom of the Press

Tyler Durden is violently separated from his host, Jack, at the end of
Fight Club
, but the future for Jack is far from bright.
Chuck Palahniuk
returns to the story in the graphic novel
Fight Club 2
, with art by Cameron Stewart. Now going by his real name Sebastian and married to Marla and father to a son, Sebastian works a white-collar job and seems to lead a normal life. But how long can that last before you-know-who starts talking to him again? Palahniuk signs copies of the graphic novel
Fight Club 2
at 3 p.m. Tuesday, July 5, at Left Bank Books (299 North Euclid Avenue; 314-367-6731 or
www.left-bank.com
). You need to buy a copy through Left Bank ($33) to get in the line.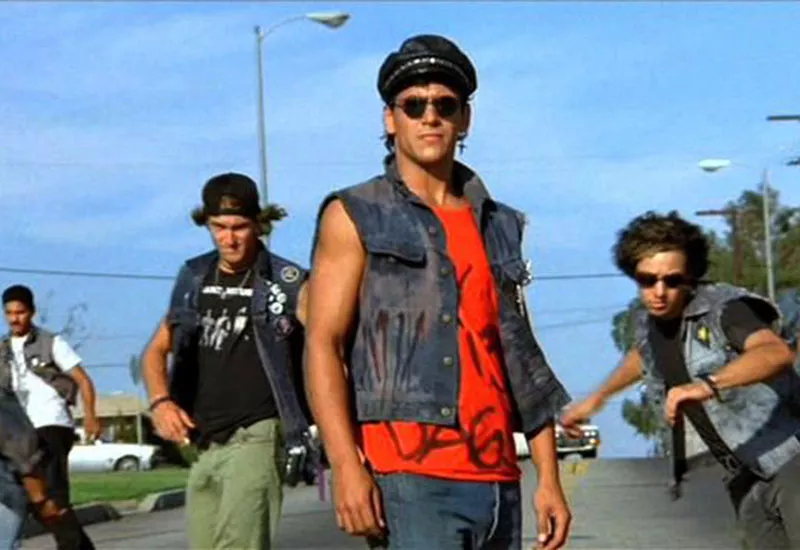 The evil Daggers skate with implied sharpness in Thrashin'
Be Thankful for Our Right to Thrash

Have you ever finished watching West Side Story and thought, "Man, if the Jets and Sharks were on skateboards, that film would have been perfect?" Someone thought it, because the skate flick
Thrashin'
is essentially that. Cory (Josh Brolin) heads to LA to compete in a big downhill competition with his crew "The Ramp Locals." He meets the beautiful Chrissy (Pamela Gidley) and sparks fly. But she's the sister of Hook (Robert Rusler), leader of the Daggers, a group of punk skaters (who are actually skate legends Tony Alva, Christian Hosoi, Eddie Reategui and Jesse Martinez). The next thing you know he's skate-jousting in a ditch (as one does), and Cory breaks his arm. Even worse, the Daggers burn down Cory's ramp. If he won the downhill race he'd win enough money to build a better ramp, but how do you solve a problem like Chrissy? The Webster Film Series screens
Thrashin'
at 8 p.m. Wednesday, July 6, at Schlafly Bottleworks (7260 Southwest Boulevard, Maplewood;
www.webster.edu/film-series
). Admission is $5.