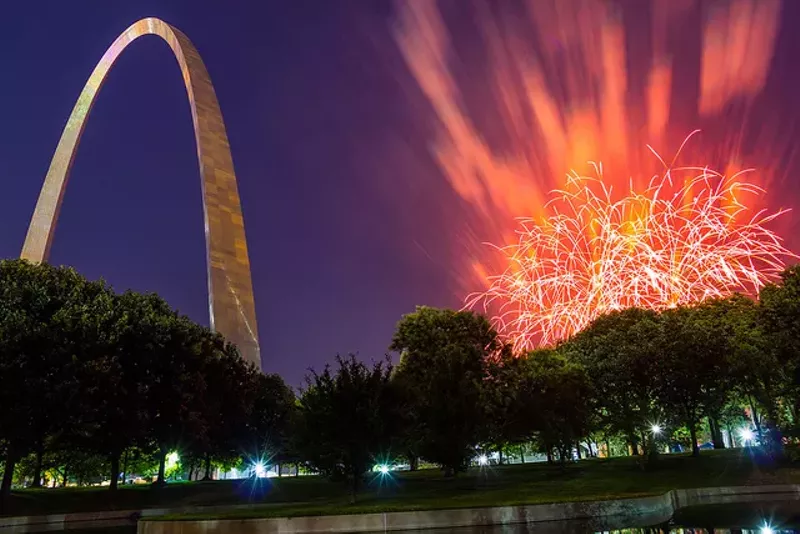 Photo Courtesy of Flickr/Philip Leara
St. Louis placed sixth in a report of the best cities to celebrate the Fourth of July.
St. Louis, by the numbers, is a pretty awesome place to celebrate the Fourth of July. To be precise, it's the sixth best city in the United States when it comes to Fourth of July celebrations,
according to a report by Wallethub
.
The explosive report by Wallethub took the metrics of different aspects of what makes for a great Fourth of July: entertainment and food, attractions and activities, and what the weather forecast looks like.
What sets St. Louis apart? Mostly, it seems, the legality of fireworks. The Lou, according to the report, is the best place to celebrate America's independence without getting your rights read to you.
Wallethub, a personal finance website, compared 100 of the most populated U.S. cities in the three dimensions listed above.
"We did so
using
sixteen different metrics such as the duration of fireworks shows, average gas prices, weather forecasts and more. Below, you can find the complete rankings, followed by a detailed methodology and money-saving tips from leading experts," the report read.
Below are the some of the reasons Wallethub named St. Louis in the top 10 of their list:
Fourth of July Celebrations in St. Louis (1=Best; 50=Avg.): 26th – Average




Beer & Wine Prices 19th – Walkability 1st – Legality of Fireworks 47th –




Lowest Price of a 3-Star Hotel 10th – Number of Fourth of July Festivals &




Performances 40th – Average Gas Prices 46th – Accommodations & Food




Services Establishments per Capita 16th – Fourth of July Popularity of the City
But we're talking about St. Louis, and with this great city comes its unpredictable weather. St. Louis placed eighty-seventh in cities with Fourth of July forecasts. Just think of how well we would have done if the weather were consistent.
The report ranked Kansas City thirty-sixth on their list, and Chicago nineteenth. Take a look at how other cities in the U.S. fared below.