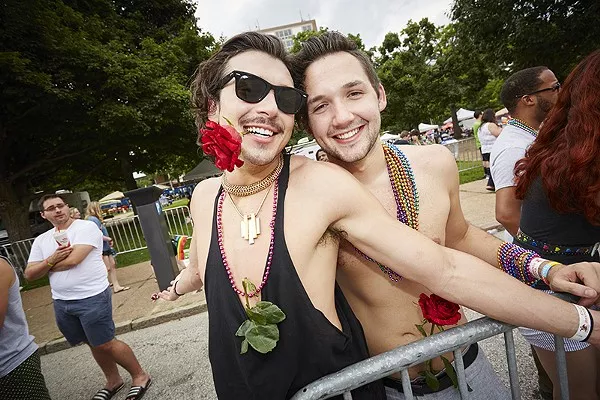 PHOTO BY STEVE TRUESDELL
This weekend, now more than ever.
Monty Python and ... kittens? Yes, indeedy. That delightful combination comes to Tower Grove Park tonight. This weekend also features PrideFest, a free smell-a-thon of sorts at the Pulitzer and the opening of an exhibit chronicling Route 66. In other words, this is just about the coolest weekend ever.
Here are our picks for the very best things to do.
1. See a classic comedy, with kitties
Kittens and pythons don't ordinarily mix, but tonight they do. Crafted Events presents the sing-along version of
Monty Python and the Holy Grail
(certainly the best film adaptation of
Le Morte D'Arthur
), with special furry guests from Tenth Life Cat Rescue. The kittens are available for meet-and-greets starting at 7 p.m. tonight at Tower Grove Park (4256 Magnolia Avenue; montypythonandkittens/evenbrite.com), and the film starts at 8 p.m. Snacks will be sold on site, or you can bring your own. There's also a costume contest, and a portion of the proceeds benefit Tenth Life. Tickets are $10 and must be purchased in advance.
2. Catch a musical at the Muny
Dreams are made and hearts are broken when Peggy Sawyer leaves Allentown, Pennsylvania, for the bright lights of Broadway in the musical 42nd Street. Certain she has what it takes to be a chorus girl, she attempts to audition for the new show Pretty Baby, but gets shot down. The other hoofers feel sorry for Peggy and arrange for a second audition, which she aces. But when the star breaks an ankle, can Peggy overcome her doubts and nab a leading part in the show? 42nd Street is a tribute to the pageantry of show biz. It's packed with great songs such as "Shuffle Off to Buffalo," the title track "Forty-Second Street" and the iconic "Lullaby of Broadway." The show is performed at 8:15 p.m. Friday through Thursday (June 24 to 30) at the Muny in Forest Park (314-361-1900 or www.muny.org). Tickets are $14 to $90.
3. Smell your way through the Pulitzer
Out of all of the senses, smell is the one that can draw you immediately back to a specific time and place. The scent of your grandmother's home (mothballs and cigarettes) is more evocative than a photo of the actual house, even though a larger portion of our brains is devoted to processing visual information. 24 Hours, 15 Scents, a one-day program at the Pulitzer Arts Foundation (3716 Washington Boulevard; www.pulitzerarts.org), delves into the hidden potential of our noses. The Institute for Art and Olfaction, author Eileen G'Sell and Firecracker Press joined forces to document personal narratives from 24 St. Louisans, which are then printed out and scented so that the reader can experience a new dimension in storytelling. 24 Hours, 15 Scents takes place at 3 p.m. Saturday, and admission is free.
4. Hear a podcast — or just meet an author
The State produced only 28 episodes of its namesake sketch-comedy show on MTV way back in the '90s, but the reverberations of those four seasons are still felt today. Individually and collectively the group has produced a lengthy roster of TV shows (Viva Variety, Reno 911), films (The Baxter, Wet Hot American Summer) and scripts for other actors (The Night at the Museum series and The Pacifier). It's not a reach to claim they're as influential in America as Monty Python is in England. But how did an improv troupe from New York University slowly infiltrate all manner of media? The Union of the State, Corey Stulce's oral history, charts the group's rise, break-up and reunion with first-person accounts from every member, as well as recollections from frequent collaborators Janeane Garofalo, Rob Corddry and Christopher Meloni. Stulce signs copies of his book Saturday from 4 to 6 p.m. at Planet Score Records (7421 Manchester Road, Maplewood; www.facebook.com/planetscorerecords), where he's joined by founding State member Kevin Allison. Admission is free, and don't miss Allison's 8 p.m. show at Blueberry Hill, at which he will introduce his storytelling podcast Risk! to St. Louis. Admission to the book signing is free; admission to Risk! is $20.

5. View a new museum show with local resonance
Before the interstate highway system was developed, Route 66 was the safest, fastest way to cross the western half of the country. Starting in Chicago and ending Santa Monica, the "Main Street of America" came right though St. Louis, but not in the mostly straight lines we're accustomed to now. At various points in time, Route 66 traversed Watson Road, Manchester Road, the Martin Luther King Bridge and the Poplar Street Bridge. That shifting route helped spur the growth of cities and businesses along the way, as travelers stopped overnight at the Coral Court Motel or grabbed a bit to eat at the Parkmoor Restaurant. Route 66: Main Street Through St. Louis, the new exhibition at the Missouri History Museum (Lindell Boulevard and DeBaliviere Avenue; 314-746-4599 or www.mohistory.org), tells the story of the byway through roadside signs and gas pumps, historic vehicles, bus tours and photographs. Route 66 opens Saturday, June 25, and remains open through July 16, 2017. Admission is free.

6. Take pride in LGBT advances at PrideFest
PrideFest is normally a celebration of St. Louis' LGBT community, but the unprecedented slaughter of 49 people at a gay nightclub in Orlando will no doubt cast a pall over this year's party. Rest assured, the organizers are working closely with the police to ensure that the festival will be as safe as possible. So don't be afraid to come together for live music from Karmin, Kim Massie and Jordin Sparks, food trucks, guest speakers, educational seminars and healing this weekend. This year's festival takes place from 4:30 to 10:30 p.m. Friday, 11 a.m. to 9 p.m. Saturday and 11 a.m. to 7 p.m. Sunday (June 24 to 26) at Soldiers Memorial (Fourteenth and Chestnut streets; www.pridestl.org). The always-popular parade kicks off at noon on Sunday. Admission is free, but donations are requested.