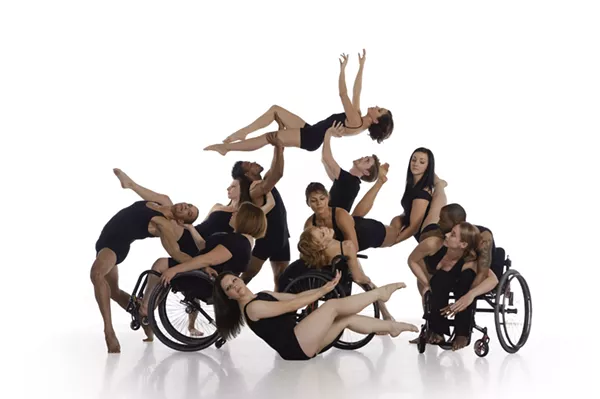 Photo courtesy of The Dancing Wheels Company.
The Dancing Wheels Company redefines what it means to be a dancer.
When you hear that a dance festival has companies from L.A., New York and every major dance hub in between flocking for a slot, you know it has to be a big deal. What could possibly make it even better? When you find out the festival is located right here in St. Louis.
The 9th Annual Spring to Dance Festival 2016, a weekend of nonstop dance presented by Dance St. Louis, will grace the Touhill Performing Arts Center this Friday through Sunday. Each evening will feature a different lineup of prestigious dance companies — if you go to all three shows, you will see 26 companies from all across the country by the end of the weekend, including modern, tap, classical, aerial, ballet, West African dance and more.
Giordono Dance Chicago, Ballet Memphis, Houston METdance Company and L.A.-based BODYART are just some of the companies performing in the festival.
BODYART Artistic Director Leslie Scott says participating in the festival was a "no brainer." A
festival of this size isn't necessarily common in other cities, she says — even ones known for dance, like L.A.

Local dance companies there frequently host shared showcases, but nothing bringing this many artists from out of town.




"I wish I could see Spring to Dances in L.A. more often. Or ever," Scott says.

BODYART will be presenting "Dark Light," a work created with the goal of using the least amount of tech possible. The three dancers in the piece provide all the lighting via headlamps and handheld lights.

As if that wasn't enough of a challenge, the rehearsal process was also out of the ordinary: since Scott lives in L.A. and the dancers live in New York, the most recent rehearsals were all done via Skype.

Such feats aren't unusual for Scott, who likes to collaborate with artists of other mediums (think: videographers, fashion designers and set designers) to create immersive worlds for her work. In the past, BODYART has brought everything from snow to an infinity pool to holograms to the stage.



Another participating company, The Dancing Wheels Company, shatters the boundaries of what defines a person as a dancer. The Cleveland-based repertory company is composed of dancers both with and without wheelchairs. A past participant, Dancing Wheels will be returning with a piece called "anømalies," which was inspired by Newton's Law of Gravity.

Artistic Director Mary Verdi-Fletcher, who was born with spina bifida, says she always wanted to be a dancer because her mother was a dancer. At the time, however, there wasn't anywhere where a little girl in a wheelchair could take classes.

"So that made me want to do it," Verdi-Fletcher says. She founded Dancing Wheels in 1980, adding, "Once I found a way of exploring it and developing it, I've never wanted to stop. And it's been 35 years for me."<!————EndFragment————>

Verdi-Fletcher stresses that the company's work has power, strength and movement — both from the "sit-down" and "stand-up" dancers.

"It's a bit like skating and dancing together," she explains. "So the fluidity and speed and the agility of the wheels combine with the jumping and, you know, technique of the footwork in the dance. So it's really a very interesting combination."



The festival has something for everyone, Scott says.
<!————EndFragment————>
"It's great for people who don't have a lot of experience with dance because they're able to see a wide variety of things in one evening, and it's great for people who love dance to get to see a wide variety of things in one evening," she says. "I can't think of a reason not to go."



<!————EndFragment————>The 9th Annual Spring to Dance Festival 2016 is Friday, Saturday and Sunday evening at the Touhill Performing Arts Center. Tickets range from $10 to $20 each night. For the complete schedule and tickets, visit dancestlouis.org, or call 314-534-6622.


Photo by Chris Crumley.
BODYART will immerse you in another world.