Tennessee Williams' St. Louis Rooming House Plays are being staged near Grand Center.
If you're looking for something to do this weekend, look no further — from a beer festival at Urban Chestnut to several opportunities to see works by St. Louis' greatest playwright in unconventional settings, there's a ton going on. Looking ahead to next week, options include a cult classic film at Ronnies and
Jersey Boys
at the Fabulous Fox. What a week!
Here are our picks for eight things to do:
1. See a Tennessee Williams Play ... in a Bar
Flora and Bessie drove up from Memphis to have a good time in St. Louis at the annual Sons of Mars Convention (they're both in the women's auxiliary). Unfortunately, they've been ditched by their fellow members and are now holding up the corner of the bar. As the drinks flow and the radio takes them on a sentimental journey, Flora and Bessie open up about each other's failings and flaws. Tennessee Williams' A Perfect Analysis Given by a Parrot takes you inside the hearts of a couple of good-time girls who begin to realize the good times may not be worth it. The play is performed at 6 p.m. at the Curtain Call Lounge inside the Fox Theatre (521 North Grand Boulevard; www.twstl.org) as part of the Tennessee Williams Festival St. Louis. Tickets are $23.50.
2. ... Or a Quartet of Williams Plays in a Grand Old House
Tennessee Williams frequently revisited the same themes in his one-act plays, such as loneliness, the disintegration of a (his) family and the way a job can hold you back and destroy your freedom. St. Louis Rooming House Plays presents four Williams' one-acts that take place in a single rented room. "Hello from Bertha" is about a prostitute at the end of her life clinging to her dignity. A shoe salesman who is hung up on memories of his glory days is the subject of "The Last of My Solid Gold Watches." A showgirl decides to give up life on the road and settle down in St. Louis in "In Our Profession," but she fears she may have picked the wrong man to be her anchor. "The Pink Bedroom" stars a mistress who uses the only power she has to great effect. St. Louis Rooming House Plays is part of the Tennessee Williams Festival St. Louis, and is performed at 8 p.m. at Stockton House (3508 Samuel Shepard Drive; www.twstl.org). Tickets are $29.

3. Catch a Ballet Classic
Cinderella is a classic story about an underdog who gets the last laugh. The Missouri Ballet Theatre brings the ballet to life in a production that gives Cinderella's evil stepmother and equally rotten stepsisters a comic gloss. So rather than vilifying a blended family, this show treats them as risible characters. In fact, a surprise male guest star will take on the role of the stepmother. All that fairy godmother magic, the noble prince and the plucky young woman who triumphs in the end all remain in place. Missouri Ballet Theatre presents a new version of Cinderella at 2 and 7:30 p.m. Saturday and 2 p.m. Sunday (May 14 and 15) at Washington University's Edison Theatre (6445 Forsyth Boulevard; www.missourballettheatre.org). Both matinee shows are preceded by the Cinderella Parade, which allows audience members to get onstage with the cast to take pictures before heading backstage for a fairy tale party. Tickets to the ballet are $35, and parade tickets cost an additional $25.

4. See a new musical with tunes from Jill Sobule
Yentl is a bright and strong-willed young woman who loves debating Jewish law with her father, a rabbi. When he dies, Yentl loses her intellectual outlet. To continue her studies, she decides to go against tradition and enroll in a yeshiva. But first she has to cut her hair and disguise herself as young man — and so Anshel is born. Her ruse is successful until she realizes she has romantic feelings for her study partner, Avigdor. Yentl was adapted for the stage by Leah Napolin from the Isaac Bashevis Singer story "Yentl the Yeshiva Boy." When Barbra Streisand rewrote it for the screen, Yentl became a musical. The New Jewish Theatre's new production takes the action back to the stage but keeps the musical element — except this time the songs were composed by folk-pop musician Jill Sobule. The New Jewish Theatre closes its season with a new Yentl at 7:30 p.m. Wednesday and Thursday, 8 p.m. Saturday and 7 p.m. Sunday (May 11 to June 5) in the Wool Studio Theatre at the Jewish Community Center (2 Millstone Campus Drive, Creve Coeur; 314-442-3283 or www.newjewishtheatre.org). Tickets are $39.50 to $43.50.

Turn the page for more exciting events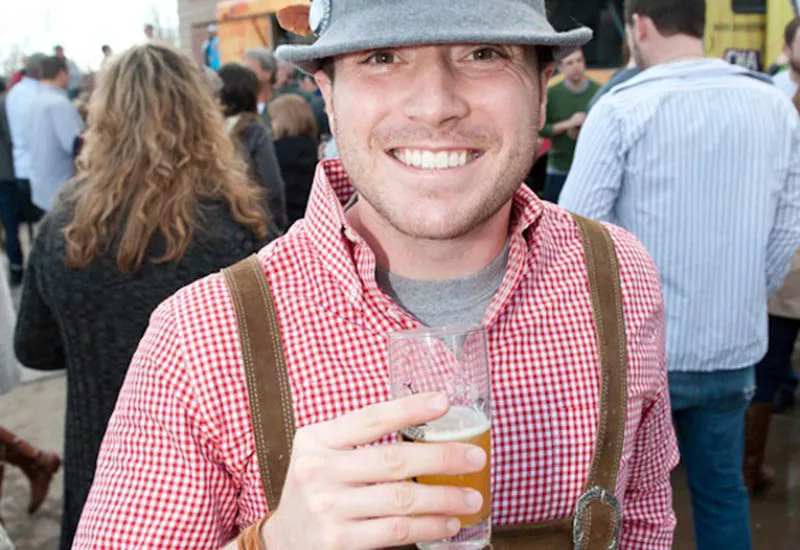 5. Sip some bocks at Urban Chestnut
Munich's famed bock beer actually originated in the northern German city of Einbeck. Bavarian nobility loved the stuff and enticed a local braumeister to make something similar. The only thing that changed was the name — "bock" being how the Bavarians pronounced the original beer's name. "Bock" also means goat in German, hence the goats that often appear on labels and bottle caps. The bock is the preferred style for welcoming the arrival of spring — it's a strong, malty lager that is eminently drinkable, and particularly refreshing when taken outdoors. Try it for yourself from noon to 10 p.m. today at Maifest 2016 at Urban Chestnut Midtown Brewery (3229 Washington Avenue; www.urbanchestnut.com). The taps will have a full line of bock varieties, including Erlkönig (a pale wheat doppelbock), Maximilian (a traditional, deep-brown wheat beer) and the incredible Oxnbräu, perhaps the finest doppelbock on this side of the planet. All beer and food must be purchased with tickets, which cost $6 each. There's also an $18 festival package that includes a commemorative glass and three beer and food tickets.
6. Thrill to the sounds of Pokemon at the SLSO
Pokémon, the multimedia empire based on catching super-powered creatures, celebrates its twentieth anniversary in 2016. That means that Ash Ketchum, star of the anime series, would be 30 years old if he were a real person. Would he still be out there, attempting to add yet another pocket monster to his total? Would Team Rocket still be dogging his trail? Regardless, in the course of two decades of catching and battling, Ash and company have inspired numerous theme tunes, overtures and incidental music. The St. Louis Symphony performs the greatest hits of the franchise at Pokémon: Symphonic Revolutions. Conductor Susie Benchasil Seiter leads the orchestra, which will be accompanied by visuals from the series on a giant screen. The program is performed at 7 p.m. Saturday and 2 p.m. Sunday (May 14 and 15) at Powell Hall (718 North Grand Boulevard; 314-534-1700 or www.slso.org). Tickets are $35 to $70.

7. See a cult classic in south county
In
Back to the Future
, a DeLorean and a lightning bolt just barely made time travel possible. By the time
Time Chasers
was made, time travel only required the eight bits of computing power in a Commodore 64, plus a Cessna airplane. Or at least that's the set-up in the 1994 "action" film, which was mercilessly savaged by the
Mystery Science Theater 3000
crew on their much-missed TV show. Mike Nelson, Kevin Murphy and Bill Corbett (
MST3K
vets all) return to the film to riff it a new one in a special encore presentation of a previously recorded RiffTrax Live event. Can a man fly through time to stop an evil corporation from ruining the future and also find love on the way? Only if he covers that deeply cleft chin with some chinderwear first.
RiffTrax
:
Time Chasers
screens at 7:30 p.m. Tuesday at Wehrenberg Ronnies 20 (5320 South Lindbergh Boulevard;
www.fathomevents.com
). Tickets are $14.
WEDNESDAY
8. Catch the brief St. Louis run of a Broadway classic
Jersey Boys, the musical about the rise of Frankie Valli and the Four Seasons, has won Tonys, Grammys and Olivier Awards. It showcases the chart-topping hits of the group and tells the true story of how four regular guys wrote and sang their own songs ("Sherry," "Oh What a Night" and about a dozen others) and conquered the music biz. And don't forget the show's content advisory, which warns that you'll hear "authentic, profane Jersey language" sprinkled between those great songs. Jersey Boys really does have it all. The musical returns to St. Louis for a brief five-day run. Jersey Boys is performed at 8 p.m. Wednesday and Friday, 1 and 8 p.m. Thursday, 2 and 8 p.m. Saturday and 1 and 6:30 p.m. Sunday (May 18 to 22) at the Fox Theatre (527 North Grand Boulevard; 314-534-1111 or www.fabulousfox.com). Tickets are $25 to $130.