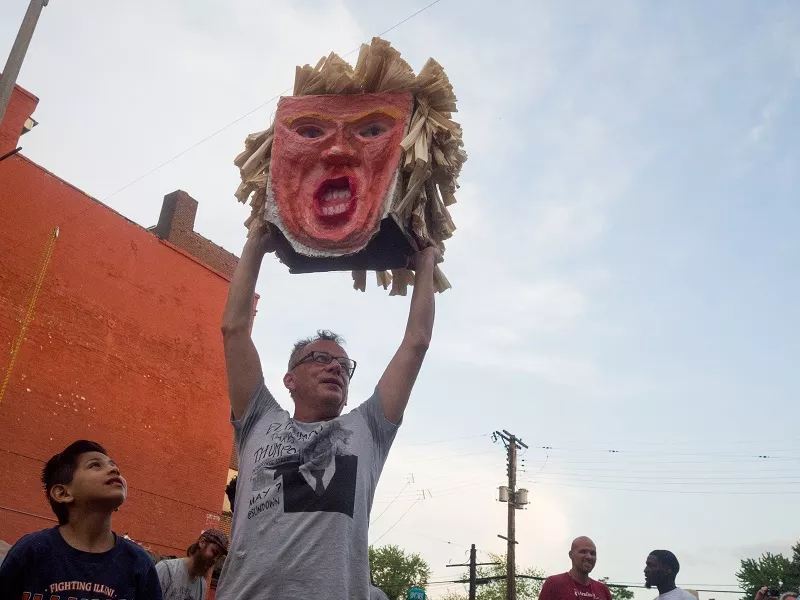 Photo by Austin Roberts
Francis "Rich" Rodriguez, owner of Yaquis on Cherokee, holds El Trumpo's severed head aloft.
For the second time since businessman and white-hot ball of populist rage Donald Trump first announced his apocalyptic intentions to become leader of the free world, members of St. Louis' Cherokee Street community built a giant pinata bearing his likeness and then bashed it to smithereens.
The papier mâché monstrosity, once again dubbed "El Trumpo," is the brainchild of Francis "Rich" Rodriguez, owner of Yaqui's on Cherokee. In September Rodriguez unveiled his first Trump pinata, which
was promptly destroyed by gleeful children and adults alike
as part of the street's annual celebration of Mexican Independence Day. For this past weekend's Cinco de Mayo celebration, Rodriguez constructed a new El Trumpo, calling the act a "political statement."
"I don't think he's going to go away, and we really just can't stand down here and do nothing," he said at an unveiling ceremony at his restaurant in late April. "And this is our only answer — not rage or hatred or bullets or bombs."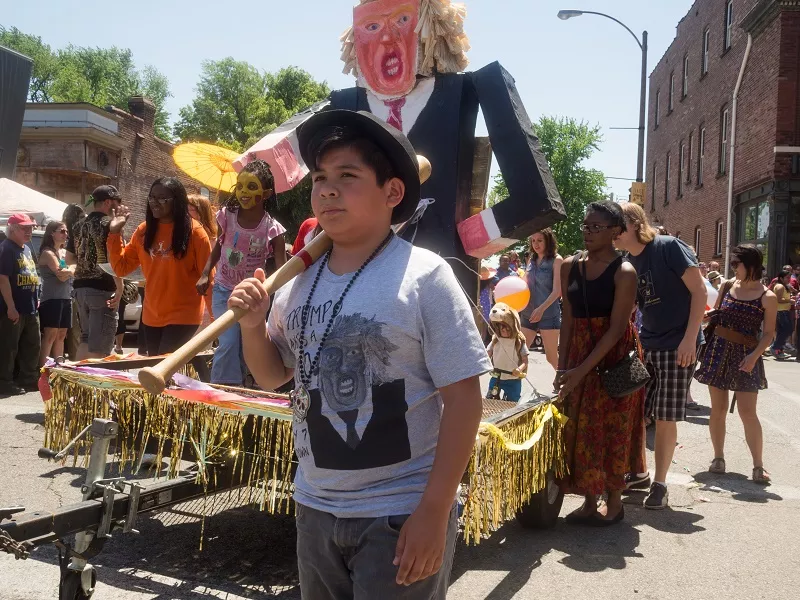 El Trumpo sat on display at Yaqui's until Saturday, the big day, when he was paraded through the street on a golden throne before taking his place outside the restaurant, where he would remain until his demise at sundown. By 7 p.m. a large crowd had gathered, eager to see bat meet Trump.
Bruce Franks Jr., an activist turned candidate for state representative in the 78th district, said a few words to kick things off before a young girl, no older than ten, took the first swings. When she did not punch through the bat was handed off to a young man in a fedora, recognizable as the same kid who took down El Trumpo 1.0 back in September.
Once again he successfully did his job. Franks himself stepped in to bat cleanup, and once all the candy and treats spilled forth the fenced-in area was predictably swarmed with children.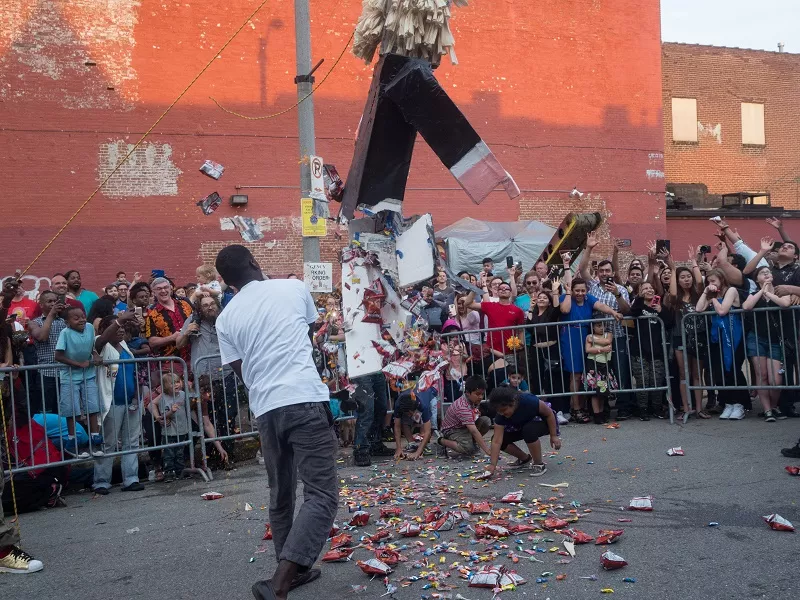 As the little ones shuffled away, some of the grown folks wandered in to gather up the remains. When Rodriguez took El Trumpo's head and held it aloft, the gathered crowd responded with a boisterous cheer.
"In Central America its just a thing that you do," he'd explained at the April unveiling. "If someone is bedeviling you, you build an effigy of them and knock a hole in them, and the candy spills out. It's really that simple sometimes. You shouldn't over-think it; you certainly shouldn't lose your mind."<!———EndFragment———>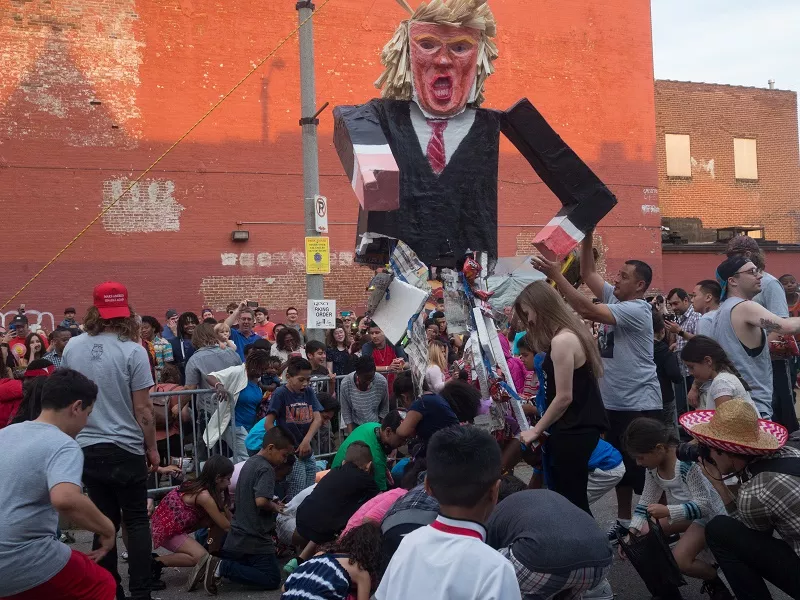 Watch a video put together by the organizers of the event below.

Follow the author, RFT's music editor, on Twitter at @RFTMusic and @fatrobocop.