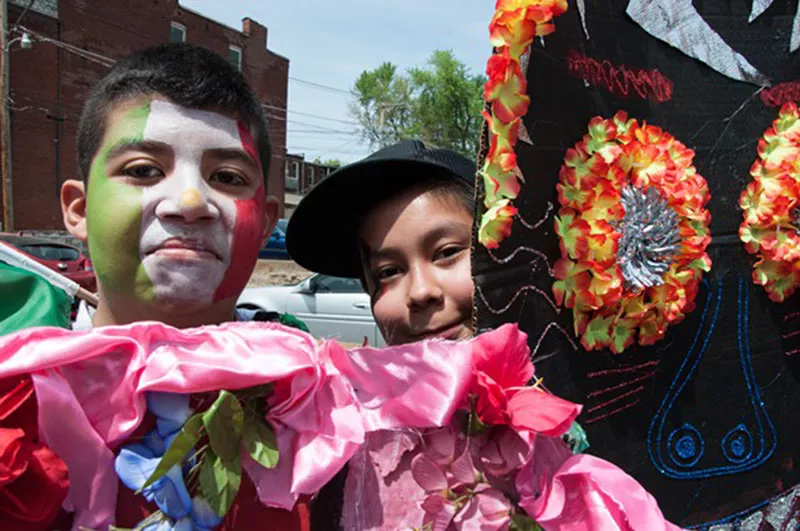 PHOTO BY MICAH USHER
Celebrate Cinco de Mayo on Cherokee Street this Saturday — for free.
Finally, the weekend is here! And whether you're nursing a hangover from last night's Cinco de Mayo festivities or just gearing up for the Cinco de Mayo parties going down on Saturday, there's plenty to do. With several free events and a few really cool festivals devoted to all of our favorite things (Tennessee Williams, beer, dance), you can't help but have a good time.
Here are our picks for the weekend's events. Interested
in art openings
? We've got a separate list of those, too.
1. Sample dozens of beers in Forest Park
The
St. Louis Microfest
has grown so large that this year the organizers had to cap the number of entrants in the homebrew competition at 300. That's a lot of beer brewers in town, but they're still outnumbered by the beer drinkers, who will swarm the lower Muny parking lot in Forest Park this weekend to sample beer, eat a bit, and then sample more beer. More than 70 commercial craft brewers participate in the fundraiser for Lift for Life Gym (
www.stlmicrofest.org
), with notable entrants Brouwerij De Ranke, Old Bakery Brewery and Riparian Ales joining the fray for the first time. Your ticket ($42 to $77) gets you in to one of three four-hour sessions, a two-ounce sample glass and unlimited beer tastings during your session. You'll need money for food; dining options include Mission Taco Joint, Sugarfire Smokehouse and the Dam. Sessions take place from 6 to 10 p.m. Friday, and 1 to 5 p.m. and 6:30 to 10 p.m. Saturday (May 6 and 7).
2. Hang out on Cherokee for one of its most fun days all year
Despite the common misconception, Cinco De Mayo is not Mexico's independence day (that's September 16). It's not even that big a deal in Mexico, but that's OK. Americans coming together to celebrate the culture and people of Mexico is a good thing regardless of the reason — we're neighbors, so we should be nice to each other. Cinco de Mayo Cherokee Street is a street festival dedicated to the spirit of neighbors getting outside to party together. The residents and business owners along Cherokee invite you to come down and join the fun — there ain't no wall separating you from them. This year's Cinco de Mayo is centered on on the intersection of Ohio Avenue and Cherokee Street (www.cincodemayostl.com), and festivities run from 11 a.m. to 9 p.m. today. You'll eat well, drink even better and get to hear a ton of great music on three different stages. And don't forget the People's Joy Parade, which starts at 1:11 p.m. and stars Mexican wrestlers, dancers, puppeteers, neighborhood kids, artists and pretty much everyone else who signs up before the May 6 deadline. Admission, like empathy, don't cost nothing.
3. Come and meet those dancing feet at the St. Louis Dance Festival
The St. Louis Dance Festival is your chance to see multiple dance techniques as performed by almost twenty local dance troupes. Almost every style of dance is represented, from contemporary belly dance to classical ballet. Participating companies include Viva Flamenco, Final Veil and the Slaughter Project, as well Dances of India, which organizes the annual showcase. Performances take place at 5 and 7:30 p.m. tonight at the Skip Viragh Center for the Arts (425 South Lindbergh Boulevard, Frontenac; www.dancesofindiastlouis.org). Tickets are $15 to $20, but keep in mind that both programs star different companies. If you want to enjoy it all, you need the festival package, which only costs $25.

Turn the page for more weekend fun.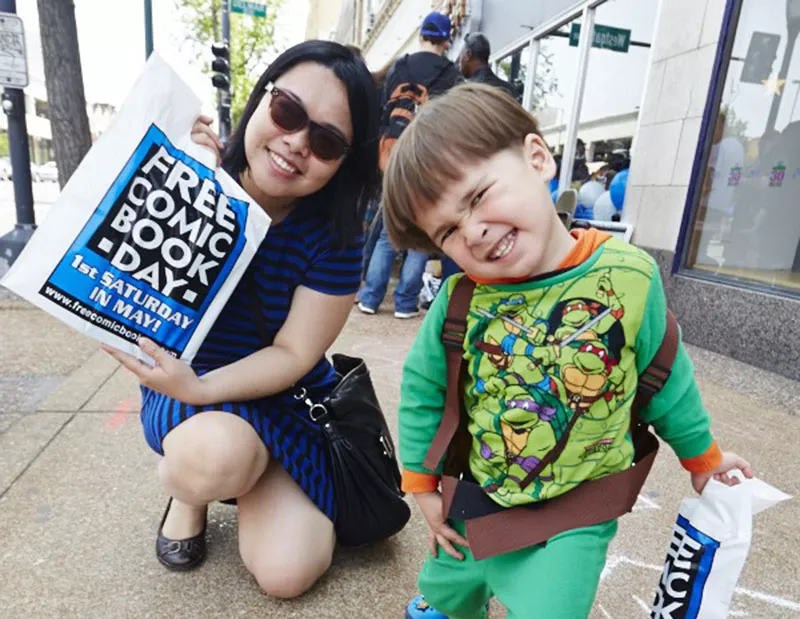 PHOTO BY THEO WELLING
Free Comic Book Day is pretty much just as it sounds — free, and filled by comic books.
4. Score some reading material at Free Comic Book Day
Do you love comic books, or are you perhaps comics-curious? Conversely, do you enjoy all those superhero films and want to give comics a try? Free Comic Book Day is your easiest point of entry into the four-color world of comics. All you need to do is go to a participating comic shop on the first Saturday in May — that's today — and collect the free books on offer. This year's crop of gratis offerings include the highly-anticipated revamp of Rom, an issue of the long-running indie comic Love and Rockets, and Tumblr's favorite hero, One Punch Man. Over at the new location of the Wizard's Wagon (6388 Delmar Boulevard, University City), you'll also enjoy a performance by Super Fun Yeah Yeah Rocketship and guest artists from the Ink & Drink Comics between 10 a.m. and 9 p.m. Downtown, Star Clipper (1319 Washington Avenue) is open from 10 a.m. to 8 p.m., and it offers a "design a superhero contest" for the kids, the Keya & Renee Trivia Challenge and, of course, free comics. If you line up before 10 a.m. you get a raffle ticket that allows you to pick up three extra freebies. One ticketholder will win a free comic every week until next year's event. For the full list of this year's free comics and other participating venues, visit www.freecomicbookday.com.
5. Buy some art at the Laumeier Art Fair
Finding a gift for Mother's Day is difficult because of the nature of moms. They always tell you things like "I don't need anything but you to be happy." What's a grateful kid to do with that? This year, give her everything she wants by escorting her to the Laumeier Art Fair. You get to spend the day together (which is what she really wants), browsing the stalls of more than 150 artists and enjoying food and drinks from local vendors. And if you see her eyes light up when she tries on a certain pendant or handles a glass vase, you'll know exactly what she'd like as a gift. The art fair runs from 6 to 10 p.m. Friday, 10 a.m. to 8 p.m. Saturday and 10 a.m. to 5 p.m. Sunday (May 6 to 8) at Laumeier Sculpture Park (12580 Rott Road, Sunset Hills; www.laumeier.org). Admission is $5 to $10.
6. Celebrate a great playwright at the inaugural Tennessee Williams Festival St. Louis
Tennessee Williams wasn't born in St. Louis, but he first started writing here. When his father pulled him out of college and put him to work at the International Shoe Company, Williams began writing in earnest at night. It was his escape from the drudgery of factory work, and a way for him to reclaim the part of himself that had to be subjugated in the factory. It's not farfetched to state that those all-night writing sessions in a sleeping St. Louis are where Tom Williams became Tennessee Williams. And so the Tennessee Williams Festival St. Louis celebrates the work and life of this not-quite-native son. The festival includes lectures, films and performances of Williams' work from Wednesday, May 11, through Sunday, May 15. The official kick-off event is Jeremy Lawrence's one-man show, What's Next on the Agenda, Mr. Williams? at 7 p.m. at Curtain Call Lounge at the Fox Theatre (521 North Grand Boulevard; www.twstl.org). Tickets are $56.50 and include a post-show reception.
7. See a Williams play at the Learning Center
Felice and his sister Clare are both actors. They're stuck in an unnamed theater, abandoned by the company they were traveling with because of their mental instability. Felice is trying to finish his latest script, The Two-Character Play, which is about a brother and sister trapped in a tumble-down Southern mansion after the murder-suicide of their parents. As you might imagine, the lives of the two actors and their characters intersect and become entangled before the night is over. Tennessee Williams spent more than a decade writing The Two-Character Play, which is an experimental, meta-textual exploration of his frequent themes of family and stage. The Midnight Company presents this later play as part of the Tennessee Williams Festival St. Louis. Michelle Hand and Joe Hanrahan star in the production, which is performed at 7:30 p.m. Wednesday and Thursday, 8 p.m. Friday and 3 p.m. Saturday and Sunday (May 11 to 15) at the Learning Center (4504 Westminster Avenue; www.twstl.org). Tickets are $23.50.

See also: Cherokee Street's Giant Trump Pinata Will Release Your Political Frustrations