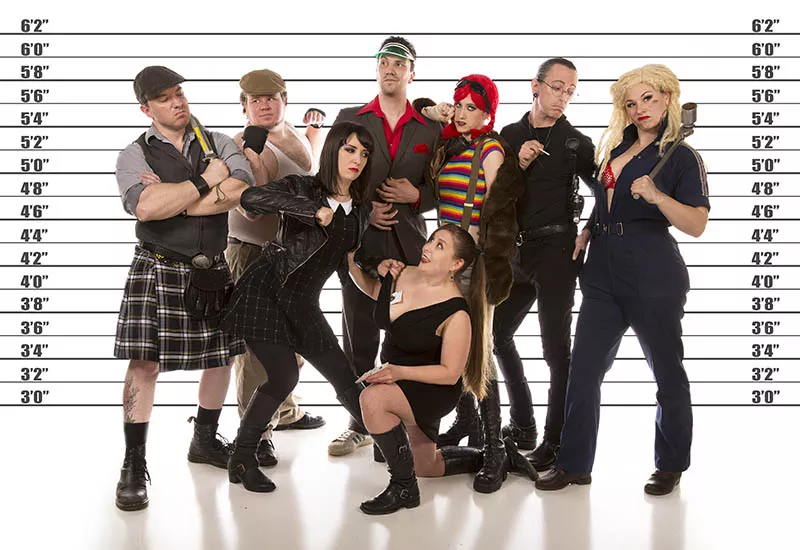 CARRIE MEYER/INSOMNIAC STUDIOS
It's the weekend — and you know what that means: arts, culture, and maybe a little nudity, too. Whether you plan to watch the Blues at
one of the city's sports bars
, catch some live music, or get literary with two different book-related events, there's plenty of stuff to do — and we've got a roster that runs all the way till next Wednesday.
Here are our picks for the best things to do in St. Louis this week.
1. See a classic play set in St. Louis
The Glass Menagerie
was Tennessee Williams' first successful play, so it's fitting that this new production serves as the prelude to the Tennessee Williams Festival St. Louis. Upstream Theater has assembled a cast of heavy hitters in Linda Kennedy, J. Samuel Davis, Sydney Frasure and Jason Contini; the company will undoubtedly find something new and fresh in the timeless classic. The festival doesn't officially open until May 11, but Upstream Theater starts performing the play at 8 p.m. Thursday through Saturday and 7 p.m. Sunday (April 29 through May 14), with a 2 p.m. performance on Sunday, May 15. All shows take place at the Kranzberg Arts Center (501 North Grand Boulevard; 314-863-4999 or
www.upstreamtheater.org
). Tickets are $20 to $30. Don't miss this one — it will surely sell out.
2. Check out the Greater St. Louis Book Fair
This is a great week to be alive if you're a book lover. Independent Bookstore Day is Saturday, and the Greater St. Louis Book Fair is back this week with more books than ever. As always, the fair is chock-a-block with great bargains on paperbacks, hardcovers, comic books, graphic novels and related ephemera. This year's crop of rare and collectible items is deep and fascinating as well. There's a copy of Andy Warhol's 25 Cats Named Sam and One Blue Pussy, a 1914 edition of The Book of Friendly Giants and, for the Mr. Show fanatic in your life, a copy of Charles Francis Jenkins' biography of Button Gwinnett (he signed the Declaration of Independence). The Greater St. Louis Book Fair takes place from 4 to 9 p.m. Thursday, 10 a.m. to 8 p.m. Friday and Saturday, and 11 a.m. to 6 p.m. Sunday (April 28 to May 1) at West County Center (I-270 and Manchester Road; www.stlouisbookfair.org). Admission is $10 on opening night and free Friday through Sunday.
3. See the fashion highlighted on the cover of this week's RFT
The boutique Bespoke (2650 Cherokee Street; 314-665-2665 or www.bespokesaintlouis.com) is manufacturing fashion that is seldom sewn in St. Louis. Owner Dorothy Jones works rigorously in her shop, engineering made-to-measure, customized couture for her customers. In a new collaboration, Jones has teamed up with Victoria Cates, creating a twelve-piece line for their shared fashion show, Amare Elementorum. For these designs, Jones pairs her hand-made patterns with Cates' intricate beadwork embroidery in the theme of a cabinet of curiosities. You can see their handiwork at the free premiere party from 6 to 9 p.m. Friday, April 29. The clothing will remain on display for one month after that.
4. Celebrate Independent Book Store Day
Groucho Marx once noted that, outside of a dog, a book is man's best friend (and inside the dog it's too dark to read). Damned if he wasn't right. Some of our best friends are in books, because a great story never lets you down. On Saturday Left Bank Books (399 North Euclid Avenue; www.left-bank.com) and Subterranean Books (6275 Delmar Boulevard; www.subbooks.com) both celebrate Independent Bookstore Day, which means we get to honor these fantastic bookeries and their contributions to the city's cultural life. Left Bank gets going at 10 a.m. with limited edition merchandise for sale, teatime for tots, a photobooth and YA author Antony John, who will critique your British accent from 1 to 2 p.m. Over at Subterranean the party starts at 11 a.m. Festivities include poetry written on demand, micro-story writing and the creation of a literary exquisite corpse (many people blindly adding a section to a story-in-progress). You can also get your picture taken with Teddy, Subby's bookselling dog (check out his recommended books; he knows his stuff). Admission to both parties is free, but bring money to buy books.

Turn the page for more things to do in the Lou
Cheap Trick gets the big screen treatment next Wednesday.

5. Say goodbye to a beloved burlesque troupe
Has the Randy Dandy recently acquired a package worth millions? Jack Deuce thinks so, and he wants that package. But to get it he'll need a team of ace cons and wily crooks (or crooked willies) capable of doing whatever it takes to beat the Dandy at his own game.
The Boob Job: Pulling It Off
stars your favorite Randy Dandy burlesque performers trying to make one last big score before they head off into the sunset. That's right — this is the final show for the Randy Dandies, so they're all gonna get stripped or die trying. The show starts at 9 p.m. Saturday at the Ready Room (4195 Manchester Avenue;
www.thereadyroom.com
), and tickets are $15 to $20.
6. See a presentation about a dark chapter in American history
There's been a great deal of talk lately about kicking "foreigners" out of the country and or at least starting a massive registration program to track their movements. Want to know how that will turn out? Look to America's not-that-distant past, when Japanese-Americans were rounded up and stuck in internment camps (or "prisons," if you like honesty) after being divested of their property and goods. Anti-Japanese sentiment was at an all-time high during World War II, and it resulted in one of the most shameful incidents in American history. Sunday at 1 p.m. at the Missouri History Museum (Lindell Boulevard and DeBaliviere Avenue; 314-746-4599 or www.mohistory.org), Dr. Chikako Usui of the Japan America Society St. Louis welcomes Dr. Linda Lindsey for Faces Like the Enemy, a presentation on the internments process. How did fear win out over the Constitution? Lindsey explains how it was allowed to happen, and you can hear about life inside the camps from some of the people who were locked up. Admission is free.
7. Thrill to the moves of pro wrestling at Scottrade Center
It's been more than two years since WWE Raw was broadcast live from St. Louis. The world has changed. Daniel Bryan is out of wrestling, Chris Jericho is back and Triple H was quite recently the heavyweight champion again. The WWE, as ever, keeps you guessing what will happen next. Both Jericho and Triple H are scheduled to appear at Monday's RAW broadcast, which starts at 6:30 p.m. at Scottrade Center (1401 Clark Avenue; www.scottradecenter.com). Also on the bill are current heavyweight champ Roman Reigns, Sheamus, Ryback and the Miz. The card is subject to change, but someone's gettin' grappled no matter who shows up. Tickets are $20 to $125.
8. Remember the joy of Cheap Trick at the Bottleworks
Cheap Trick is America's greatest exponent of power-pop, no argument. You could argue, but no one would hear you over the sound of the crowd cheering for "Surrender." Few people outside of Japan recognized the band's gift for writing songs with big guitars, catchy hooks and sing-along choruses until 1979, when the band's live album Cheap Trick at Budokan was released domestically. The disc immortalized the band's tour of Japan, opening America's eyes to the raucous power these four Midwestern boys were capable of generating. You have the album (Don't you?); Now see a remastered version of the actual concert that was broadcast on Japanese TV (collectors, it's the same show that was included on DVD in the 30th anniversary, four-disc edition). Cheap Trick: Budokan wants you to want it Wednesday, May 4 at 8 p.m. at Schlafly Bottleworks (7260 Southwest Avenue; 314-968-7487 or www.webster.edu/film-series). Admission is $5.