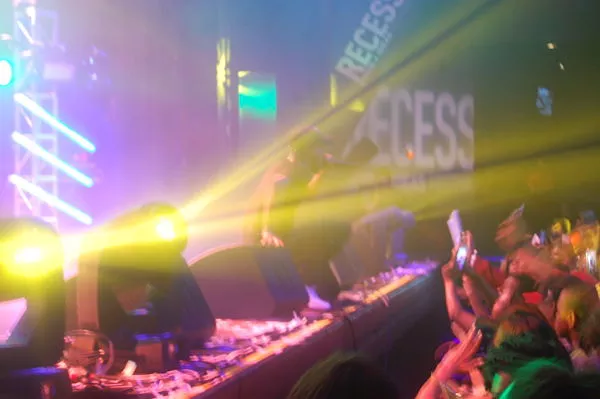 PHOTO BY HARLAN MCCARTHY
Musician Torey Lanez raps to the crowd.
College students across St. Louis took a RECESS last night. No, not the short period of play time you remember from grade school – but something equally fun.
RECESS Music + Ideas
, which bills itself the nation's only touring startup pitch competition and music festival aimed at college students, set up shop at the Pageant Theater. St. Louis was one of just six cities hosting RECESS events nationwide. The free evening drew a few thousand attendees to see Torey Lanez and BJ the Chicago Kid, as well as two startup competitions – one focused on local college students with an idea and one on existing startups.
The mood was set by the
Shark Tank
-style competition, where entrepreneurs pitched their business plans to investors from Fortune 500 companies. After that session, the audience was swayed by the soulful music of BJ the Chicago Kid. The closing performance of Tory Lanez created a rowdy, punk rock atmosphere, which led to Lanez's signature rockstar crowd surf.
RECESS' regional pitch competition pitted three teams of students from Saint Louis University, Webster University and Washington University against each other as they vied to continue to the next round in L.A. and compete for $250,000.
PHOTO BY HARLAN MCCARTHY
Jacob Mohrmann and Andrew Glantz of GiftAMeal were on the winning college team.
The winner,
GiftAMeal
, is comprised of Washington University students Andrew Glantz (a Los Angles native) and Jacob Mohrmann (a St. Louis native), along with Aidan Folbe from Dartmouth College.
GiftAMeal, previously known as FoodShare, is a mobile app that donates a meal to someone in need each time a user dines at a partner restaurant. Users take photos of food, recommend restaurants to friends, and share photos on social media. Restaurants pay GiftAMeal to participate in the program, and in exchange GiftAMeal drives traffic to restaurants. The founders hope to help fight hunger through a for-profit company that also creates value for client restaurants.
PHOTO BY HARLAN MCCARTHY
LaproZip's team pitches its business plan to judges and investors.
The FoodShare team beat out
Laprozip
, a group of STEM students from SLU that invented a laparoscopic device to close the vaginal cuff during a hysterectomy, and Webster's Pi Solution, which aims to design creative pizza boxes.
The other big winner in the competition for established startups was
QuickZip
and its founders Elizabeth Sopher and Caroline Portis. Based in Denver, QuickZip is a two-piece fitted sheet that enables you to change your bed easily. The idea sparked from Sopher's difficulties changing her kid's bedsheets.
QuickZip is now eligible for a coveted $250,000 cash prize from Blue Ocean Enterprises in what's called the "Capital Championship." Like the student prize, that one will be chosen in L.A. in June.
RECESS​ Music + Ideas was launched in 2013 by Indiana University alumni Jack Shannon and Deuce Thevenow. As students, they threw successful campus musical festivals featuring the likes of LMFAO and Mike Posner. They then reached out to investors to expand their idea, creating a touring event that offers both live music and a startup competition – combining elements of SXSW and
Shark Tank
for one night of free fun. Says Thevenow, "We wanted to share our experiences of being able to turn our dreams into reality…. So we took the music festival and morphed it with entrepreneurship and said how we can use it to empower the next college startup."
Recent RECESS winners have raised more than $12 million from investors. Support has come from brands including L'Oréal Paris, Microsoft, IBM, LinkedIn, and many others. This year's prizes include free roundtrip travel for one travel-related startup to come to Southwest Airlines headquarters in Dallas, as well as free Southwest flights to the national finals in L.A. in June.
"We like to support entrepreneurial spirit, and what a great way to do it," said Southwest's vice president of governmental affairs, Jason Van Eaton. "We saw a couple of different levels here. The student level is about encouraging ideas and getting them think about new ideas. Once you get an entrepreneur excited about coming up with ideas and concept, these guys probably will come up with four to ten ideas. Some will work and some of them won't, but that's OKAY. Sticking with the spirit of entrepreneurship is what is going to make them successful."
For further info on the competition, see
Recess' website
.