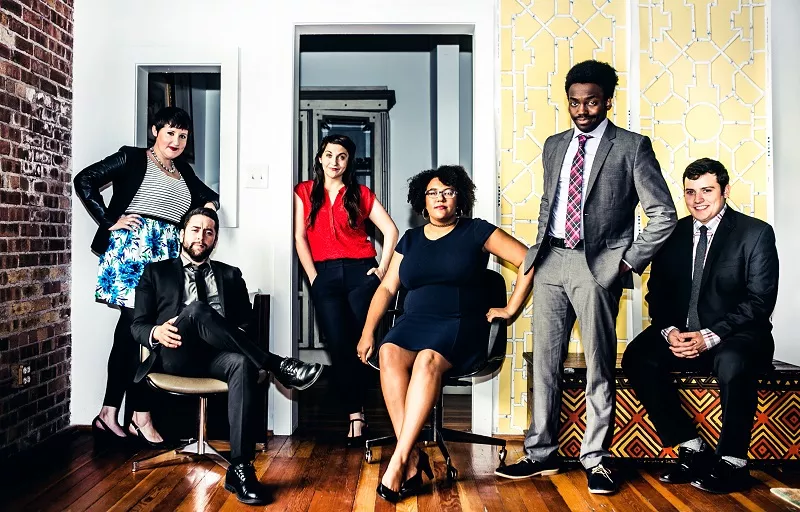 PHOTO BY KIRSTEN MICCOLI
Second City is hooking up this weekend.
Shake 38, Shakespeare Festival St. Louis' annual series of productions, kicks off this week — making it a great time to see a play. But it's not all Bard all the time in St. Louis week. You can catch Second City, Chekvov, or even a comedy from seventeenth century France. Or, what the hell — go to a festival. Webster U. is hosting Kinematifest beginning Saturday.
Interesting in art openings? We've
got that right here.
Here are this week's eight recommended things to do.
1. See a comedy set in 17th century Paris

Dorante meets a pair of women in Paris, as one does, and decides to court one of them — the beautiful Lucrece. Unfortunately for him, he conflated the two ladies' names; Lucrece is actually named Clarice, and the woman he believes is Clarice is in fact Lucrece. It's a problem that might be easily solved, except that Dorante's father has chosen a bride for him — the beautiful Clarice (who, you may recall, is the woman Dorante fancies under the misapprehension that she's named Lucrece). Dorante undercuts dad by doing what comes naturally: He lies and claims he is already married. Dorante continues to lie until his untruths pile up as precariously as a late-stage Jenga game, and it is his butler, Cliton, who becomes the greatest threat to Dorante's plan — for Cliton always tells the truth. The Lindenwood University Theatre program presents David Ives' adaptation of Pierre Corneille's seventeenth-century comedy
The Liar
at 7:30 p.m. Thursday and Friday and at 2 and 7:30 p.m. Saturday (April 14 to 16) at Lindenwood University's J. Scheidegger Center for the Arts (2300 West Clay Street; 636-949-4433). Tickets are $8 to $10.
2. Catch a performance by Chicago's funniest troupe
The idea of romantic love may have been cooked up by French court poets in the eleventh century, as one theory goes, but that seems unlikely. People have been driving each other crazy far longer than that. And that's the essence of love right there: the willingness to go to extreme lengths to get a certain someone to notice you, or to force them into understanding you feel that way about someone else. Love is the topic of Hooking Up With the Second City. The famed Chicago improv troupe presents a show about missed connections and good love gone bad culled from the company's 55-year history. Hooking Up With the Second City is performed at 7 and 10 p.m. Friday and 6 and 9 p.m. Saturday (April 15 and 16) at the Touhill Performing Arts Center on the University of Missouri-St. Louis campus (1 University Drive at Natural Bridge Road; 314-516-4949 or www.touhill.org). Tickets are $36.

3. See an important play by a Russian master
Nikolai Ivanov has lost his zest for life. His job in the Russian government, his seriously ill wife, the troubling finances of his estate and his growing debts are all slowly suffocating him. His social circle reviles him for spending so much time visiting his friend Lebedev while his wife languishes at home, but Ivanov is compelled to do so; Lebedev's wife holds his debt, and he's continually trying to arrange for another loan to keep everything afloat. The fact that the Lebedevs' daughter is enamored of him only compounds the difficulties Ivanov is facing. His life implodes at a party, but this being a play by Anton Chekhov, the aftermath is filled with even more trials. St. Louis Actors' Studio presents Tom Stoppard's translation of Chekhov's Ivanov at 8 p.m. Thursday through Saturday and at 3 p.m. Sunday (April 15 to May 1) at the Gaslight Theatre (358 North Boyle Avenue; 314-458-2978 or www.stlas.org). Tickets are $30 to $35.

4. Thrill to some opera highlights at Webster U.
The Webster University Department of Music welcomes warmer weather with its traditional gift to the metro area, Spring Opera Scenes. Students perform the best bits from opera's biggest hits at 7 p.m. Saturday and 4 p.m. Sunday (April 16 and 17) at Webster University's Community Music School (535 Garden Avenue; 314-968-7032). This year's program includes scenes from Mozart's The Marriage of Figaro and Cosi fan tutte, Delibes' gorgeous Lakmé and Richard Strauss' Der Rosenkavalier. There's even a little bit of Gilbert & Sullivan's The Mikado on tap. Admission to both performances is free.
5. Check out a free animation festival
Webster University's Kinematifest was created nine years ago with the intent to foster an interest in animation and interactive media. Maybe the success of Pixar films, Disney's renewed interest in animated features or the explosion of independent animation studios can't be directly credited to Kinematifest, but the festival of animation and interactive media certainly didn't hurt. This year's installment begins with a free screening of Brad Bird's enormously popular Iron Giant at 9 p.m. Friday, April 15, at Webster University's Moore Auditorium (470 East Lockwood Avenue; www.webster.edu/film-series). The festival continues at noon on Saturday, April 16, with workshops, a special presentation on the history of Looney Tunes by industry veteran Jerry Beck and screenings of student film projects. Admission is free.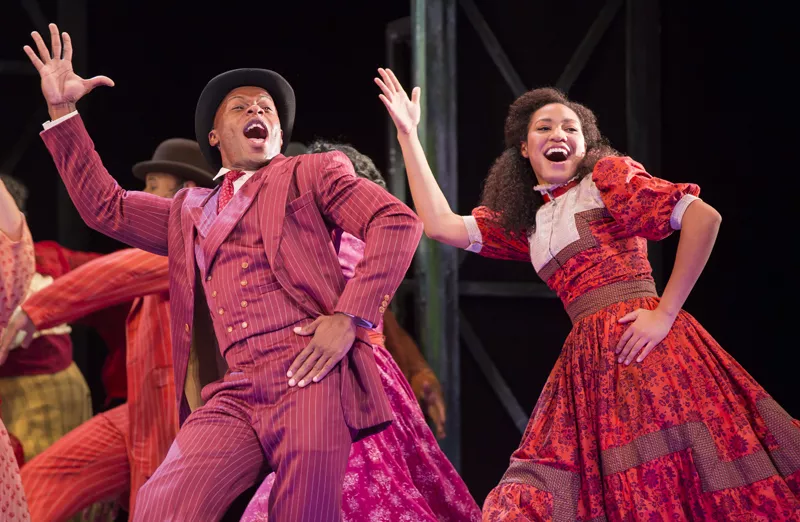 PHOTO BY SCOTT SUCHMAN
Ragtime is in town this week.
6. Watch a musical at Peabody Opera House
America was a different place 100 years ago. Immigrants were streaming into the country to make better lives for themselves and their families, a sizable gap separated the haves and have-nots and black Americans were held back by systemic racism. So, maybe not that different after all.
Ragtime
, the musical based on E.L. Doctorow's novel of the same name, follows the lives of three families in the early 1900s. An upper-class white family in the suburbs of New York, a young black musician in Harlem and an Eastern-European Jewish immigrant and his daughter all find their lives intersecting thanks to radical politics, social injustice and a growing sense of empathy. The touring production of
Ragtime
is performed at 8 p.m. Monday and Tuesday (April 18 and 19) at the Peabody Opera House (1400 Market Street; 314-499-7600 or
www.peabodyoperahouse.org
). Tickets are $30 to $82.
7. Make plans to see some Shakespeare
Despite his popularity, Shakespeare can be a hard sell to the non-theatergoing crowd. It's hard to understand the problem; the man never met a filthy joke he couldn't work into a play. He's the guy who coined the phrase "the beast with two backs," after all. Shakespeare Festival St. Louis hopes to introduce the joys of the Bard to a larger crowd through Shake 38, its annual spring festival. The plan is to produce all 38 of Shakespeare's plays in non-traditional locations across five days so that people who don't frequent the theater will engage with them. This year's fest includes a reading of Henry V by a Zumba class instructor, a production of Two Gentlemen of Verona at the Book House and an adults-only take on The Winter's Tale called "Lost: Pursued by Bear" presented by St. Louis Fringe and Lonely Mountain String Band at the William A. Kerr Foundation. Shake 38 officially kicks off with a party at 8 p.m. Tuesday, April 19, at Barnett on Washington (3207 Washington Avenue; www.sfstl.com). Admission is free.
8. Kickstart those plans with a Tinder-themed play
The humor in Shakespeare's The Merry Wives of Windsor stems from the bloated, aged Falstaff's slipshod wooing of two married women. Falstaff sends Mistress Ford and Mistress Page identical form letters that declare his love for each of them; the ladies immediately discern Falstaff's scheme and decide to string him along. Theatre Nuevo updates the play for the digital age by giving the players cellphones and access to a certain popular hook-up app in its production of The Merry Wives of Tinder. Much of the dialogue for the show comes from actual Tinder messages received by St. Louis singles, donated to the company in the name of art. The Merry Wives of Tinder is performed at 7 p.m. Wednesday at Milque Toast Bar (2212 South Jefferson Avenue; www.sfstl.org) as part of this year's Shake 38 Festival. Admission is free.