A new business opened on the Loop Monday, but unlike other recent openings, it's not selling food or drink ― unless, that is, you're a dog.

Three Dog Bakery, which fills the 1,700-square-foot storefront that used to hold Good Works Furniture Store, opened its doors Monday, bringing gourmet dog treats and a self-service dog wash station to the street.
Kathy Caton bought her first Three Dog Bakery store after working in healthcare management for 30 years. She decided, "Life is too short to be in a stressful position for your whole life." With her daughter-in-law, Caton became the owner of the national chain's west county location in 2010. The Delmar Loop shop is her second outlet, and while much of its contents are the same, it also includes a self-wash dog station.
Although parking isn't easy on the busy street, Caton says the amount of foot traffic on the Loop is promising for her business.
Katelyn Mae Petrin
Pastry cases galore.
Three Dog Bakery offers your normal pet store fare ― toys, collars, food ― with an "all natural" mission.

Running a dog bakery, Caton explains, is "like baking for humans." She says she uses top quality, nutritious ingredients that keep a dog happy and healthy. Anybody, humans included, could eat anything in the shop safely, though Caton warns, "You might find it a little bland."
Caton also offers a few more unique goodies.
For starters, there's these cuties:


Katelyn Mae Petrin
Froggy cupcakes for the dog who's always dreamed of eating an amphibian.
And these: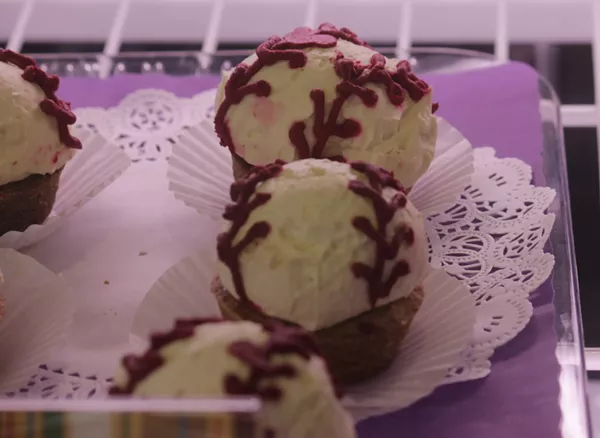 Katelyn Mae Petrin
Throw your dog a ball.
Soft pastries like these are rare; most dog treats are crunchy. Some dogs―like older and smaller pups―prefer softer chewing materials. For other dogs, she says they're "just something different," which can be fun in and of itself.
The treats are also made with all-natural ingredients: the coloring for many of Caton's pastries come from vegetable powders, and she substitutes sugar with honey.
Then there's the self-service dog wash station.
Katelyn Mae Petrin
Caton says her retriever got a LOT of baths as she researched the perfect tub.
Caton says she did a lot of research to make sure the showers were as dog- and owner-friendly as possible. "Our poor golden retriever got washed all over town," she says. The result? Wash stations that avoid things that scare dogs (ramps, stairs and the sound of tails whacking against a metal tub). Instead, the tub lowers to meet the dog on the ground, so the pooch can walk right through a removable door. And for their humans' convenience, the tub raises up to whatever height you want.

The fancy tubs also sport a hose that mixes shampoo and conditioner with water, so you don't need a third hand to hold your dog in place.
Katelyn Mae Petrin
This contraption does some of the hard work.
For $18, you can give your dog a wash.

Then there are these: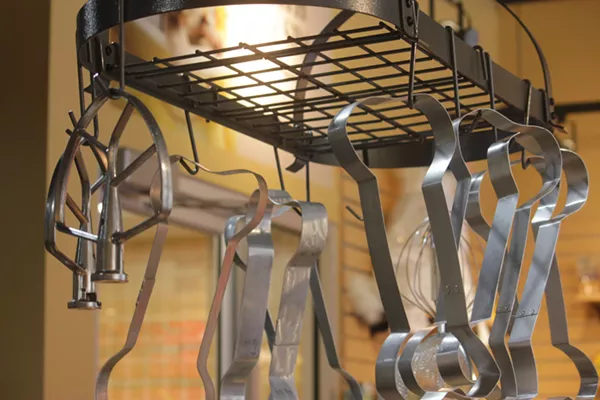 Katelyn Mae Petrin
These molds make doggy birthday cakes.
The molds can be used to cut out dog-shaped cakes, which Caton can also personalize as birthday cakes on-the-go for busy owners (because, she says, "this is not a plan-ahead world"). If you do want to order ahead, Caton offers more flexible options (including pink, orange, yellow, and green cakes).
For those concerned about their dog getting sick from lower-quality food, Three Dogs Bakery sources its chow carefully. They offer fewer brands than your average grocery store, but Caton assures that the options are safe.
And of course, the shop always has a few dogs around, all rescues. Cruz (pictured below) is also a trained therapy dog.
Katelyn Mae Petrin
He's very demure.
So far, Caton likes the Loop location. "Everybody's got a dog down here," she says.