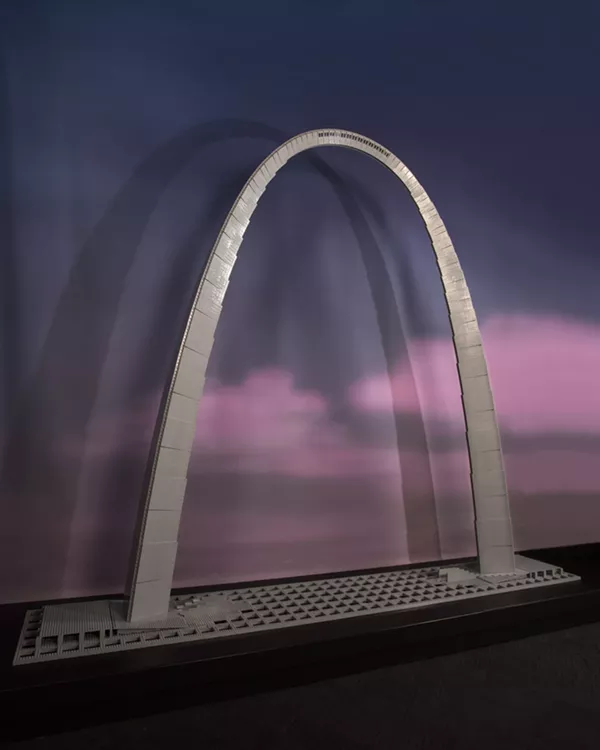 Photo courtesy of Museum of Science and Industry Chicago
There it is: The Arch in all its Lego glory.
The Arch is going to Chicago.
But don't worry — rather than a 630-foot ribbon of stainless steal, this Arch is constructed out of LEGOs. More than 7,500 LEGO bricks, to be exact.
The eight-foot model of our beloved landmark is one of several iconic structures replicated in "Brick by Brick," the Museum of Science and Industry Chicago's new temporary architectural and engineering exhibit that opened on Friday. Other marvels on display include the Hoover Dam, One World Trade Center, the Golden Gate Bridge and even the Pyramid of Giza — we're that cool, St. Louis.
So why the Arch, exactly? As Anne Rashford, MSI's Director of Special Exhibitions, explained in a press release, "The Arch is such a fantastic architectural symbol of the Midwest, and it's known throughout the world. When we thought of the architecture we wanted to bring to life in this exhibit, the Arch was a natural fit."
Building the Arch at this size entirely out of LEGOs is no play date. LEGO Certified Professional Adam Reed spent more than 55 hours designing and building the Arch for the museum. And yes, that's really Reed's title — he's one of only fourteen LEGO Certified Professionals in the whole wide world.
If you find yourself in the Windy City any time soon, you can take advantage of MSI's extended hours for spring break. Visit
msichicago.org
for more info and tickets for the exhibit.
In the meantime, we'll still be in the Lou figuring out how to become a LEGO Certified Professional, too — and enjoying the real Arch in all its steely glory.