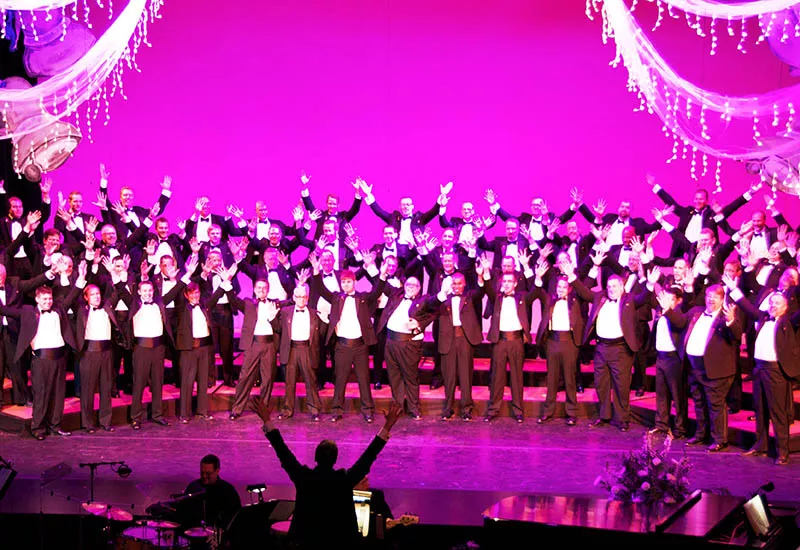 Courtesy of the Gateway Men's Chorus
We have some good news: It's the weekend, baby! And this one is chock-full of things to do. From
St. Patrick's Day festivities
downtown to a joyous show from the Gateway Men's Chorus, this weekend brings the fun.
Here are our picks for six great events. Try one of these, or go have a last drink or two at Art Bar (sigh).

See also: 12 Ways to Celebrate St. Patrick's Day in St. Louis
1. See a 1930s classic
In the rarefied Manhattan social scene circa 1936, women and men don't socialize together. And so in Clare Boothe Luce's comedy of manners
The Women
, women make up the entirety of the cast. That doesn't mean men don't play a role. Mary, an upper-middle class mother of two, fears she's losing her husband to a younger (and lower-class) gold-digger, but her friends offer little sympathy. Instead they hurl smiling insults and offer catty advice about what it takes to be the ideal woman. Clayton Community Theatre presents
The Women
at 8 p.m. Thursday through Saturday and at 2 p.m. Sunday (March 10 through 20) at the Washington University South Campus Theater (6501 Clayton Road, Richmond Heights; 314-721-9228 or
www.placeseveryone.org
). Tickets are $15 to $20.
2. Learn about activists who fought bombs with hammers
During the long slog of the Cold War, the threat of nuclear annihilation bubbled under the surface of everyday life. It was in the papers, in films and in our schools. For Pittsburgh housewife Molly Rush, the fear of a prison sentence was nothing compared to the fear that her children would grow up in a perpetual nuclear winter. So she decided to do something about it. Working with like-minded group of anti-nuke activists the Plowshares Eight, Molly decides to take the protest to the warheads and risk everything. Her husband and siblings think she has a duty to her family. But what about her conscience? Tammy Ryan's drama Molly's Hammer is based on the true story of the day the Plowshares Eight attacked the bombs with hammers. The Repertory Theatre of Saint Louis presents Molly's Hammer Tuesday through Sunday (March 9 to 27) in the studio theater at the Loretto-Hilton Center (130 Edgar Road; 314-968-4925 or www.repstl.org). Tickets are $50 to $65.

3. Celebrate marriage equality with the Gateway Men's Chorus
When the Supreme Court affirmed the legality of same sex marriage, the world became a love song for one day. The Gateway Men's Chorus celebrates the long and ultimately victorious fight for marriage equality in its spring concert, Dear Future Husband. This show about love and justice features songs from the struggle to get to where we are now, as well as songs that honor the people who led the way. Performances take place at 8 p.m. Friday and Saturday (March 12 and 13) at the Sun Theatre (3625 Grandel Square; www.gmcstl.org). Tickets are $15 to $25.

See also: PULSE Brings Together New Music and New Choreography, Both Born in St. Louis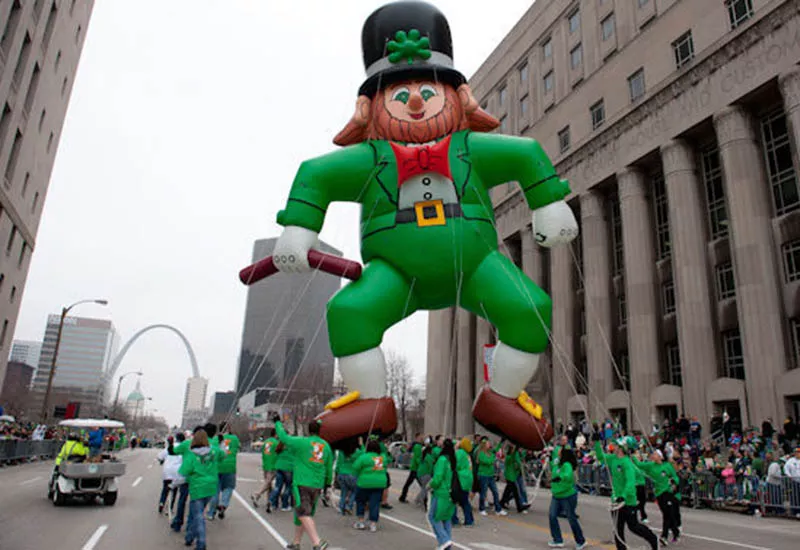 4. Enjoy Downtown's St. Patrick's Day Parade
It's the Saturday before St. Patrick's Day, and you know what that means: The St. Patrick's Day Parade steps off at noon today at Aloe Plaza (Twentieth and Market streets; www.irishparade.org). More than 5,000 people march in 120 units to commemorate not just St. Patrick, but also the Easter Rising Centenary. On Easter Monday in 1916, Irish nationalists proclaimed the formation of a free and independent Irish republic. They were imprisoned and killed by the British government, but their activism was the spark that lit the flame of Irish independence during the 1918 elections. Keep them in mind when you're enjoying your beer and brats along the parade route, which continues to Broadway and Clark Avenue. Kiener Plaza hosts the Irish village, with more food, souvenirs and live entertainment all day long.
5. Celebrate Snake Day at Ballpark Village
What do you do after the parade? The various establishments in Ballpark Village (601 Clark Avenue; www.stlballparkvillage.com) offer a wealth of options. At 2 p.m., McBark on Clark is a dog-friendly party at the outdoor Busch II Infield. Howl at the Moon starts partying at 3 p.m. with green beer, Leprechaun Bombs (the mind reels) and specials on buckets. You can also buy an all-inclusive ticket ($30) for the Snake Day party that includes draft beer, house wine and premium rail liquor (shots and Red Bull are excluded) at Budweiser Brew House, Cardinals Nation, Fox Sports Midwest Live, Howl at the Moon and PBR St. Louis from 8 to 11 p.m. Food is extra, but specials will be on offer.
6. Enjoy a mystery spoof in Kirkwood
Does a marriage really need the occasional white lie to smooth things over? Mavis Templeton Hollister thinks so. When Mavis claims she was at a church meeting, her husband Edgar is surprised and disappointed — after all, the meeting had been canceled. He's even more disappointed when Mavis whips out a gun and shoots him. Mavis gets her comeuppance when the lights go out for a minute and, when they come back on, Edgar's body is gone. What's going on here? Jack Sharkey's mystery spoof The Murder Room highlights the dangers of spooky houses with hidden rooms, unexpected guests and poison. The Kirkwood Theatre Guild performs the comedy at 8 p.m. Thursday through Saturday and 2 p.m. Sunday (March 11 to 20) at the Robert G. Reim Theater (111 South Geyer Road, Kirkwood; 314-821-9956 or www.ktg-onstage.org). Tickets are $20.