Kevin Harris and Chad Eivins' Octarrarium
It's not just a weekend for green beer and big parades. It's also a great time to see some art. Here are three shows opening this weekend that we find particularly worthy of mention.
Octarrarium
Regional Arts Commission

6128 Delmar Blvd. |
www.racstl.org

Opens 5:30-7:30 p.m. Fri., Mar. 11. Continues through Apr. 30.

It can be difficult to express coherently what you feel about a work of art — words fail, sometimes. But Kevin Harris and Chad Eivins have constructed an elaborate solution. Their
Octarrarium
is a large-scale video installation that creates a multi-sensory, immersive environment. When you stand inside it, eight projections of live interactive video react to every movement and sound you make.
Octarrarium
reflects your reaction to the piece in real-time, as well as the reactions of every other observer within its confines.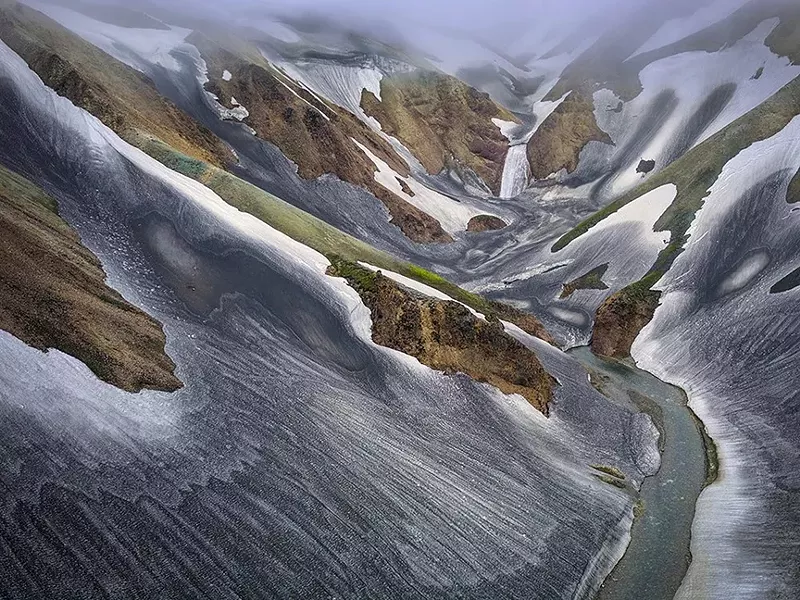 Hans Strand's Highlands #4
Visions of Iceland
Bullivant Gallery
3321 Washington Blvd. | www.bullivantgallery.com
Opens 6:30-8:30 p.m. Fri., Mar. 11. Continues through Mar. 12
Iceland is renowned for its egalitarian tendencies and the great value its people place on personal freedom, qualities it has exhibited since the tenth century. To understand this rugged sense of self-determination you need only look at its landscape. Iceland has active volcanoes, lava fields, mountains, unearthly rock formations and a wealth of wide-open spaces where only the wind and ice live (small wonder the island served as the alien world in the film Interstellar). Photographers Jack Curran, Bill Schwab and Hans Strand have spent a great deal of time documenting this wild terrain. The three exhibit the fruits of their labor in the show Visions of Iceland. Each of the three captures something of the power and the isolation inherent in this stalwart island nation.
Real and Imagined Landscapes in Chinese Art
Saint Louis Art Museum
Forest Park |www.slam.org
Opens Mar. 11. Continues through Aug. 14.
Classical Chinese landscape painting often has a dreamlike quality thanks to its reliance on delicate colors and airy light. This exhibit of works from the museum's permanent collection features paintings of locations that incorporate real and fictitious elements, or of places that could perhaps have existed. Among the pieces on display are Wang Wending's Gathering of the Immortals, a 1919 painting that depicts a birthday gathering honoring the Queen Mother of the West in the garden where the peaches of immortality grow. A tiger carries the enormous peaches to the party on its back for guests, which include eight immortals and the Three Gods of Good Fortune.