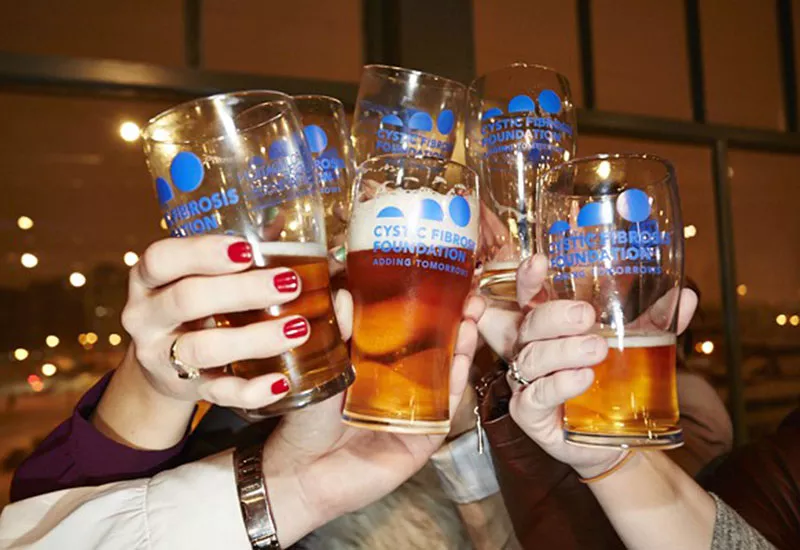 Photo by Theo Welling
FestivAle brings more than 25 breweries together to benefit the Cystic Fibrosis Foundation.
Oysters at Schlafly Tap Room! A beer festival on Cherokee! This weekend is full of great events; some of them are even free.
Here are our picks for six amazing things to do. Looking for art openings? We've
got a separate list of those highlights
.

1. Enjoy a steampunk crowd at the Science Center

Steampunk is not just elaborate top hats and goggles. It's a school of science fiction that imagines a world in which steam power is the peak technology. The base aesthetic is usually Victorian or vaguely nineteenth century, which is where the hats come in. If you love the idea and want to exult in further explorations, or have never heard of it but are interested,
First Friday: Steampunk Science
at the Saint Louis Science Center (5050 Oakland Avenue; 314-289-4400 or
www.slsc.org
) has you covered. Antiquarian Couture, The Countess and AVA Goldworks will be there with steampunk crafts, art and accessories. A dress-up area and screenings of footage from Brass Engine Productions'
Steamworks and Shadows
series are also on offer. Author Brad R. Cook discusses "Inventions of Fantasy: The Real Science of Steampunk," and at 10 p.m.,
League of Extraordinary Gentlemen
, the less-than-successful film based on the amazing Alan Moore/Kevin O'Neill comic book, will be shown for free. First Friday starts at 6 p.m. and admission is free, although some events require a nominal fee.
2. Eat oysters and indulge in stouts at the Tap Room
Are you bivalve curious? Fifty-thousand fresh oysters are going to be shucked at Schlafly's Stout & Oyster Festival this weekend, if that's your thing. Seasoned shuckers from both coasts make the trip to show off their skills in a rapid-fire competition, which ensures you get 'em while they're still fresh. Wash them down with your stout of choice (Schlafly will have five on tap), while Scandaleros, Boudin Brothers Band and Big Sam's Funky Nation provide the soundtrack. The event takes place from 5 p.m. to midnight Friday and 11 a.m. to midnight Saturday (March 4 and 5) at the Schlafly Tap Room (2100 Locust Street; 314-241-2337 or www.schlafly.com). Admission is free, but you'll need money for food and drink.
3. See opera live in Forest Park

Giacomo Puccini's
Manon Lescaut
is a tale of tragic love and passion bordering on madness. Manon is a country girl who can't choose between handsome young student des Grieux or the older chevalier Lescaut. She becomes Lescaut's courtesan, but longs to escape with her dashing young lover. It is this indecision that dooms her; well, that and her passion. The Metropolitan Opera presents
Manon Lescaut
via live simulcast at 11:55 a.m. Saturday at the Saint Louis Art Museum in Forest Park (314-721-0072 or
www.slam.org
). Tickets are $18 to $24.

Turn the page for more weekend fun.
Photo by Jill Ritter Lindberg
American Idiot comes to the Marcelle Theater this weekend.
4. Drink beer on Cherokee
St. Louis is a beer city, but when is the last time you really celebrated that? Don't worry, you can atone for your sins of omission and do good at the same time at 8 p.m. Saturday at the St. Louis FestivAle. More than 25 breweries serve up their best at this benefit for the Cystic Fibrosis Foundation, which takes place at the Casa Loma Ballroom (3354 Iowa Avenue; www.stlouisfestivale.eventscff.org). Old Bakery Beer, Urban Chestnut, 2nd Shift Brewing and 4 Hands Brewing are all participating, and the food is provided by Mathew's Kitchen, Pi and the Handle Bar. Tickets are $50 to $65, but before you go, visit the website and read the infection control policy. Crowds can be risky for people with cystic fibrosis if everyone doesn't take care when they cough and sneeze.
5. See a play featuring the songs of Green Day
We're gearing up for another presidential election, which is always a good time to revisit the sins of the past. New Line Theatre goes on a deep dive to yesteryear with its production of American Idiot, which is indeed based on the 2004 Green Day album. Set in the aftermath of 9/11 and the growing war on terror, the show follows friends Johnny, Tunny and Will as they try to fit into a society that's growing increasingly paranoid and hostile. One enters the Army, one starts a family and the third sinks deeper and deeper into drugs and disconnection. The show uses the original Green Day music with orchestrations by Tom Kitt, and the book is by Billie Joe Armstrong and Michael Mayer. Performances are at 8 p.m. Thursday through Saturday (March 3 to 26) at the Marcelle Theater (3310 Samuel Shepard Drive; 314-534-1111 or www.newlinetheatre.com). Tickets are $10 to $25.
6. See a show at Winter Opera
Spain is at war, and Count di Luna is in love. The beautiful Leonora is the object of his unwanted affections; she loves a mysterious troubadour who nightly serenades her from the streets. This drives di Luna mad — but it's a short drive for him, because years ago a gypsy woman bewitched his younger brother. When she was burned at the stake, the gypsy's daughter Azucena abducted the boy and threw him in a fire. Azucena now has her own son, the handsome Manrico, who also happens to be the mysterious troubadour. Giuseppe Verdi's Il Trovatore is tale of lies, sudden death and sad secrets that are revealed too late to save anyone. Winter Opera St. Louis closes out its season with the weeper at 8 p.m. Friday and 3 p.m. Sunday (March 4 and 6) at the Skip Viragh Center for the Arts (425 South Lindbergh Boulevard, Frontenac; 314-865-0038 or www.winteroperastl.org). Tickets are $35 to $55.