When Star Clipper closed last year, Christina "Steenz" Stewart found a new job at the St. Louis Public Library. But she still loved comics, and she wanted to find a way to, as she says, "meld my interests." So, for her new employer, she planned a miniature ComiCon ― SLPLCon. (Star Clipper, of course, later reopened in a new location downtown.)
The event was a hit. The library didn't sell tickets, so they don't know how many people attended; based on the door count, though, it appears to have been at least 500 and as many as 1,500 people.
And so this year, they're running with it again, this time as "Comics Central 2016." Stewart hopes it will have more attendees, and promises that it already has more attractions.
The event will be completely free, thanks to funding from the St. Louis Public Library Foundation. "We really just want to make it so that people who can't afford to go to a bigger convention like Wizard World or Anime St. Louis, you have an option," says Stewart. "Every year you can come to the library and get just as much fun out of it."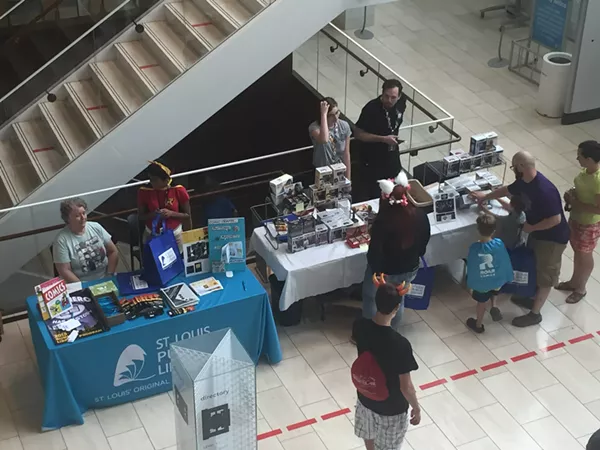 Credit to Riva Stewart
A few of the vendors last year.
Planned for July 30, at St. Louis Public Library's Central Branch downtown, Comics Central 2016 will boast everything from a crowd-voted cosplay contest to local artist vendors and food trucks. K-Bop, Taco Truck STL, and Sweet Divine are already booked. The guest speaker, Tony Award-winning Broadway producer Vivek Tiwary, wrote award-winning graphic novel The Fifth Beatle: The Brian Epstein Story, which he is currently adapting for film.
"The con is for everyone, but we really want to push towards children because we're a library," says Stewart. So there will be Jedi Training for younger kids and X-Files and Sherlock-style mystery games for older kids. Lion Forge Comics and local creators will be offering workshops―exact topics are TBA.
St. Louis has a significant small press culture, with lots of comic artists and shops. Stewart hopes the event will draw that out. "St. Louis is a huge comic oasis, honestly," she says. The event has no vendor fees―which is rare for a convention―and 20 spots. (Vendor applications are open until March 14, so if you're a local artist or comic creator, you can still apply!)
The advantages of a smaller con aren't just monetary, though; Stewart says it's really about "the intimacy." Without commercial interests, the convention can just―be fun. Stewart explains, "The people that work the con are doing it out of a labor of love."
Why should you come? "My personal pitch is the food trucks," says Stewart.
<!————EndFragment————>